Imperium: A Fiction of the South Seas (Paperback)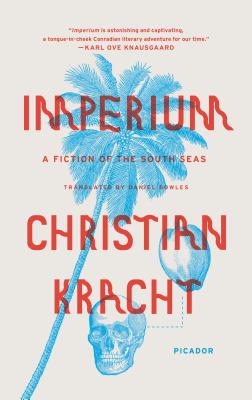 Staff Reviews
---
A near perfectly written, hilarious satire of German colonialism, and of obsession stretched to prolixity, Imperium is an immediate modern classic. It's severity smacks of Virginia Woolf; its style of Vladimir Nabokov; its subject of Joseph Conrad's foray into the dark, savage continent - a now taboo (as it should be) philosophical viewpoint that Kracht pokes fun at with the sharpened rod of his impressive wit. The full-bodied characters Kracht creates in such a concise novella is a feat outdone by very few, especially contemporarily. Perhaps you've experienced this with other books, but the moment I finished the last sentence, I wanted to start with the first one all over again. This is one you'll want to revisit both for its complexity and for its tragicomic brilliance.
—
Joel
Description
---
Winner of the Wilhelm Raabe Literature Prize

One of Publishers Weekly's Ten Best Books of 2015

A Huffington Post Best Fiction Book of the Year

In 1902, a radical vegetarian and nudist from Nuremberg named August Engelhardt set sail for what was then called the Bismarck Archipelago. His destination: the island of Kabakon. His goal: to establish a colony based on worship of the sun and coconuts. His malnourished body was found on the beach on Kabakon in 1919; he was forty-three years old.

In his first novel to be translated into English, internationally bestselling author Christian Kracht uses the outlandish details of Engelhardt's life to craft a fable about the allure of extremism and its fundamental foolishness. "A Melvillean masterpiece of the South Seas" (Jonathan Sturgeon, Flavorwire), Imperium is funny, bizarre, shocking, and poignant---sometimes all on the same page.
About the Author
---
Christian Kracht is a Swiss novelist whose books have been translated into thirty languages. The Dead was the recipient of the Hermann Hesse Literature Prize and the Swiss Book Prize.
Praise For…
---
"This barbed account of failed idealism shines a bright light on the ravages of obsession, all the while sprinkling the trail with memorably bizarre details."—Henry Alford, The New York Times Book Review (Editors' Choice)

"A delightful historical farce."—Sam Sacks, The Wall Street Journal

"Imperium is astonishing and captivating, a tongue-in-cheek Conradian literary adventure for our time." —Karl Ove Knausgaard, author of My Struggle

"Christian Kracht's Imperium is a Melvillean masterpiece of the South Seas....A strange, Mephistophelian novel, Kracht's book is also, by several units of some arcane nautical measurement, one of the slyest and most original works of the last several years. And - thanks to Daniel Bowles - it's one of the best translated."—Jonathon Sturgeon, Flavorwire

"[One of the Ten] Best Books of 2015: An oddball masterpiece that begins with thumb-sucking nudist August Engelhardt fleeing Germany in 1902 to establish a South Seas utopia—one in which coconuts are the only food. Disaster predictably strikes the idealistic, naïve Engelhardt (a real historical figure) in this strange, engrossing tale, by turns slapstick, philosophical, and suspenseful."—Publishers Weekly

"Reads at times like the best Werner Herzog movie Herzog has yet to make."—Tobias Carroll, Biographile

"One hoots one's way through the book. Serious lessons, yes, but hilariously told. Translator Daniel Bowles has done an excellent job in conveying these qualities in his highly faithful and exacting translation: a thoroughly charming read."—Ulf Zimmerman, World Literature Today

"Imperium is a short novel, but its sweep is considerable. While Engelhardt's case history may be singular, Kracht places it in the context of an approaching global convulsion - World War I - that wipes out sanity, order, convention and pragmatism as thoroughly as it does Engelhardt's delusions....It's a credit to Daniel Bowles that, as you make your way through the novel's perverse extravagances, you always feel you're reading an original maverick stylist, never a translation."—Michael Upchurch, The Seattle Times

"To say a word about Christian Kracht's Imperium would be like engraving Goethe's Conversations of German Refugees into an orange seed. Or perhaps into a coconut? The cocovore on his South Sea isle would consume it at some point, and then the writing would be gone. But then shadowy mountains of fate would still form in the background: the German history behind the dropouts who made it by escaping it, when the evil procession of fate halted for a moment. An adventure novel. No doubt. That there even is still such a thing."—Elfriede Jelinek, author of The Piano Teacher and Winner of the Nobel Prize for Literature

"Comparable to the adventure stories of Robert Louis Stevenson, Jack London, and Daniel Defoe, albeit with a definite philosophical inclination, this amusing, fantastical tale features fabulous language, delightfully concocted descriptions, and an excellent translation by Bowles....Essential reading for those interested in the quirky characters of history."—Lisa Rohrbaugh, Library Journal

"Kracht's fascinating tale is an impressionistic portrait of a thumb-sucking, mad-for-coconuts German nudist. Set during the early 20th century and based on a real historical figure, the novel...bounces around in time, shifts in tone from philosophical to suspenseful to slapstick, features cameos from peculiar historical figures (such as the American inventor of Vegemite spread), and periodically widens its scope to consider the menacing rise of Nazism...[Kracht] inventively captures the period's zeitgeist through one incurable eccentric."—Publishers Weekly

"Imperium is, first and foremost, one thing--marvelous literature." —Erhard Schütz, Der Freitag