True Crime Addict: How I Lost Myself in the Mysterious Disappearance of Maura Murray (Paperback)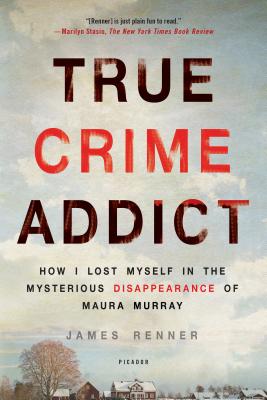 Staff Reviews
---
Real talk: I don't scare easily. Throw a bloody murder mystery at me and I'll still sleep like a nightmare-free baby. But after I finished this book (at approximately 2 am) I left my bedroom light on all night long. Renner not only has some serious investigative chops, he weaves a tale of depravity that chilled me to the bone. His story, not only the mysterious disappearance of Maura Murray, but his personal story of obsession and the things that haunt him, got under my skin. True Crime Addict is getting comparisons to Robert Graysmith's Zodiac and I can see why: both are full of strange red herrings, ominous scenes, and authors who get tangled up in their own stories. I was completely sucked in, the way I am with the very best non-fiction. Watch Making a Murderer, read this, and never sleep again!
—
Lauren
Description
---
As seen on the Oxygen mini-series The Disappearance of Maura Murray

When an eleven-year-old James Renner fell in love with Amy Mihaljevic, the missing girl seen on posters all over his neighborhood, it was the beginning of a lifelong obsession with true crime. That obsession led James to a successful career as an investigative journalist. It also gave him PTSD. In 2011, James began researching the strange disappearance of Maura Murray, a UMass student who went missing after wrecking her car in rural New Hampshire in 2004. Over the course of his investigation, he uncovers numerous important and shocking new clues about what may have happened to Maura, but also finds himself in increasingly dangerous situations with little regard for his own well-being. As his quest to find Maura deepens, the case starts taking a toll on his personal life, which begins to spiral out of control. The result is an absorbing dual investigation of a complicated case that has eluded authorities for more than a decade and a journalist's own complicated true-crime addiction.
About the Author
---
JAMES RENNER is the author of The Serial Killer's Apprentice and several other works of nonfiction. His true crime stories have appeared in The Best American Crime Writing anthology, as well the Cleveland Scene and Cracked.com. His method of using social media to solve cold cases was the subject of a CNN profile, in 2015. He has also written two novels, The Man from Primrose Lane and The Great Forgetting. He lives in Akron with his wife and children.
Praise For…
---
"[Renner] is just plain fun to read."—Marilyn Stasio, The New York Times Book Review

"You have not read a book like this before and, I'd wager, you'll not engage with its like again. . . . Renner is a tantalizing and almost gleeful tour guide to and through the impulses of the armchair detective."—Minneapolis Star Tribune

"As the title suggests, [True Crime Addict] is an addictive read."—Bustle

"The mystery of Murray's whereabouts is baffling. . . . [Renner's] chipping away at the facts of a ten-year-old case makes the reader hope that, in the end, the answers will be uncovered. An entrancing, brilliant next step for fans of the podcast Serial, Netflix's Making a Murderer, and other true crime cases."—Library Journal (starred review)

"Brutally honest, no-holds-barred storytelling . . . Renner brilliantly covers all the bases here."—M. William Phelps, New York Times bestselling author

"Renner's walk on the dark side makes for a highly compelling read."—Kathryn Casey, bestselling author of Deliver Us

"Renner's personal involvement in the case—and his self-destructive, relentless dedication to confronting the darkness at the heart of it [...is] noteworthy."—Publishers Weekly