Three Years with the Rat: A Novel (Hardcover)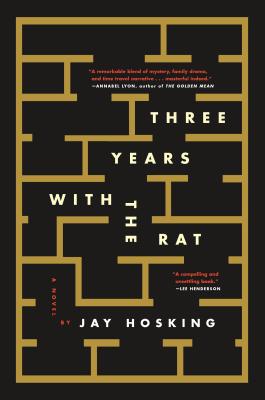 Description
---
"Three Years with the Rat is a mind-warping thriller that will make you question reality as you conceive of it. One of the most assured and haunting debuts I've read in recent memory." —Blake Crouch, author of Dark Matter

After several years of drifting between school and go-nowhere jobs, a young man is drawn back into the big city of his youth. The magnet is his beloved older sister, Grace: always smart and charismatic even when she was rebelling, and always his hero. Now she is a promising graduate student in psychophysics and the center of a group of friends who take "Little Brother" into their fold, where he finds camaraderie, romance, and even a decent job.

But it soon becomes clear that things are not well with Grace. Always acerbic, she now veers into sudden rages that are increasingly directed at her adoring boyfriend, John, who is also her fellow researcher. When Grace disappears, and John shortly thereafter, the narrator makes an astonishing discovery in their apartment: a box big enough to crawl inside, a lab rat, and a note that says This is the only way back for us. Soon he embarks on a mission to discover the truth, a pursuit that forces him to question time and space itself, and ultimately toward a perilous confrontation at the very limits of imagination.

This kinetic novel catapults the classic noir plot of a woman gone missing into the twenty-first-century city, where so-called reality crashes into speculative science. Jay Hosking's Three Years with the Rat is simultaneously a mind-twisting mystery that plays with the very nature of time and the story of a young man who must face the dangerously destructive forces we all carry within ourselves.
About the Author
---
JAY HOSKING obtained his neuroscience PhD at the University of British Columbia, teaching rats how to gamble and studying the neurobiological basis of choice. At the same time, he also completed a creative writing MFA. His short stories have appeared in The Dalhousie Review and Little Fiction, been long-listed for the CBC Canada Writes short story competition, and received an editor's special mention in the Pushcart Prize anthology. He is currently a postdoctoral fellow at Harvard University, where he researches decision making and the human brain. He lives in Vancouver.
Praise For…
---
"Three Years with the Rat is a mind-warping thriller that will make you question reality as you conceive of it. One of the most assured and haunting debuts I've read in recent memory." —Blake Crouch, author of Dark Matter

"An envious debut. Memento meets Looper with a touch of Ray Bradbury. Time will slip by as you read this story . . . and that will only frighten you more." —James Renner, author of The Great Forgetting

"A remarkable blend of mystery, family drama, love story, and time travel narrative, Jay Hosking's debut novel is masterful indeed." —Annabel Lyon, author of The Sweet Girl

"An up-close and personal portrait of troubled genius, a mad scientist story for the new millennium, Hosking offers up a thought-provoking distillation of the private lives of high-achievers in a story that confronts its characters with a mysterious manifestation of their ambitions, desires, and vulnerabilities -- a compelling and unsettling book." —Lee Henderson, author of The Road Narrows As You Go

"Hosking confidently unravels time, friendship, and memory in this eerie debut novel, exposing the lies we tell to protect ourselves and the stories we use to survive." —Andrew F. Sullivan, author of Waste

"A dark and imaginative novel—Hosking is unafraid to venture into strange and undiscovered territory. Intellectually adventurous." —Charles Yu, author of How to Live Safely in a Science Fictional Universe

"[A] startlingly fine performance... There are probably 100 ways this novel could have failed (plausibility alone poses a real challenge), but, instead, it succeeds brilliantly, drawing us completely into a labyrinthine narrative." —Booklist (starred review)

"Hosking's time-looping tale deftly teases the reader with well-deployed reveals and intrigues…Hosking's prose is limpid and tonally sophisticated; he's a graceful wordsmith as well as a cerebral idea man…A potent, sophisticated combination of science-fiction novel and psychological thriller." —Kirkus Reviews

""…smart and spooky…The ending pays off all the preceding buildup, pulling narrative strands together with satisfying finesse while venturing into new territory." —Publishers Weekly