Hystopia: A Novel (Paperback)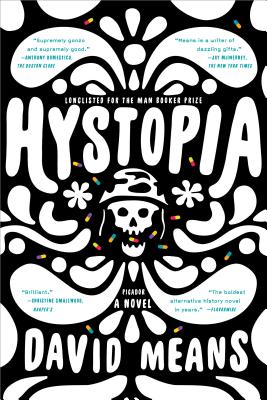 $18.00
Special Order - Subject to Availability
Staff Reviews
---
I should probably warn you, opinions of this book are split literally down the middle. So in that sense the initial response has been much like a cult film and I could really see it picking up steam in the coming years. Also, much like a cult film, the things I loved about it were the pure rawness and the unrestrained craziness of it. It is essentially an alternate history within an alternate history, a metatextual novel, the bulk of which is a manuscript written by a Vietnam veteran suffering from PTSD, and the repercussions of a radical form of therapy called "enfolding" that has come to prominence under JFK's uninterrupted 3rd term in office. The idea being to literally "enfold" traumatic memories within less painful versions of events, suppressing them within fictions we tell ourselves. This element of suppression works as an accurate metaphor for the entire novel, as even in a fanciful vision of America where Kennedy lived to lead us through the 1960's, the harsh, violent realities of that time will come bursting through all the same, leaving us with a utopia deranged. — From Salvatore's Picks
Description
---
LONGLISTED FOR THE MAN BOOKER PRIZE

Named a Best of the Year Selection by Kirkus Reviews, the San Francisco Chronicle, Commonweal Magazine, and the Library of Michigan

In his widely acclaimed and ambitious debut novel, David Means, one of America's greatest living short story writers, has produced a disorienting yet mesmerizing novel-within-a-novel. Twenty-two year old Eugene Allen, a Vietnam War veteran, has penned a revisionist history of the period that, channeled through Means, explores the realities of trauma, both national and personal. Consider Allen's imaginative register: John F. Kennedy has survived multiple attempts on his life and is entering his third term. Meanwhile, as the Vietnam War continues to wage, soldiers returning home face two fates: have their memories of war erased or, if they are too damaged for treatment, be released without monitor. But pain and their toxic strains of PTSD ultimately creates a band of deranged rogues, evading the government and reenacting atrocities on their own people.

Outlandish and tender, funny and violent, timely and historical, Hystopia invites us to consider whether our traumas can ever truly be overcome. The answers it offers are wildly inventive, deeply rooted in its characters, and wrung from the author's own heart.
About the Author
---
David Means was born and raised in Michigan. His second collection of stories, Assorted Fire Events, earned the Los Angles Times Book Prize for fiction and a National Book Critics Circle nomination. His third book, The Secret Goldfish, received widespread critical acclaim and was shortlisted for the Frank O'Connor International Short Story Prize. His fourth book, The Spot, was selected as a 2010 Notable Book by The New York Times, and won an O. Henry Prize. His books have been translated into eight languages, and his fiction has appeared The New Yorker, Harper's Magazine, Esquire, Zoetrope, The Best American Short Stories, The Best American Mystery Stories, The O. Henry Prize Stories, and numerous other publications. He lives in Nyack, New York, and teaches at Vassar College.
Praise For…
---
"The most ambitious novel of 2016 so far, Hystopia might also be the last thing we expected in a first novel by the veteran storyteller David Means: a counterfactual narrative by a Vietnam veteran about his experience in a therapeutic, psychedelics-based trauma recovery program initiated by an unassassinated John F. Kennedy, with a Kinbote–like editorial apparatus attached. The concept is high, but the hardscrabble Means we've known for years is still present and in command." —Christian Lorentzen, New York

"Supremely gonzo and supremely good . . . If Flannery O'Connor had written about Vietnam, Rake is the kind of character she would have created. . . What is the relation between the chaos of lived experience and the coherence of narrative? How is trauma tied to the fracturing of narrative, to our inability to see the past as past, distinct from, yet leading to the present?" —Anthony Domestico, The Boston Globe

"Hystopia quickly gains momentum and plausibility thanks to its richness of detail. Means is a writer of dazzling gifts: a challenging stylist and a keen observer whose senses seem, at times, pitched to a state of hyperawareness . . .Means writes beautifully about the natural world, effortlessly conjuring the sound of wind, the smell of Lake Michigan through the pines, 'the dry, lonely sizzle of cicadas going about their afternoon business." —Jay McInerney, The New York Times Book Review

"[A] wild, multi-layered and deeply affecting novel . . . Means conjures a haunting, almost dreamlike aesthetic akin to that of Terrence Malick's 1973 film Badlands. His eye for detail is microscopic, and the natural world in particular is beautifully evoked . . . this rich novel takes us far beyond Vietnam-era America; it is a potent examination of what makes, and keeps, us human." —Francesca Wade, Financial Times

"David Means's Hystopia is the boldest alternate history novel in years . . . A debut novel that reinvents a genre . . . In his fidelity to a peculiarly American brokenness, Means' debut surpasses nearly all of his recent peers." —Flavorwire

"Hystopia by David Means is a fascinating novel within a novel. Complex without being confusing, the novel weaves Eugene's own battles with mental illness and his sister's disappearance into a beautiful, haunting tale of loss." —Nancy Hightower, The Washington Post

"Hystopia, David Means's dark acid trip of a novel, reads like a phantasmagorical . . . mash-up of David Foster Wallace's Infinite Jest, Charlie Kaufman's screenplay Eternal Sunshine of the Spotless Mind, and Michael Herr's Vietnam classic, Dispatches . . . It's a meditation on war (not just Vietnam, Mr. Means suggests, but the continuum of combat that links veterans through history) and the toll it takes on soldiers and families and loved ones. It's also a portrait of a troubled America in the late 1960s and early '70s--an America reeling from unemployment and lost dreams, and seething with anger, and uncannily familiar, in many ways, to America today." —Michiko Kakutani, The New York Times

"Hystopia, which follows a group of Vietnam War veterans trying to piece together what has happened to them, is a story about storytelling and the splintered shards through which accounts of trauma demand to be told. Here we find Means pushing on the structural bounds of the novel, testing their soundness to collect the disjointedness of unformulated experience. The effect is powerful and expansive . . . Hystopia gets at how storytelling is potentially therapeutic, alleviating the burden by sharing with others, but also fraught with outsider misunderstanding. —Chantal McStay, BOMB

"[Hystopia] is simultaneously heartbreaking, bitingly funny, realistic and satirical; the hoops it asks readers to jump through regarding structure and authorial intent are a joy, not a burden. It successfully finds a fresh approach to war fiction." —Ian Swalwell, The Kansas City Star

"In Hystopia, [Means] focuses on people affected in various ways by the Vietnam War, but in a bold move for a débutant novelist, he presents both an alternative history and a novel-within-a-novel, transforming his tale into a comment on how art and literature are very often used to twist reality into a comforting yet ultimately false shape . . . [Means] has produced one of those rare, self-conscious books that operates on multiple levels, alluding to its own insufficiency while paradoxically becoming sufficient as a result. It works as a stylized reimagining of the Vietnam era, it works as an indirect revelation of the emotional truth of this same era, and it works as a subtle critique of the inability of stories and narratives to truly compensate when more than stories and narratives are needed." —Simon Chandler, Electric Literature

"The very structure of Hystopia, his first novel, is a testament to Means's belief in the power of stories that demand to be told . . . Some stories, Means suggests, are so explosive that they invite countless retelling, shedding new light—and darkness, too. In the real world, as in Mean's novel, America has, of course, remained trapped in war. Means has a profound respect for the nation's actual explosive history; his plot gleefully alters details, but not the basic themes of the story, or their violent outcomes." —Amy Weiss-Meyer, The Atlantic

"Hystopia's critique of Vietnam is Means's most realistic work to date, and its picture of social breakdown feels horribly believable, given the questions about civil rights, foreign wars and future leadership that Americans are asking today. Ultimately, like all Means's work, this is about the human condition. How do we behave when our cultural and mental strength has been destroyed and replaced by a blundering government intent on doping us into submission? In the hysterical, dystopian history that is Hystopia there are no easy answers and no happy endings, just an intense and scary story of survival." —Melissa Katsoulis, The Times (UK)

"The horrors of war, especially the traumas of America's experience in Vietnam, birthed the recursive, thickly ironized literary sensibility we call postmodernism. David Means's violent, mind-warped novel-within-a-novel Hystopia is a throwback to this style's heyday, a drug-addled nightmare version of American history nodding in the direction of Philip K. Dick, Kurt Vonnegut and Hunter S. Thompson . . . Hystopia's tale-swallowing metafiction ingeniously embodies the self-replicating mental prisons of war trauma (in Allen's telling, even enfolded veterans feel caged inside their forgetfulness)." —Sam Sacks, The Wall Street Journal

"Brilliant . . . the writing is beautiful and exuberant, moving and funny, and always one step ahead. The descriptions of getting stoned are as vivid as the landscapes. Means s characters live in a state of constant sensory attention that keeps them always attuned to the texture . . . the smell of lakes and trees, the taste of carbon." —Christine Smallwood, Harper's

"David Means, an excellent American short story writer, brings his exceptional talent to the fore in his first novel . . . [Hystopia] is a profoundly important book. It demonstrates the futility of war for all who have taken part." —Michael D. Langan, The Buffalo News

"Hystopia is a thrilling novel daring, immensely readable, and also unexpectedly funny. David Means is that lucky (and brilliant) writer: a man in full possession of a vision." —Richard Ford

"Means, up to now a short-story writer, brings rigorous interiority to the characters enmeshed in a violent, careening plot, along with weird digressions and meta-textual flourishes reminiscent of Pynchon at his righteous angriest." —Boris Kachka, New York

"Subtle yet evocative . . . there is a lot to unpack in this novel whose central themes include, but are hardly limited to, trauma, memory and violence . . . [Means is] a writer of imagination and vision, someone for whom history is not ossified but still very much alive, and rich with possibilities for reinvention." —Shoshana Olidort, Chicago Tribune

"David Means's debut novel, Hystopia, is wonderfully peculiar: It's a war novel that feels on top of the emotions war evokes now while avoiding the well-worn modes of stark realism or over-the-top satire . . . Hystopia's structure implicates the reader more than the average war novel, suggesting that we've been on our own Tripizoid bender in response to a barrage of news stories. And by framing the book as an alternative reality tale, Means finds a third way into the war novel — neither Naked and the Dead serious nor as satirical as Heller or Vonnegut. The mood is unrealistic, but only just so, and thick with dread." —Mark Athitakis, Barnes & Noble Review

"A compelling, imaginative alternative-history tale about memory and distress . . . By turns disturbing, hilarious, and absurd, Means's novel is also sharply penetrating in its depiction of an America all too willing to bury its past." —Booklist (starred review)

"After four story collections, Means delivers his first novel, and it s a dazzling and singular trip . . . Means writes stunning prose and draws his characters with verve . . . [Hystopia] reads like an acid flashback, complete with the paranoia, manic monologues, and violent visions, proving that some traumas never go away." —Publishers Weekly (starred review)

"[David Means's] work is precise, relentless, unsentimental, an art of missed opportunities and missed connections, tracing, more than anything, the inevitability of loss. These same themes mark his first novel but in a manner we haven't seen before. It's not just the difference between long and short, although one of the pleasures of this dark and complex work is to see Means stretch out. Even more, however, it's the novel's manic energy, its mix of realism and satire, set in an alternative universe . . —Kirkus Reviews (starred review)

"For every politician who launches a misbegotten war, there is a writer who says kaddish. The Edgar Allan Poe who went to West Point would have admired this ghost-haunted book. More: he would have comprehended its liminality." —Joydeep Roy-Bhattacharya, author of The Watch

"David Means takes us on a twisted, revelatory trip to the darkest corners of American life in the long shadow of the Vietnam War. Summon the courage to go along and you will be amply rewarded. Terrifying and beautiful, Hystopia defies every evasion or sentimentality in its resolute evocation of a history our culture so readily avoids. Robert Stone would be proud." —Christian G. Appy, Professor of History, University of Massachusetts, Amherst, and author of American Reckoning: The Vietnam War and Our National Identity

"A riveting, hypnotic dystopia of Vietnam combat veterans during the (fictional) second JFK administration. Amazing writing not for the faint of heart. Nuggets of beauty glowing in a pan of pain." —Jonathan Shay, M.D., Ph.D., author of Achilles in Vietnam and Odysseus in America

"Brilliant. Nothing but. Hystopia goes straight to the heart of the American darkness, that most strange and twisted place where our wars, those perfect storms of high-tech mayhem and idiot blunder, cohabit with what we love to advertise as our virtue, our freedoms, our God-blessed mission to save the world. David Means's extraordinary book bends history to paraphrase one of the novel's characters no less violently than we've bent ourselves with our non-stop warmaking of the past fifty years." —Ben Fountain, author of Billy Lynn's Long Halftime Walk