The Mistress of Paris: The 19th-Century Courtesan Who Built an Empire on a Secret (Hardcover)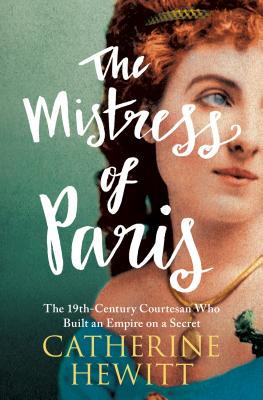 Staff Reviews
---
She started out with nothing, a prostitute who began turning tricks in her early teens. But by the time she was in her early 20's, she was one of the most famous, talked-about women in all of Paris. It sounds like a fairy tale or a Regency romance, but it is absolutely true. Comtesse Valtesse de la Bigne was witty, beautiful, and calculating: she managed to create the life she wanted through sheer force of will. In an era where a woman couldn't even have a bank account without her husband's permission, Valtesse amassed a large fortune, countless works of art, and the respect of Paris' high society. Hewitt does a fantastic job making 19th century Paris come alive through small details: the smell of gaslights, the pinch of a courtesan's stay, all the trappings of luxury the upper class enjoyed. Valtesse was a fierce, smart woman and she deserves to be remembered!
—
Lauren
Description
---
Catherine Hewitt's The Mistress of Paris is a fantastically readable biography of a nineteenth-century Parisian courtesan who harbored an incredible secret.

"A gorgeous, smart, ambitious, hard-working, steely autodidact and businesswoman whose product was herself, Valtesse would be totally at home in our self-branding society." —The New York Times Book Review

Comtesse Valtesse de la Bigne was painted by Édouard Manet and inspired Émile Zola, who immortalized her in his scandalous novel Nana. Her rumored affairs with Napoleon III and the future King Edward VII kept gossip columns full. But her glamorous existence hid a dark secret: she was no comtesse.

Valtesse was born into abject poverty, raised on a squalid backstreet among the dregs of Parisian society. Yet she transformed herself into an enchantress who possessed a small fortune, three mansions, fabulous carriages, and art the envy of connoisseurs across Europe. A consummate show-woman, she ensured that her life—and even her death—remained shrouded in just enough mystery to keep her audience hungry for more.

Spectacularly evoking the sights and sounds of mid- to late nineteenth-century Paris in all its hedonistic glory, Catherine Hewitt's biography tells, for the first time ever in English, the forgotten story of a remarkable woman who, though her roots were lowly, never stopped aiming high.
About the Author
---
Catherine Hewitt studied French Literature and Art History at Royal Holloway, University of London and the Courtauld Institute of Art. Her proposal for The Mistress of Paris was awarded the runner-up's prize in the 2012 Biographers' Club Tony Lothian Competition for the best proposal by an uncommissioned, first-time biographer. She lives in a village in Surrey.
Praise For…
---
"Hewitt's fascinating biography reads like a novel and paints a vivid portrait of a woman who reinvented herself and carved out a successful and lucrative career in one of the only realms available to women in her time, place, and circumstances." —Booklist

"[A]stonishing.... A thoroughly researched and clearly written account of a determined and talented woman and of an era." —Kirkus Reviews

"Reading like a novel with enticing cliff-hangers, Hewitt's work marries the life of Valtesse with the fascinating history of Paris,imbuing both with vivacity." —Library Journal

"An enthralling story, told with both conviction and sympathy." —The Observer (UK)

"Hewitt is a diligent researcher and her handsomely illustrated debut biography is crammed with period detail. . . . she offers an intriguing insight into the precarious glamour of life as a nineteenth-century courtesan." —The Daily Telegraph (UK)

"Riveting." —The Bookseller (UK)

"A fascinating biography . . . Full of detail and astute observation, the book is a remarkable tale of a woman who never stopped aiming high, but whose personal life was shrouded in mystery." —France magazine

"Her lovers included painters and politicians, and she caused plenty of scandal that will have you curled up with this book for hours." —Living France

"Well researched . . . she has written a truly handsome boudoir book." —Irish Examiner

"It is incredibly readable. The story itself is innately fascinating . . . Hewitt has a great deal of knowledge on the time period of nineteenth-century Paris . . . much to enjoy in this engaging account of Parisian culture." —All About History (UK)

"This proves to be both a full and intriguing biography, and a fascinating portrait of the time period. . . .The Mistress of Paris is not just a biography of a fascinating woman, but an in-depth look at the France of the nineteenth century . . . A skillfully woven tapestry of a fascinating life, this is a hugely interesting and surprisingly involving read." —The Bookbag