The Loch Ness Papers: A Scottish Bookshop Mystery (Hardcover)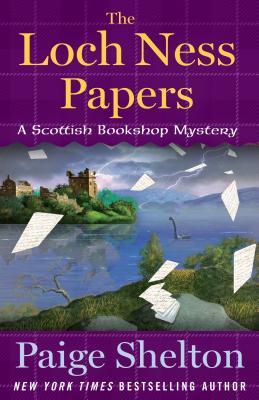 $26.99
Not Available In-Store - Usually Ships from Warehouse in 1-5 Days
Other Books in Series
This is book number 4 in the A Scottish Bookshop Mystery series.
Description
---
Bookseller Delaney Nichols befriends a Loch Ness monster enthusiast; when he stands accused of murder she'll do whatever it takes to learn who the killer is—and whether Nessie herself is really lurking in the Scottish waters.
Delaney Nichols is delighted with her life in Edinburgh, working at The Cracked Spine—a shop that specializes in hard-to-find books and artifacts. With a job she loves, and her fast approaching marriage to devastatingly handsome Scottish pub-owner Tom Shannon, Delaney's life could be straight out of a fairy tale—at least it would be, if the pastor meant to perform the wedding ceremony hadn't recently passed away. Outside the church where Delaney is searching for another reverend, she stumbles across Norval Fraser: an elderly man obsessed with the Loch Ness monster. Always attracted to the interesting and unusual, Delaney befriends Norval. But when his nephew is found dead, the police decide Norval's obsession has moved from monsters to murder.
With a wedding to plan, her family arriving soon from Kansas, and the arrival of an over-the-top Texan with a wildly valuable book, Delaney's plate is full to bursting, but she can't abandon her new friend. Determined to help Norval, she sets out to learn the truth. The Loch Ness buries its secrets deeply, but Delaney is determined to dig them up—whether Nessie likes it or not.
Set in Edinburgh, Scotland, The Loch Ness Papers is the fourth in the Scottish Bookshop series by Paige Shelton.
About the Author
---
PAIGE SHELTON had a nomadic childhood, as her father's job as a football coach took her family to seven different towns before she was even twelve years old. After college at Drake University in Des Moines, Iowa, she moved to Salt Lake City. She thought she'd only stay a couple years, but instead she fell in love with the mountains and a great guy who became her husband. After many decades in Utah, she and her family now live in Arizona. She writes the Scottish Bookshop Mystery series, which begins with The Cracked Spine.
Praise For…
---
"The intriguing Scottish bookshop and wedding details will satisfy fans of Amanda Flowers' "Magic Garden" mysteries. Readers who relish eccentric characters and bookstores, as seen in Vicki Delany's "Sherlock Holmes" bookshop series, will savor this fourth entry in an atmospheric series."—Library Journal (Starred)
"Framed with its lovingly described Scottish setting and the fascinating details about both the monster and King Arthur, Shelton's mystery mixes atmosphere, crime, and characters effectively."—Booklist
"Agreeable...Shelton stocks her tale with appealing characters and intriguing Nessie lore. Cozy fans will be rewarded."—Publishers Weekly
"The warm relationships among characters—and Delaney's gift for finding the best quote from the right author to direct her forward—make this the perfect book to curl up with on a rainy day."—BookPage

Praise for the Scottish Bookshop Mysteries:
"A complex plot, a cast of amiable characters, an array of suspects and an enchanting Scottish setting combine to create a clever entry in a capital series, one that provides multiple pleasures, whether or not accompanied by a single malt."—Richmond Times-Dispatch on Lost Books and Old Bones
"Move over Claire Fraser; American bibliophile Delaney Nichols is about to take Scotland-and legions of cozy mystery readers-by storm! As warm and inviting as a cup of tea and a serving of fresh-from-the-oven shortbread. Readers will fall in love with The Cracked Spine."—Ellery Adams, New York Times bestselling author of the Books By The Bay Mysteries
"Shelton pens a perfectly twisty-turny puzzler of a mystery in The Cracked Spine. With the engagingly bookish, amateur sleuth Delaney Nichols leading the way around the richly detailed city of Edinburgh, the reader is fully immersed in her world as she tries to expose the lies and deceptions that hide the brutal truth behind a murder. Full of wit and whimsy, with a clever plot and delightful characters, this mystery is a fantastic read!" —Jenn McKinlay, New York Times bestselling author of the Cupcake Mysteries
"A great read for book lovers, mystery seekers, and anyone who enjoys a determined new heroine. Sure to be a winning series." —Erika Chase, nationally bestselling author of Read and Buried
"Kilts, killers, and a keen sleuth ... oh my! Ms. Shelton has crafted a foolproof plot, endearing characters, and prose that immediately transports readers to enchanting Edinburgh ... and leaves them eager for a return trip. Readers will be delighted with this new series." —Lucy Arlington, New York Times bestselling author of the Novel Idea Mysteries
"With a wee bit of the brogue, Paige Shelton weaves a Scottish tale of mystery and intrigue filled with a quirky cast of characters, including the clever Delaney Nichols, an American fish-out-of-water who believes in the magic of books. You will want to make repeat visits to The Cracked Spine." —Daryl Wood Gerber, nationally bestselling author of The Cookbook Nook Mysteries