How to Be Human: A Novel (Hardcover)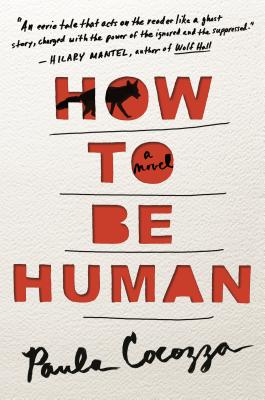 Staff Reviews
---
Another (!) story of the life of a lonely woman rebounding from a controlling relationship. However, this particular heroine befriends...a FOX...who wanders into her garden, and seems to be communicating with her. We are taken into the mind of the animal, where the author speaks in the way animals might, in lovely, alliterative little fragments describing its sense experiences, and memories, and really, people, this stuff ought to be VERSE. Fox and woman grow closer, the animal brings her little gifts, she discovers strengths she never knew she had and the neighbors begin to worry. but really, it is THEIR lives that are unraveling... I will be recommending this book to everyone, but especially to those of you who liked H is for Hawk.
—
Georgeann
Description
---
From Guardian writer Paula Cocozza, a debut novel of the breakdown of a marriage, suburbian claustrophobia, and a woman's unseemly passion for a fox

One summer's night, Mary comes home from a midnight ramble to find a baby lying on her back door step. Has Mary stolen the baby from next door? Has the baby's mother, Mary's neighbor, left her there in her acute state of post-natal depression? Or was the baby brought to Mary as a gift by the fox who is increasingly coming to dominate her life?

So opens How to Be Human, a novel set in a London suburb beset by urban foxes. On leave from work, unsettled by the proximity of her ex, and struggling with her hostile neighbors, Mary has become increasingly captivated by a magnificent fox who is always in her garden. First she sees him wink at her, then he brings her presents, and finally she invites him into her house. As the boundaries between the domestic and the wild blur, and the neighbors set out to exterminate the fox, it is unclear if Mary will save the fox, or the fox save Mary.

In this masterful debut, Paula Cocozza weaves together a penetrating portrait of marital breakdown, a social novel of wit and nuance, and an obsessive love story that crosses new boundaries.
About the Author
---
Paula Cocozza is a staff feature writer at The Guardian and has covered everything from soccer to fashion to fourth-wave feminism. Her writing, which has also appeared in Vogue, the Telegraph, the Independent, and the TLS, received the 2013 David Higham Award. Paula lives in London with her husband, two children, and a garden full of foxes. How to Be Human is her first novel.
Praise For…
---
"Hypnotic... The narrative balance is wonderfully sly and assured throughout... If, as I do, one likes to dwell on the handsome presence of animals, and on the rustlings of various leaves, grasses and insects, this novel satisfies and delights. But even greater pleasure is to be had from the dark side of Mary's enchantments."
—The New York Times Book Review

"A thrilling psychodrama... Cocozza brilliantly captures a sense of Hitchcockian, curtain-twitching intensity... Like the scent of a fox, truth and fact in How to Be Human start to evaporate. What is left behind is a pervasive sense that beneath the veneer of civility, something wilder is always lurking."
—The Economist

"Enchanting... For all its suggestiveness and sensuality, Cocozza's narrative is artfully restrained . . . In this startling debut, Cocozza seems to be saying that, no matter how lonely the city becomes, through an open window a mass of life is listening back."
—Times Literary Supplement (London)

"Cocozza has a wonderful eye for detail, and her descriptions of the natural world are uncanny . . . She takes a big risk in narrating some sections from the point of view of the fox, and pulls it off with aplomb."
—The Guardian (London)

"A writer who is clearly unafraid of launching herself with a bang . . . Compelling . . . We are reminded of how close to the surface primal instincts can prowl."
—The Telegraph (London)

"How to Be Human is a subversive debut, an eerie tale that acts on the reader like a ghost story, charged with the power of the ignored and the suppressed. If we disdain our animal selves, they trail us, shadowing us at dawn and dusk. Paula Cocozza shows us that the line between the wilderness and the city is thin, easily transgressed; the ghost breathing in the thicket is our own wild nature."
—Hilary Mantel, author of Wolf Hall

"Paula Cocozza's brilliant debut is an incredible addition to her already impressive career as a features writer for the Guardian. In this beautiful book, Mary meets a fox, and what unfolds is possibly a love story, possibly a story of madness, possibly a story of vivid and beautiful imagination and a clever coping mechanism, and possibly all three at the same time.… A gorgeous tale with gripping prose."
—Read It Forward