Universal Love: Stories (Hardcover)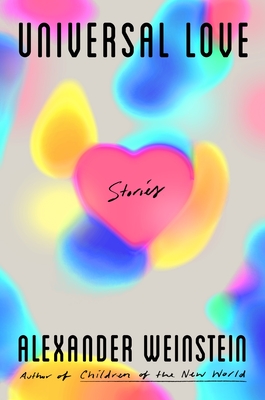 $26.00
Email or call for price.
Description
---
A hypnotic collection of speculative fiction about compassion, love, and human resilience in the technological hyper-age, from Alexander Weinstein, author of Children of the New World.

Universal Love welcomes readers to a near-future world where our everyday technologies have fundamentally altered the possibilities and limits of how we love one another. In these gripping stories, a young boy tries to understand what keeps his father tethered to the drowned city they call home. A daughter gets to know her dead mother's hologram better than she ever knew her living mother. And, at a time when unpleasant memories can be erased, a man undergoes electronic surgery to have his depression, and his past, forever removed.

In an age when technology offers the easiest cures for loneliness, the characters within these stories must wrestle with what it means to stay human in an increasingly cybernetic future, and how love can endure even the most alluring upgrades.

In the vein of Weinstein's critically-acclaimed first collection, Universal Love is a visionary book, written with one foot in the real world and one stepping bravely into the future.
About the Author
---
Alexander Weinstein is the author of the critically acclaimed Children of the New World and the director of the Martha's Vineyard Institute of Creative Writing. Among his many publications, his fiction was awarded the Lamar York Prize and the Gail Crump Prize, has been nominated for the Pushcart Prize, and has been collected in the anthology 2013 New Stories from the Midwest. He is a professor of creative writing at Siena Heights University and a lecturer at the University of Michigan.
Praise For…
---
Praise for Universal Love:

"Funny and terrifying. . . .Universal Love picks up where [Children of the New World] left off."
--Ann Arbor Observer

"Weinstein made a big splash in SF with his debut collection and follows it up with nearly a dozen stories that are just as creepy and will fit right in if you're watching Black Mirror. . . .In dark times, we get entertainment that reflects the world we've made. Welcome home."
--Kirkus

"Troubling and compassionate . . . .Channeling Ray Bradbury with contemporary allegories, Weinstein will make readers think twice about their relationship to technology."
--Publishers Weekly



"These are deeply imaginative and compelling stories, written with exquisite poise, that bring the speculative and uncanny very close to home. Weinstein is here to remind us that questions of technology, of the future of our world, are also, always, questions of human intimacy and human care."
--Jennifer Mills, author of Dyschronia


Praise for Alexander Weinstein:


"The timely, nuanced stories in Alexander Weinstein's Children of the New World are some of the most brilliantly disconcerting fiction in recent memory...As with George Saunders or Ray Bradbury, Weinstein's satiric ingenuity seldom overpowers his deep compassion for our wayward species....The resulting cautionary tales are superlatively moving and thought-provoking, imbued with disarming pathos and a palpable sense of wonder and loss."
--David Wright, The Seattle Times


"Seductive...Weinstein's stories whistle with a cockeyed, formidable intelligence, and he is not afraid to provoke…. At their finest, Mr. Weinstein's stories contain moments of moral complexity and, even more challenging--and more moving--moments of grace."
--The New York Times


"A darkly comic look at how far people will go to hold on to the devices that are replacing human experience."
--The Washington Post