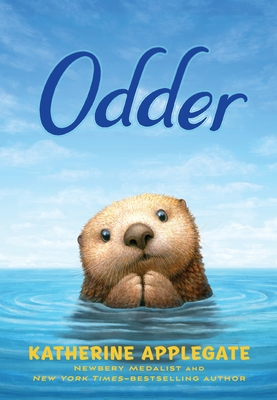 Staff Reviews
---
"clutching her newborn/like a pillow with a heartbeat" This book is otterly adorable (...I'm sorry). Constructed from simple verse, this journey follows a sea otter--named Odder--and her desperate fight for survival. The words are simple but the form takes every proper shape to make each scene come alive and flow like a river, sometimes pulling on your heartstrings and even forcing you to laugh every once in a while. A native of the Bay Area myself, the poems in this book capture the lively and playful spirit of Monterey's favorite mammal beautifully, while also giving an informative expose on the life and behaviors of the ocean otter in a fun and ingenious way.
— From
Trevor's Picks (page 2)
Description
---
Now a #1 New York Times bestseller! A touching and lyrical tale about a remarkable sea otter, from Newbery Medalist Katherine Applegate, author of Wishtree.

Meet Odder, the Queen of Play:

Nobody has her moves.
She doesn't just swim to the bottom,
she dive-bombs.
She doesn't just somersault,
she triple-doughnuts.
She doesn't just ride the waves,
she makes them.

Odder spends her days off the coast of central California, practicing her underwater acrobatics and spinning the quirky stories for which she's known. She's a fearless daredevil, curious to a fault. But when Odder comes face-to-face with a hungry great white shark, her life takes a dramatic turn, one that will challenge everything she believes about herself—and about the humans who hope to save her.

Inspired by the true story of a Monterey Bay Aquarium program that pairs orphaned otter pups with surrogate mothers, this poignant and humorous tale told in free verse examines bravery and healing through the eyes of one of nature's most beloved and charming animals.
About the Author
---
Katherine Applegate is the #1 New York Times-bestselling author of beloved and award-winning books for young readers, including Odder, Home of the Brave, Crenshaw, Wishtree, Willodeen, and The One and Only Ivan, for which she won the Newbery Medal. She is also the author of the Animorphs series, and a beginning reader series, Doggo and Pupper, illustrated by Charlie Alder. Katherine Applegate lives in Southern California with her family.
Praise For…
---
A #1 NEW YORK TIMES BESTSELLER!
A Publishers Weekly bestseller
A #1 Indie Bestseller!
A 2023 Notable Verse Novel, National Council of Teachers of English (NCTE)
An Amazon Best Book of 2022
Parents Magazine Best Book of 2022
A 2022 Blue Ribbon List selection
2022-2023 Vermont Golden Dome Book Award Master List
Evanston Public Library 2022 Blueberry Fiction Honor Title

"Applegate's Odder will win your heart." —The New York Times

"Applegate uses strands of nonfiction detail to anchor and give stability to Odder's fictional story, much as sea otters use lengths of kelp to hold themselves in place while they sleep. Charles Santoso's endearing black-and-white illustrations, meanwhile, add to the buoyancy of this accessible and informative story." —The Wall Street Journal

"Writing in exquisitely descriptive free verse, Applegate delivers an uplifting tale of an inquisitive sea otter pup raised by scientists after being separated from her mother. ...Though humans make cameo appearances...the focus remains rightfully on its enigmatic star: a lovable otter who not only survives against the odds but thrives." —Publishers Weekly, starred review

"Based on the Monterey Bay Aquarium and its otter rescue and fostering program, this gorgeous story is told in flowing free verse that slips by as silkily as an otter in water. ... Told almost entirely from Odder's perspective, imparting dreamy observations of the natural and human worlds from an animal's point of view. Handsome black-and-white illustrations...punctuate the verses... A stunning study of a remarkable and resilient sea creature." —Booklist, starred review

"Soft, black-and-white illustrations dot Odder's story, enhancing readers' emotional connections to a captivating tale about life's existential balance between survival and play." —Bulletin of the Center for Children's Books (BCCB), starred review

"The free verse effortlessly weaves in scientific information, giving Odder a voice without overly anthropomorphizing any of the animals. The natural appeal of sea otters will draw readers in, but the book doesn't shy away from real-world threats such as predators, disease, and pollution.... Charming black-and-white spot art captures the world and life of the sea." —Kirkus Reviews

"This book will appeal to animal lovers and anyone who feels a little stifled by convention. Hand this to middle grade fans of marine biology, authors like Sharon Creech and Eliot Schrefer, and Applegate's Newbery-winning The One and Only Ivan." —School Library Journal

"Applegate's text is absorbing, her spotlight on the animals' nature and emotions powerful....Charles Santoso sensitively details his realistic, curvilinear black-and-white illustrations. Santoso's superb spot art and the extensive author's note add much to this stellar presentation." —Shelf Awareness, starred review


"[V]ery accessible and appealing to young animal lovers." —The Horn Book Magazine