Universal Harvester: A Novel (Paperback)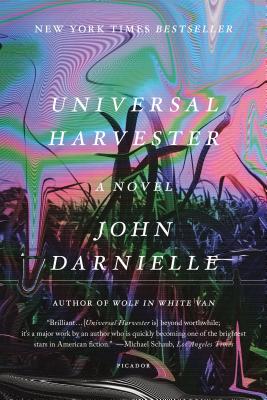 $17.00

Not Available In-Store - Usually Ships from Warehouse in 1-5 Days
Staff Reviews
---
John Darnielle is a subtle genius at scaring the absolute shit out of me, not with overt violence, but with half-seen horrors, terrible incongruities glimpsed in the periphery. The narrator unspools the story slowly, meandering through a small town and its inhabitants, dropping strange, disarming hints that all is not as it seems. I would find myself getting lost in the story, relishing the small details of Iowa in the 90's, only to come across a sentence that made me profoundly uneasy. It was like peeking between my fingers at a scary movie: I couldn't look directly at it, but I couldn't look away. UNIVERSAL HARVESTER is a discomfiting book, but I didn't want it to end.
—
Lauren
Jeremy works in an independent video rental shop in Iowa in the late '90s when the likes of Hollywood Video loomed large, threatening their existence. His days are routine until multiple customers return videos complaining that there's "something" on them, something that isn't supposed to be... and from there things only get stranger.
Darnielle again proves his ability to craft a wholly original story while still giving you the sense that everything going on is eerily familiar.
—
Amy
Description
---
Life in a small town takes a dark turn when mysterious footage begins appearing on VHS cassettes at the local Video Hut. So begins Universal Harvester, the haunting and masterfully unsettling new novel from John Darnielle, author of the New York Times Bestseller and National Book Award Nominee Wolf in White Van.

A New York Times Bestseller
A Finalist for the Locus Award (Best Horror Novel)

"A moving, beautifully etched picture of America's lost and profoundly lonely." —Kazuo Ishiguro, author of The Remains of the Day and winner of the 2017 Nobel Prize for Literature

"Brilliant . . . Darnielle is a master at building suspense, and his writing is propulsive and urgent; it's nearly impossible to stop reading . . . [Universal Harvester is] beyond worthwhile; it's a major work by an author who is quickly becoming one of the brightest stars in American fiction."
—Michael Schaub, Los Angeles Times

"Grows in menace as the pages stack up . . . [But] more sensitive than one would expect from a more traditional tale of dread." —Joe Hill, New York Times Book Review (Editors' Choice)

"The most unsettling book I've read since House of Leaves."
—Adam Morgan, Electric Literature

It's the late '90s, and you can find Jeremy Heldt at the Video Hut in Nevada, Iowa—a small town in the center of the state. The job is good enough for Jeremy, quiet and predictable, and it gets him out of the house, where he lives with his dad and where they both try to avoid missing Mom, who died six years ago in a carwreck. But when a local school teacher comes in to return her copy of Targets—an old movie, starring Boris Karloff—the transaction jolts Jeremy out of his routine. "There's something on it," she says as she leaves the store, though she doesn't elaborate. Two days later, another customer returns another tape, and registers the same odd complaint: "There's another movie on this tape."

In Universal Harvester, the once-placid Iowa fields and farmhouses become sinister, imbued with loss and instability and foreboding. As Jeremy and those around him are absorbed into tapes, they become part of another story—one that unfolds years into the past and years into the future, part of an impossible search for something someone once lost that they would do anything to regain.
About the Author
---
John Darnielle's first novel, Wolf in White Van, was a New York Times bestseller, National Book Award nominee, and a finalist for the Los Angeles Times Book Prize for first fiction, and widely hailed as one of the best novels of the year. He is the writer, composer, guitarist, and vocalist for the band the Mountain Goats. He lives in Durham, North Carolina, with his wife and sons.
Praise For…
---
"Brilliant…Darnielle is a master at building suspense, and his writing is propulsive and urgent; it's nearly impossible to stop reading. . . [Universal Harvester is] beyond worthwhile; it's a major work by an author who is quickly becoming one of the brightest stars in American fiction."
—Michael Schaub, Los Angeles Times

"Grows in menace as the pages stack up . . . [But] more sensitive than one would expect from a more traditional tale of dread."
—Joe Hill, New York Times Book Review

"The most unsettling book I've read since House of Leaves."
—Adam Morgan, Electric Literature

"This chilling literary thriller follows a video store clerk as he deciphers a macabre mystery through clues scattered among the tapes his customers rent. A page-tuning homage to In Cold Blood and The Ring."
—O: The Oprah Magazine

"A stellar encore after the success of [Darnielle's] debut novel, Wolf in White Van . . . Beneath the eerie gauze of this book, I felt an undercurrent of humanity and hope."
—Manuel Roig-Franzia, The Washington Post

"[Universal Harvester is] so wonderfully strange, almost Lynchian in its juxtaposition of the banal and the creepy, that my urge to know what the hell was going on caused me to go full throttle . . . [But] Darnielle hides so much beautiful commentary in the book's quieter moments that you would be remiss not to slow down."
—Abram Scharf, MTV News

"Few books in recent memory have mastered the Midwestern uncanny as well as John Darnielle's strange and lyrical Universal Harvester...Like Midwestern cornfields, this book haunts in many ways."
—Chicago Review of Books

"Universal Harvester is a novel about noticing hidden things, particularly the hurt and desperation that people bear under their exterior of polite reserve . . . Mr. Darnielle possesses the clairvoyant's gift for looking beneath the surface."
—Sam Sacks, The Wall Street Journal

"[Universal Harvester is] constantly unnerving, wrapped in a depressed dread that haunts every passage. But it all pays off with surprising emotionality."
—Kevin Nguyen, GQ.com

"Truly excellent...In an age of puffed up literary doorstops, it feels vaguely miraculous that Darnielle manages to pack this haunting novel...into less than 300 pages."
—Joe Gross, Austin American-Statesman

"Darnielle writes beautifully . . . He builds a deep sense of foreboding by giving pieces of the puzzle in such a way that you really can't see the solution until that final piece is in place."
—Salem Macknee, News & Observer

"Eerie . . . unnerving . . . Darnielle adeptly juggles multiple stories that collide with chaotic consequences somewhere in the middle of nowhere. With a nod to urban legends and friend-of-a-friend tales, the author prepares readers for the surreal truth, the improbable events that 'have form, and shape, and weight, and meaning" —Publishers Weekly (starred review)

"Darnielle's masterfully disturbing follow-up to the National Book Award-nominated Wolf in White Van reads like several Twilight Zone scripts cut together by a poet . . . All the while, [Darnielle's] grasp of the Iowan composure-above-all mindset instills the book with agonizing heartbreak." —Daniel Kraus, Booklist (starred review)

"Darnielle's second novel opens like a dark suspense story . . . but he ultimately pursues a softer and more nuanced exploration of family and loss . . . Darnielle's prose is consistently graceful and empathetic . . . [Universal Harvester is] a smart and rangy yarn." —Kirkus Reviews