In Putin's Footsteps: Searching for the Soul of an Empire Across Russia's Eleven Time Zones (Hardcover)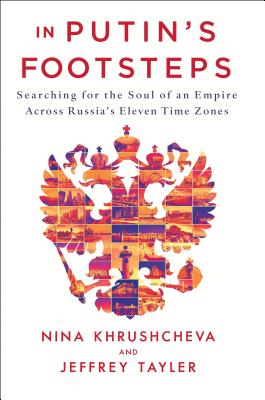 Description
---
In Putin's Footsteps is Nina Khrushcheva and Jeffrey Tayler's unique combination of travelogue, current affairs, and history, showing how Russia's dimensions have shaped its identity and culture through the decades.

With exclusive insider status as Nikita Khrushchev's great grand-daughter, and an ex-pat living and reporting on Russia and the Soviet Union since 1993, Nina Khrushcheva and Jeffrey Tayler offer a poignant exploration of the largest country on earth through their recreation of Vladimir Putin's fabled New Year's Eve speech planned across all eleven time zones.

After taking over from Yeltsin in 1999, and then being elected president in a landslide, Putin traveled to almost two dozen countries and a quarter of Russia's eighty-nine regions to connect with ordinary Russians. His travels inspired the idea of a rousing New Year's Eve address delivered every hour at midnight throughout Russia's eleven time zones. The idea was beautiful, but quickly abandoned as an impossible feat. He correctly intuited, however, that the success of his presidency would rest on how the country's outback citizens viewed their place on the world stage.

Today more than ever, Putin is even more determined to present Russia as a formidable nation. We need to understand why Russia has for centuries been an adversary of the West. Its size, nuclear arsenal, arms industry, and scientific community (including cyber-experts), guarantees its influence.
About the Author
---
Nina Khrushcheva is the author of Imagining Nabokov and The Lost Khrushchev, and a Professor of International Affairs at New School University, and a member of the Council on Foreign Relations. Her work has appeared in Newsweek, The New York Times, The Wall Street Journal, The Financial Times among others.

A contributing editor at The Atlantic and the New York Times Notable author of several books, including River of No Reprieve and Facing the Congo, Jeffrey Tayler has reported on Russia and the former Soviet Union for Foreign Policy, Harper's Magazine, Conde Nast Traveler, National Geographic, and more. He lives in Moscow.
Praise For…
---
"[A] fascinating account. [The] book delivers a unified impression of a 'coherently incoherent' Russia. They bring fresh eyes to cities that usually get too little attention and share fascinating revelations."—The New York Times

"A highly engaging, very original exploration of modern-day Russia—a more complex society than most appreciate. Jumping eloquently from sweeping historical narratives to colorful anecdotes from their travels, Khrushcheva and Tayler use the 'prism of its geography' to explore and explain contemporary Russia in all its dimensions. If you want to understand the 'real Russia,' read this book." —Michael McFaul, New York Times bestselling author of From Cold War to Hot Peace

"An absorbing read which is also the most insightful book I have read about Putin's Russia. It is essential reading for anyone desiring to understand Russia and should be required for anyone presuming to comment on Russia today." —Jack F Matlock, Jr. U.S. Ambassador to the USSR, 1987-91; author of Reagan and Gorbachev: How the Cold War Ended

"The most valuable service this book provides—apart from saving us some long and rough travel— is to remind us that we really don't know the Russians, not because they're so mysterious or hostile, but because they themselves don't know who they are or where they're going—140,000,000 souls adrift in history." —Richard Lourie, acclaimed author of The Autobiography of Joseph Stalin and Sakharov: A Biography

"A lively and illuminating political exploration of Russia from Kaliningrad to Vladivostok."—Angela Stent, Taylor & Francis Online

"In Putin's Footsteps reads like the Russian rivers depicted in its pages: deep, wide, and flowing ever onward. Not only do Khrushcheva and Tayler carry us across the vast expanse of Russia's eleven time zones, they do so with a depth of commentary, history and color that brings each place alive."—Lisa Dickey, author of Bears in the Streets

"The authors ably capture the vastness of the cobbled-together nation, the extremes encompassed within that vastness, and how the history of trying to tame the wildly divergent population spread out massive distances from Moscow is melding with current efforts to do the same. A breathtaking and occasionally exhausting journey, with candid accounts reported from each stop along the route. "—Kirkus Reviews

"This powerful chronicle will enlighten readers both curious and knowledgeable about contemporary Russia."—Booklist