Caged: A Novel (Agent Sayer Altair #1) (Hardcover)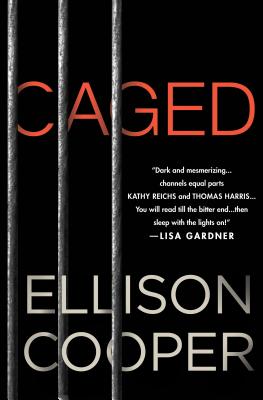 Other Books in Series
This is book number 1 in the Agent Sayer Altair series.
Description
---
FBI profiler Sayer Altair hunts a brilliant serial killer with a dangerous obsession in Caged, a gripping thriller from debut author Ellison Cooper.
In a residential Washington, D.C. neighborhood, a young woman's body is found in the basement of an abandoned house--starved to death in a cage, along with the video footage of a dark and deadly ritual. The victim is identified as the daughter of a prominent D.C. politician, and it falls to the FBI to track down the unconscionable psychopath who murdered her.
FBI special agent Sayer Altair would rather conduct research on criminality than catch actual criminals. But when she's offered a promotion hinging on her next assignment, she reluctantly accepts the "Cage Killer" case. Taunted by a photo of another victim at the mercy of this vicious killer, Sayer and her team are driven to put an end to these grisly homicides.
During the investigation, clues emerge connecting the murders to Sayer's past. Now, the stakes are personal, and the deeper Sayer is drawn into the deadly web, the more she believes she is the only one who can uncover the killer's identity.
Told with devastating detail, shocking twists and unrelenting suspense, Cooper proves her exceptional ability to entertain and enthrall.
About the Author
---
Ellison Cooper has a Ph.D. in anthropology from UCLA, with a background in archaeology, cultural neuroscience, ancient religion, colonialism, and human rights. She has conducted fieldwork in Central America, West Africa, Micronesia, and Western Europe. She has worked as a murder investigator in Washington DC, and is a certified K9 Search and Rescue Federal Disaster Worker. She now lives in the Bay Area with her husband and son.
Ellison is the author of Caged.
Praise For…
---
"Cooper's relentless energetic storytelling elevates Caged beyond the typical serial killer novel as the author weaves in real science to create some unique twists." - Associated Press
"Forensic mystery fans who enjoy deciphering clues while peeking inside the mind of a killer will be entertained by this pathologically twisted tale…A good choice for fans of Patricia Cornwell and Kathy Reichs." – Library Journal
"... will have strong appeal for thriller fans drawn to the psychologically complex, character-driven serial-killer hunts of Val McDermid and Jefferey Deaver." - Booklist
"A dark and mesmerizing debut. Ellison Cooper channels equal parts Kathy Reichs and Thomas Harris in this fiendishly clever thriller that pits and up and coming FBI agent against an exceptionally cold and calculating killer. You will read till the bitter end . . . then sleep with the lights on!" - Lisa Gardner, New York Times bestselling author
"Caged is a pulse-pounding twisted thrill ride that will keep readers guessing - and plotting revenge - right up to its satisfying conclusion." - Chelsea Cain, New York Times bestselling author
"I started this and couldn't stop. Excellent, fast and smooth." - F. Paul Wilson, New York Times bestselling author
"Smart, Fast, well-crafted, and intricately plotted, CAGED hooked me by the lip and reeled me right into an intelligent, fast-paced race to the end. I don't gush about many books, but Ellison Cooper has made her debut with a remarkably written novel." - W. Michael Gear, USA Today and New York Times bestselling author
". . . A lightning bolt of a read . . . unputdownable . . ." - San Jose Mercury News