When They Call You a Terrorist (Young Adult Edition): A Story of Black Lives Matter and the Power to Change the World (Hardcover)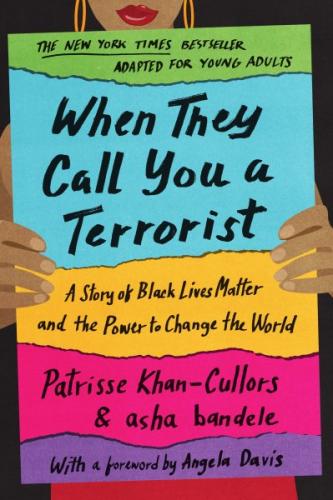 Staff Reviews
---
When They Call You a Terrorist is not so much a memoir of being in the movement or even really about creating the movement, but about the systems of oppression and white supremacy experienced at an intimate and personal level which made creating the Black Lives Matter Movement urgent and necessary. It is a reminder that, while intentionally decentralized, #BLM is Queer, Trans, and Woman led. It is a call out to all of the organizers who came before and after, that helped to create and sustain a space to say Black Lives Matter. This book is painful to read, but also beautifully written and full of determination and promise. When They Call You a Terrorist should be mandatory reading.
—
Heather
Description
---
Patrisse Khan-Cullors' and asha bandele's instant New York Times bestseller, When They Call You a Terrorist is now adapted for the YA audience with photos and journal entries!

A movement that started with a hashtag--#BlackLivesMatter--on Twitter spread across the nation and then across the world.

From one of the co-founders of the Black Lives Matter movement comes a poetic memoir and reflection on humanity. Necessary and timely, Patrisse Khan-Cullors' story asks us to remember that protest in the interest of the most vulnerable comes from love. Leaders of the Black Lives Matter movement have been called terrorists, a threat to America. But in truth, they are loving women whose life experiences have led them to seek justice for those victimized by the powerful.

In this meaningful, empowering account of survival, strength, and resilience, Cullors and asha bandele seek to change the culture that declares innocent black life expendable.
About the Author
---
PATRISSE KHAN-CULLORS is an artist, organizer, and freedom fighter from Los Angeles, CA. Co-founder of Black Lives Matter, she is also a performance artist, Fulbright scholar, popular public speaker, and an NAACP History Maker.

asha bandele is the award-winning author of The Prisoner's Wife and several other works. Honored for her work in journalism and activism, asha is a mother, a former senior editor at Essence and a senior director at the Drug Policy Alliance.
Praise For…
---
"A gripping, much-needed memoir about a Black woman, a movement, and people fighting for freedom denied." - Kirkus

"This memoir is a reflection on humanity, lauded as an empowering account of survival, strength, and resilience, and is the kind of call to action we need now more than ever." - Book Riot

"This book is more than the origin story of BLM and more than Khan-Cullors's revolutionary journey. She creates space for difficult thoughts and conversations to begin." - School Library Journal

Praise for When They Call You a Terrorist:

Entertainment Weekly's "13 Books to Read in January," Cassius' "Black Books to Add to Your Reading List," Vogue's "The Most Anticipated Books of January 2018," Paste's "10 of the Best Books of January 2018," Bitch Magazine's "Bitch Reads: 13 Books Feminists Should Read in January," ELLE's "19 of the Best Books to Read This Winter."

"Strikingly beautiful… Patrisse Cullors' story is a moral example to the nation."--Michael Eric Dyson, New York Times bestselling author of Tears We Cannot Stop: A Sermon to White America

"This book is a must-read for all of us."—Michelle Alexander, New York Times bestselling author of The New Jim Crow

"This is a story of perseverance from a woman who found her voice in a world that often tried to shut her out. When They Call You a Terrorist is more than just a reflection on the American criminal justice system. It's a call to action for readers to change a culture that allows for violence against people of color." – TIME Magazine, named one of the Best Memoirs of 2018 So Far

"Impassioned, direct, inspiring and unsparing." – Entertainment Weekly

"This powerful book by Black Lives Matter co-founder Patrisse Khan-Cullors reminds us American racism is pervasive…the mission of Khan-Cullors and her fellow activists has never been more important – or more urgent." The Guardian

"[A] fierce, intimate memoir." - O Magazine

"A thoroughly modern, fre­quently poetic take on the black-freedom-struggle narrative."- Ms. Mag

"With great candor about her complex personal life, Khan-Cullors has created a memoir as compelling as a page-turning novel." - Booklist Starred Review

"This searing, timely look into a contemporary movement from one of its crucial leading voices belongs in all collections." - Library Journal Starred Review

An eye-opening and eloquent coming-of-age story from one of the leaders in the new generation of social activists." —Publishers Weekly, starred review

"An important account of coming of age within today's explosive racial dynamic." - Kirkus Reviews

"When They Call You a Terrorist deals with the incarceration and disenfranchisement of black men like her father, but it also explores facets of Cullors' personal identity — black womanhood and sexuality,
as well as spirituality."—TIME

"One of 2018's most important nonfiction books." - The Root

"[A] meditative, meaningful work … Cullors beautifully expresses empathy, honesty and hope" —Shelf Awareness

"[Patrisse's] personal story and beautiful telling of her growing up and into the Black Lives Matter movement is why we must tell Black Stories." - Yara Shahidi, Blackish actress

"Responsible, awakening and powerful."– Nick Cannon

"It was when I read your book, 'When They Call You A Terrorist'—when Trump was elected—that I realized that white supremacy is closer to the surface than I had ever realized, and I thought, 'Man, I better understand this more.'" – Jane Fonda

"Patrisse Khan-Cullors is a leading visionary and activist, feminist, and civil rights leader who has literally changed the trajectory of politics and resistance in America." —Eve Ensler, bestselling author

"This book tells why we all share the responsibility to move those three words from an aspiration into a new reality." – American Book Award Winner Jeff Chang

"With grace and vulnerability, she recounts in When They Call You a Terrorist an upbringing plagued by interlocking oppressions and generational trauma, and illustrates the gut-wrenching power of her movement's message: Black lives must be recognized as worthy in this world." - Teaching Tolerance Magazine