Eerie Tales from the School of Screams (Paperback)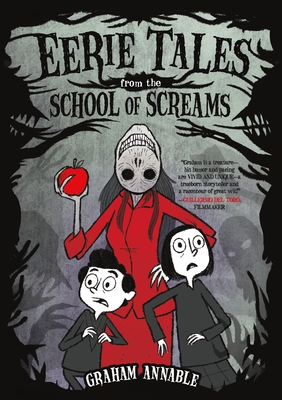 Description
---
From the director of the Oscar-nominated movie Boxtrolls comes a middle grade horror anthology that will leave you holding onto your blankets for dear life! Perfect for fans of Scary Stories to Tell in the Dark and Goosebumps!

School is tough.
School is scary.
School is EERIE.

No one knows this better than Davis and Emily. But they're not scared of school because of tough tests or merciless vice-principals. No, they're scared because their teacher wants her students to present the class with the spookiest, most chilling stories they can think of.

From the twisted mind of Graham Annable comes five horrifying stories that will scare your skeleton right out of your skin. Are you ready to stare down "The Face in the Forest"? Do you think you can handle the truth behind "The Village that Vanished?"

Lock the doors, turn on all the lights, and arm yourself with candy— you'll need all the help you can get to face these nightmares.
About the Author
---
Oscar-nominated director Graham Annable is a cartoonist and animator living just outside of Ottawa, Ontario, Canada, with his wife and two boys. Mr. Annable's unique voice has been consistently recognized in the mediums of film, games, and graphic novels throughout his career, garnering numerous awards and nominations along the way. When he's not taking his pugs on a walk in the woods he can usually be found doodling ideas for his latest project in the studio.
Praise For…
---
"Via simple yet effective paneling, Annable balances terrifying visuals and taut storytelling with finesse and expert timing to deliver a horror-filled collection that is sure to scare and delight."—Publishers Weekly, starred review

"Horror buffs will revel in the intelligent and spooky tales as these students await whatever awfulness or tantalizing but narrow chance of escape will befall them."—Bulletin of the Center for Children's Books

"These effectively unnerving tales will stick with horror fans long after the book's end. Highly recommended for juvenile graphic novel collections." — School Library Journal

"Graham is a treasure—his humor and pacing are vivid and unique—a trueborn storyteller and a raconteur of great wit!" —Guillermo del Toro, Filmmaker

"There is something wrong with Graham Annable, in the best way possible. Hilarious and heartfelt without compromising on scares, this is a book you'll want to read with all the lights on and a giant bowl of candy. I would've killed for horror comics like this as a kid . . . but then maybe I would never have slept again. So never mind." —Vera Brosgol, Anya's Ghost

"Has Graham Annable ever made a bad drawing? No. The answer is no. And he can write a twisted story— think you can handle hilarious/wicked twisted stories? Prepare to test your nerves to the outer limits!"— Jeff Smith, creator of Bone and Tuki