She's Too Pretty to Burn: A Novel (Hardcover)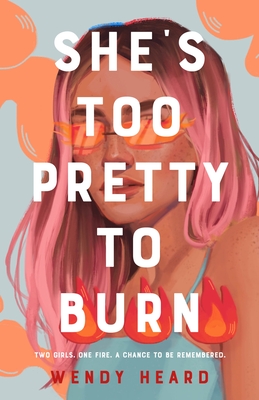 $18.99
Email or call for price.
Description
---
An electric romance set against a rebel art scene sparks lethal danger for two girls in She's Too Pretty to Burn, an expertly plotted YA thriller by Wendy Heard.

The summer is winding down in San Diego. Veronica is bored, caustically charismatic, and uninspired in her photography. Nico is insatiable, subversive, and obsessed with chaotic performance art. They're artists first, best friends second. But that was before Mick. Delicate, lonely, magnetic Mick: the perfect subject, and Veronica's dream girl. The days are long and hot—full of adventure—and soon they are falling in love. Falling so hard, they never imagine what comes next. One fire. Two murders. Three drowning bodies. One suspect . . . one stalker. This is a summer they won't survive.

Inspired by The Picture of Dorian Gray, this sexy psychological thriller explores the intersections of love, art, danger, and power.

Christy Ottaviano Books
About the Author
---
Wendy Heard is the author of the adult thrillers, The Kill Club and Hunting Annabelle, which Kirkus praised as "a diabolically plotted creep show from a writer to watch." She is a member of Sisters in Crime, International Thriller Writers, and Mystery Writers of America, is a contributor at Crimereads, and co-hosts the Unlikeable Female Characters podcast. Wendy lives in Los Angeles, California. She's Too Pretty to Burn marks her YA debut.
Praise For…
---
An O Magazine 42 LGBTQ Books That Will Change the Literary Landscape This Spring Selection
A Cosmo LGBTQ+ Books in 2021 to Add to Your Reading List Selection
A PopSugar Best March 2021 YA Book Selection

"Imagine a heady YA mixture of The Portrait of Dorian Gray and Portrait of a Lady on Fire and you'll get a sense of this seductive thriller about two girls—an aspiring photographer and her muse—who become caught up in both their own incendiary love affair and a terrifying political plot." —O Magazine

"A smoldering, hypnotic thrill-ride. Heard's YA debut crackles and pops with electric psychological suspense." —Kit Frick, author of See All the Stars, All Eyes on Us, and I Killed Zoe Spanos

"An expertly plotted deep dive into a complex web of friendship, desire, and murder."—Mindy McGinnis, author of Female of the Species

"A gritty, compulsively readable thriller that shimmers with California heat. She's Too Pretty to Burn will pull you into the dark twists of the underground art scene—and the jagged embrace of first love." —Hannah Capin, author of Foul Is Fair

"A romantic, fast-paced thriller inspired by a classic. The story unravels in colorful, electric prose...leading to exhilarating and twisty final third. This dark, winding novel expertly interweaves suspense and romance. A wild and satisfying romp." —Kirkus Reviews, Starred Review

"This thriller is expertly paced, with Heard starting out slow to introduce her flawed, complex teen protagonists and later escalating events into a page-turning crescendo. With the already intriguing premise of a lesbian thriller that takes inspiration from Portrait of Dorian Gray in its focus on a single picture's effect (if not the theme of aging), Heard follows through on the promises this concept offers while deftly integrating social media and a thriller plot with creepy, well-executed twists." —The Bulletin of the Center for Children's Books, Starred Review

"Heard paints a mesmerizing portrait of love and betrayal amidst a slow-burn thriller… and once the murders begin, it's impossible to look away."—Diana Urban, author of All Your Twisted Secrets

"An anxiety-ridden ride as two girls' lives crash together through secrets, love and danger. There is masterful tension throughout the story as Mick and Veronica's lives pull and tangle together and they find themselves in over their heads and fighting for their lives. I burned through the final 50 pages, desperate to see how it ended and was left with literal goosebumps at the final lines. Captivating and stunningly visual, fans of Lauren Oliver's Panic will love this book and be hungry for more by Wendy Heard." —Aiden Thomas, author of Cemetery Boys

"A powder keg of psychological suspense that recognizes the dark side lurking within all of us, this thriller had me riveted right from the very first page."—Caleb Roehrig, author of Last Seen Leaving and White Rabbit

"She's Too Pretty to Burn holds you by the throat until the very last page. Heard has written a perfect, ultra-modern teenage noir of early queer love and the battle to resist our most destructive impulses. Ambition is truly a killer."—Adam Sass, author of Surrender Your Sons

"Veronica and Mick's complex, compelling relationship grounds this intense and unrelenting thriller, full of impossible choices, betrayals, mistakes, and danger." —Kate Alice Marshall, author of I Am Still Alive and Rules for Vanishing

"Gorgeously written and expertly paced, Wendy Heard's She's Too Pretty to Burn is an intense, wild ride that keeps the reader on the edge of their seat until its stunning conclusion." —Liz Lawson, author of The Lucky Ones

"This psychological thriller is sure to be popular with teens. A sapphic romance with elements of art, danger, and obsession, it is recommended for YA library collections." —School Library Journal