The Ones We're Meant to Find (Hardcover)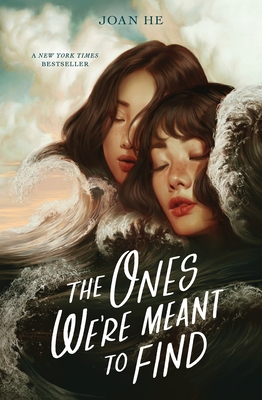 $18.99

Not Available In-Store - Usually Ships from Warehouse in 1-5 Days
Description
---
A New York Times Bestseller
An Indie Bestseller

Perfect for fans of Marie Lu and E. Lockhart, The Ones We're Meant to Find is a gripping and heartfelt YA sci-fi with mind-blowing twists. Set in a climate-ravaged future, Joan He's beautifully written novel follows the story of two sisters, separated by an ocean, desperately trying to find each other.

Cee has been trapped on an abandoned island for three years without any recollection of how she arrived, or memories from her life prior. All she knows is that somewhere out there, beyond the horizon, she has a sister named Kay, and it's up to Cee to cross the ocean and find her.

In a world apart, 16-year-old STEM prodigy Kasey Mizuhara lives in an eco-city built for people who protected the planet?and now need protecting from it. With natural disasters on the rise due to climate change, eco-cities provide clean air, water, and shelter. Their residents, in exchange, must spend at least a third of their time in stasis pods, conducting business virtually whenever possible to reduce their environmental footprint. While Kasey, an introvert and loner, doesn't mind the lifestyle, her sister Celia hated it. Popular and lovable, Celia much preferred the outside world. But no one could have predicted that Celia would take a boat out to sea, never to return.

Now it's been three months since Celia's disappearance, and Kasey has given up hope. Logic says that her sister must be dead. But nevertheless, she decides to retrace Celia's last steps. Where they'll lead her, she does not know. Her sister was full of secrets. But Kasey has a secret of her own.
About the Author
---
Joan He was born and raised in Philadelphia but still, on occasion, loses her way. At a young age, she received classical instruction in oil painting before discovering that stories are her favorite kind of art. She studied psychology and Chinese history at the University of Pennsylvania and now writes from Chicago. She is the bestselling author of The Kingdom of Three duology, The Ones We're Meant to Find, and Descendant of the Crane, her young adult debut novel.
joanhewrites.com | @joanhewrites
Praise For…
---
An instant New York Times Bestseller
An Indie Bestseller
2022 YALSA Top Ten Best Fiction for Young Adults
2022 Excellence in Children's and Young Adult Science Fiction - Hal Clement Notable Young Adult Books List

"This book doesn't hold your hand. It shoves you into the abyss, and trusts that you will find your way back, and every step is worth it. Joan He is charting an ambitious new course in fiction, and I will follow her anywhere she goes." - V. E. Schwab, #1 New York Times bestselling author of Gallant and The Invisible Life of Addie LaRue

"I fell in love... Joan He's words will stay with you long after the final page." - Marie Lu, #1 New York Times bestselling author of Skyhunter

"A strange, clever, and startlingly original world." Emily Suvada, author of This Mortal Coil

"This is sci-fi at its best: floating cities, kindness and desert islands!" Lauren James, author of The Reckless Afterlife of Harriet Stoker

"An intricate, well-paced rumination on human nature, choice, and consequence." - Publishers Weekly, starred review

"Exhilarating and heartbreaking... This fast-paced sf tale is sure to linger." - Booklist

"A stunning and compelling novel full of twists and an emotional pull that will make readers want to finish it in one go." - BuzzFeed

"An intriguing foray into a devastating future—and yet one where hope abides." - Kirkus

"Mind-bending." -Common Sense Media

"An instant bestseller, and with its twisty sci-fi plot ... it's not hard to see why." - Country Living, AAPI Month Recs

"One of the most twisty and engaging page-turner YAs you'll read this year." -Culturess

"A gorgeous cover heralds this story of sisterly love and environmental disaster." -Den of Geek, May Roundup

"A twisty young adult novel in the vein of E. Lockhart's critically acclaimed We Were Liars." -GMA.com, AAPI Month Recs

"Tender, heart-wrenching and frightening, this one will stay with you." -Ms. Magazine, May Roundup

"Stunning." -Nerdist

"Explores the pressing question of who deserves to survive in a world we are destroying." -NPR Books

"Breathtaking." -PopSugar, Best YA Books of May

"Sharp, devastating, and brimming with invigorating questions." -TOR.com, Review

"At turns whimsical and gut-wrenching... He grafts deep moral and ethical questions to a page-turning premise, making this sci-fi standalone an excellent book club selection." - School Library Journal

"A melancholy, heartbreaking story. . . Beautifully written." - The Bulletin for the Center of Children's Books (BCCB), recommended