You Sexy Thing (The Disco Space Opera #1) (Hardcover)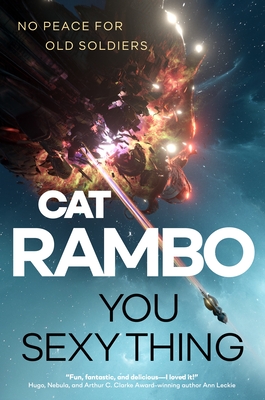 Other Books in Series
This is book number 1 in the The Disco Space Opera series.
Description
---
Farscape meets The Great British Bake Off in this fantastic space opera You Sexy Thing from former SFWA President, Cat Rambo.

2022 Dragon Award — Nominee
2022 Locus Award — Nominee

Just when they thought they were out…

TwiceFar station is at the edge of the known universe, and that's just how Niko Larson, former Admiral in the Grand Military of the Hive Mind, likes it.

Retired and finally free of the continual war of conquest, Niko and the remnants of her former unit are content to spend the rest of their days working at the restaurant they built together, The Last Chance.

But, some wars can't ever be escaped, and unlike the Hive Mind, some enemies aren't content to let old soldiers go. Niko and her crew are forced onto a sentient ship convinced that it is being stolen and must survive the machinations of a sadistic pirate king if they even hope to keep the dream of The Last Chance alive.
About the Author
---
Cat Rambo (they/them) is an American fantasy and science fiction writer whose work has appeared in, among others, Asimov's, Weird Tales, Chiaroscuro, Talebones, and Strange Horizons. A graduate of the Johns Hopkins Writing Seminars, where they studied with John Barth and Steve Dixon, they also attended the Clarion West Writers' Workshop. They are currently the managing editor of Fantasy Magazine. They published a collection of stories, Eyes Like Sky And Coal And Moonlight, and their collaboration with Jeff VanderMeer, The Surgeon's Tale and Other Stories, appeared in 2007. They live and write in Washington State, and "Cat Rambo" is their real name.
Praise For…
---
"Fun and action-packed.... This action-packed space opera is loads of fun." —BuzzFeed

"Cat Rambo's You Sexy Thing, a truly hilarious and wonderful sci-fi novel that deliberately engages with the POV."—Gizmodo

"Fun, fantastic, and delicious—I loved it!"—Ann Leckie, author of Ancillary Justice

"Cat Rambo's writing is everything you could hope for—lyrical, emotional, funny, by turns or all at once." —Django Wexler, author of Ship of Smoke and Bone

"Rambo has a gift for immersing their reader into a vivid universe full of adventure, sensuality, wit, and poignant observation."—Jody Lynn Nye, New York Times bestselling author

"Cat Rambo is a genuinely gifted writer."—Saladin Ahmed, author of Throne of the Crescent Moon

"A romp. If you're the kind of person who likes Mass Effect, or enjoyed Valerie Valdes's Chilling Effect and Prime Deceptions, or fell head-over-heels for Tim Pratt's Axiom trilogy... then this book is definitely for you. This is a fast, zippy novel that hides some surprisingly substantial emotional heavy lifting under its hood." —Locus