The Reckoning: Our Nation's Trauma and Finding a Way to Heal (Hardcover)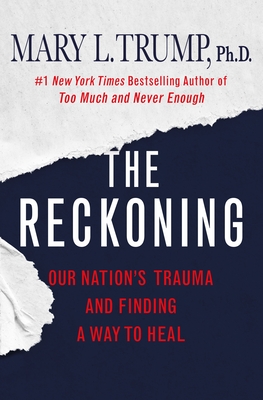 $28.99
Email or call for price.
Description
---
The instant New York Times and USA Today bestseller

America is suffering from PTSD—The Reckoning diagnoses its core causes and helps us begin the healing process.

For four years, Donald J. Trump inflicted an onslaught of overlapping and interconnected traumas upon the American people, targeting anyone he perceived as being an "other" or an enemy. Women were discounted and derided, the sick were dismissed as weak and unworthy of help, immigrants and minorities were demonized and discriminated against, and money was elevated above all else. In short, he transformed our country into a macro version of his malignantly dysfunctional family.

How can we make sense of the degree to which our institutions and leaders have let us down? How can we negotiate a world in which all sense of safety and justice seems to have been destroyed? How can we—as individuals and as a nation—confront, process, and overcome this loss of trust and the ways we have been forever altered by chaos, division, and cruelty? And when the dust finally settles, how can we begin to heal, in the midst of ongoing health and economic crises and the greatest political divide since the Civil War?

Mary L. Trump is uniquely positioned to answer these difficult questions. She holds a Ph.D. in clinical psychology specializing in trauma, has herself been diagnosed with post-traumatic stress disorder, and happens to be Donald J. Trump's only niece. In The Reckoning, she applies her unique expertise to the task of helping us confront an all-encompassing trauma, one that has taken an immense toll on our nation's health and well-being.

A new leader alone cannot fix us. Donald J. Trump is only the latest symptom of a disease that has existed within the body politic since America's inception—from the original sin of slavery through our unceasing, organized commitment to inequality. Our failure to acknowledge this, let alone root it out, has allowed it to metastasize. Now, we are confronted with the limits of our own agency on a daily basis. Whether it manifests itself in rising levels of rage and hatred, or hopelessness and apathy, the unspeakable stress of living in a country we no longer recognize has affected all of us for a long time, in ways we may not fully understand. An enormous amount of healing must be done to rebuild our lives, our faith in leadership, and our hope for this nation. It starts with The Reckoning.
About the Author
---
Mary L. Trump is the author of the international #1 bestseller, Too Much and Never Enough: How My Family Created the World's Most Dangerous Man. She holds a Ph.D from the Derner Institute of Advanced Psychological Studies at Adelphi University, and has taught graduate courses in trauma, psychopathology, and developmental psychology.
Praise For…
---
"Trump has plenty of acid left to spray on the last presidential administration's years, but that's not this book's primary focus. White privilege and the dismantling of racism is, and that comes as some surprise, in both the history Trump uses to make her points and in the obvious passion in her arguments...An absolute eye-opener." —Terri Schlichenmeyer, Washington Informer

"In The Reckoning, it's not her own personal trauma Mary Trump is unpacking, but the entire country's – trauma, she says, we need to sort through if democracy is to survive." —USA Today

"[Trump] steeps herself in a scholarly study of the Reconstruction, everyday psychopathology in the Jim Crow South, segregation and discrimination in the North, critical race theory, epigenetics, the Calvinist contribution to racism and classism, Euro-American fascism, and how the effects of all of these factors are coming to a head at this political moment." —EDGE Media Network

Praise for Too Much and Never Enough:
"[T]he most devastating, most valuable and all-around best Trump book since he started running for president...the most incisive rendering yet of why he is the way he is."—Politico

"Mesmerizing beach reading and a memorable opposition research dump...salacious, venomous and well-sourced." —The Guardian

"A delicious tell-all that does in fact tell all in a way one longs for a tell-all to do." —Vogue

"Dripping with snideness, vibrating with rage, and gleaming with clarity—a deeply satisfying read." —Kirkus (starred review)

"Mary Trump's compelling saga of one very unhappy family does more than just provide probing insights into her uncle's disturbing inner world. It's also a first-rate primer on the chaotic inner workings of an administration that has shocked the world." —Boston Globe

"After many, many Trump books, this is an essential one." —Vanity Fair

"[A] deftly written account of cross-generational trauma...Mary Trump brings to this account the insider perspective of a family member, the observational and analytical abilities of a clinical psychologist and the writing talent of a former graduate student in comparative literature." —Washington Post

"Mary's clarity, training, discipline and sharp eye help make her a reliable narrator, and she's a fluid, witty writer to boot…what she's written is likely to be indelible." —Bloomberg

"Mary L. Trump comes closer than anyone to describing the making of a seemingly heartless person who won his way to the White House...[A]n insightful, well-crafted memoir."—CNN

"You can see why President Trump doesn't want anyone to read this thing." —Los Angeles Times