The Bone Garden (Hardcover)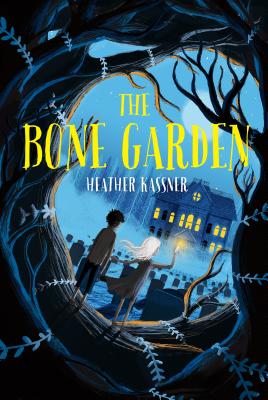 $16.99
Email or call for price.
Description
---
A spooky and adventurous debut illustrated fantasy novel about a girl made of dust and bone and imagination who seeks the truth about the magic that brought her to life.

"This magical story—and the brave girl in its pages—will haunt you in the best way." —Natalie Lloyd, New York Times bestselling author of Over the Moon

"Remember, my dear, you do not really and truly exist."

Irréelle fears she's not quite real. Only the finest magical thread tethers her to life—and to Miss Vesper. But for all her efforts to please her cruel creator, the thread is unraveling. Irréelle is forgetful as she gathers bone dust. She is slow returning from the dark passages beneath the cemetery. Worst of all, she is unmindful of her crooked bones.

When Irréelle makes one final, unforgivable mistake by destroying a frightful creature just brought to life, Miss Vesper threatens to imagine her away once and for all. Defying her creator for the very first time, Irréelle flees to the underside of the graveyard and embarks on an adventure to unearth the mysterious magic that breathes bones to life, even if it means she will return to dust and be no more.

Debut author Heather Kassner's The Bone Garden is a gorgeously written story--illustrated by Matt Saunders--humming with magic, mystery, and dark imaginings. Perfect for fans of Holly Black, Jonathan Auxier, and Katherine Arden.

"[Evokes] the dreamy tone and themes of Neil Gaiman's Coraline and The Graveyard Book . . . an impressive new fairy tale that will appeal to fans of Lisa Graff's subtly magical stories." —Booklist
About the Author
---
Heather Kassner loves thunderstorms, hummingbirds, and books. She lives with her husband in Arizona, waiting (and waiting and waiting) for the rain, photographing hummingbirds, and reading and writing strange little stories. The Bone Garden is her debut novel.

Matt Saunders is an experienced illustrator based in London. Often rooted in the realms of fantasy and magic his work is versatile and continually evolving. His illustrious client list includes HBO (Game of Thrones), M&S, and J.K. Rowling's Pottermore.
Praise For…
---
"Best read aloud on a dark autumn night (under a cozy blanket, of course), this magical story—and the brave girl in its pages—will haunt you in the best way." —Natalie Lloyd, New York Times bestselling author of Over the Moon

"A gorgeously creepy tale with a timeless feel. With her vulnerability and courage, Irréelle is a heroine you can't help but love." —Elly Blake, New York Times bestselling author of Nightblood

"[Evokes] the dreamy tone and themes of Neil Gaiman's Coraline and The Graveyard Book . . . With a timeless feel, Irréelle's story broaches the subjects of loss and forgiveness with a deft touch. This is an impressive new fairy tale that will appeal to fans of Lisa Graff's subtly magical stories." —Booklist

"A thrilling read, with bone-chilling descriptions and enough ghastly moments to keep even the bravest young readers shivering—and entertained." —Horn Book

"The pages of this book are filled with imagination incarnate—in the form of a haunting heroine made from dust, bone, and a heart of gold. A deliciously dark, unique tale!" —MarcyKate Connolly, author of Shadow Weaver.

"Beautifully haunting and elegantly told, The Bone Garden enchanted me from page one and kept me spellbound until the very end. I'm convinced Heather Kassner must have her own brand of magic as strong and compelling as her bewitching characters." —Mindee Arnett, author of Onyx and Ivory

"At once creepy and emotional, this hauntingly beautiful book and its wonderful narrator come alive with a breath of magic and a pinch of the macabre." —Lori M. Lee, author of the Gates of Thread and Stone series

"It is easy to become lost with Irréelle as she navigates the eerie passages of the graveyard, listening to the hum of human bones. Ultimately a story of love and the power of friendship, this girl of dust and imagination will win your heart and keep you turning pages until the very end." —Lucy Hounsom, author of Starborn