Woman of the Ashes: A Novel (Sands of the Emperor #1) (Paperback)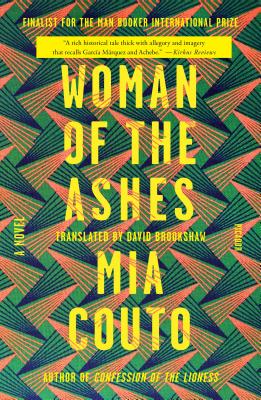 Description
---
The first in a trilogy about the last emperor of southern Mozambique by one of Africa's most important writers

Southern Mozambique, 1894. Sergeant Germano de Melo is posted to the village of Nkokolani to oversee the Portuguese conquest of territory claimed by Ngungunyane, the last of the leaders of the state of Gaza, the second-largest empire led by an African. Ngungunyane has raised an army to resist colonial rule and with his warriors is slowly approaching the border village. Desperate for help, Germano enlists Imani, a fifteen-year-old girl, to act as his interpreter. She belongs to the VaChopi tribe, one of the few who dared side with the Portuguese. But while one of her brothers fights for the Crown of Portugal, the other has chosen the African emperor. Standing astride two kingdoms, Imani is drawn to Germano, just as he is drawn to her. But she knows that in a country haunted by violence, the only way out for a woman is to go unnoticed, as if made of shadows or ashes.

Alternating between the voices of Imani and Germano, Mia Couto's Woman of the Ashes combines vivid folkloric prose with extensive historical research to give a spellbinding and unsettling account of war-torn Mozambique at the end of the nineteenth century.
About the Author
---
Mia Couto, born in Beira, Mozambique, in 1955, is one of the most prominent writers in Portuguese-speaking Africa. After studying medicine and biology in Maputo, he worked as a journalist and headed several Mozambican national newspapers and magazines. The author of Confession of the Lioness, The Tuner of Silences, and Sleepwalking Land, among other books, Couto has been awarded several important literary prizes, including the 2014 Neustadt International Prize for Literature, the Premio Camões (the most prestigious Portuguese-language award), the Prémio Vergílio Ferreira, the Prémio União Latina de Literaturas Românicas, and others. He lives in Maputo, where he works as a biologist.
Praise For…
---
"An exquisite, multi-layered novel . . . David Brookshaw has captured the African and European nuances in a translation hat is poetic, agile, and so beautifully executed that it reads like an original text." —Miranda France, TLS

"Woman of the Ashes is a beautiful and grotesque force interweaving history with myth . . . Couto's prose carries the weight of a creation story in nearly every passage." —Daniel Bokemper, World Literature Today

"Based on historical events (with layers of magical realism, Achebe-style allegory, and folklore ladled on top), Couto's ninth novel . . . tells the story of Imani, a 15-year-old girl who finds herself playing a pivotal role in a 19th-century culture clash between an African emperor and Portuguese colonialists. Couto treats his characters to a world of blazing specificity, and yet Imani is also a vessel for our more contemporary battles." —Sloan Crosley, Vanity Fair

"Couto's mastery lies in his ability to turn his exploration of this slice of history into a commentary on all of human civilization. Richly translated by Brookshaw in words that suggest more than they say, Couto's tale evokes a sense of timelessness . . . An intriguing combination of folklore, history, and magic realism, and the first in a trilogy, this is a novel to be read and reread, savored and analyzed." —Shoba Viswanathan, Booklist (starred review)

"Excellent . . . Couto feathers history with folklore . . . a fascinating, intricate story." —Publishers Weekly

"A rich historical tale thick with allegory and imagery that recalls Marquez and Achebe." —Kirkus Reviews

"Woman of the Ashes weaves a stunning tale of a war-torn period." —Paste Magazine