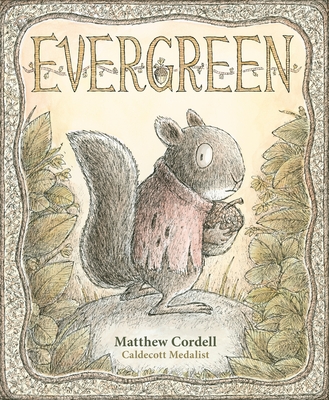 Staff Reviews
---
Evergreen is on a mission: deliver Mama squirrel's healing soup to Granny Oak on the other side of the forest, without spilling one drop. If only she weren't so scared of—well, everything. Mama knows her brave girl can do it, even if Evergreen does not. This clever spin on Little Red Riding Hood asks if it's possible to be afraid but also excited, brave, even happy(!) at the same time. A surprise twist at the end makes this a perfect longer-read-aloud the whole family can share. Best of all: talking animals, clothed in tweed, evoke the old-timey coziness of Arnold Lobel.
— From
Emmy's Picks

Written in short chapters, this warm, woodland adventure picture book is perfect for storytime or youngsters practicing reading on their own. When her mother bids her to take soup to the ailing Granny Oak, Evergreen, a fearful and anxious squirrel, must find her courage to go on the long journey. Matthew Cordell subverts typical villainous animal types and readers will be cheering Evergreen on as she meets friends and foes and tries to keep her mother's soup safe. A charming and gently encouraging read. — From Cortney's Picks (page 2)
March/April 2023 Kids Indie Next List
---
"Beautiful, adorable pictures and characters tell the story of Evergreen, a little squirrel doing her best to help other woodland creatures, even if they seem a little scary at first. Readers will want to be Evergreen's BFF and neighbor!"
— Nancy Baenen, Arcadia Books, Spring Green, WI
Description
---
A picture book by Caldecott medal winner Matt Cordell about a timid squirrel who makes a brave journey to help a relative who is ill.

Evergreen the squirrel is afraid of many things: thunder, hawks, and the dark paths of Buckthorn Forest. But when her mother tasks Evergreen with delivering soup to her sick Granny Oak, the little squirrel must face her fears and make the journey.

Along the way, Evergreen is met by other forest dwellers – some want to help her, but some want her mother's delicious soup! It's up to Evergreen to stay the course, and those who help her will surprise and delight young readers.

Using an art style reminiscent of the work of William Steig and Arnold Lobel, Matthew Cordell creates a classic tale of bravery and love.
About the Author
---
Matthew Cordell is the author and illustrator of Caldecott award winner Wolf in the Snow, Trouble Gum, Another Brother, hello! hello!, and Wish. He has illustrated the books of renowned authors including Philip Stead (Special Delivery), Rachel Vail (the Justin Case series), and Gail Carson Levine (Forgive Me, I Meant To Do It). He lives outside of Chicago with his wife, the novelist Julie Halpern, and their two children.
Praise For…
---
A Publishers Weekly Best Book of 2023
A 2023 Amazon Best Book of the Year So Far
A 2023 Good Housekeeping Kids' Book Award Winner
A Kirkus Reviews Best Book of 2023

"Drawn, shaded, and occasionally crosshatched ... and tinted with watercolors in yellow, tan, brown, rose, and pale blue hues, the beautifully composed illustrations give this picture book a handcrafted look that suits the timeless story." —Booklist, starred review

"The interior pages start out looking like a chapter book, but the text is broken with exciting spreads, graphic novel–style ­layouts, and playfully illustrated text. These design decisions make this book feel new and familiar—a classic readers will be ­talking about in the future." —School Library Journal, starred review

"The contrast between Evergreen's own self-doubt and the way she shines under pressure is conveyed with humor and skill in this adventuresome allegory about confronting the world outside as well as one's own very real fears." —Publishers Weekly, starred review

"A spellbinding tale that will never brown or fade with time." —Kirkus, starred review

"Destined to be a classic. The most beloved new picture book in our 2023 Good Housekeeping Best Book Awards...is about a squirrel delivering soup to her sick grandma. The brave yet scared squirrel traverses Buckthorn Forest, showing readers that helping others is worth conquering their fears.
--Good Housekeeping

"The varied page layouts convey both the coziness of Evergreen's world and the tension of life as part of the woodland food chain." —The Horn Book

"Cordell's world building is immensely satisfying, and Evergreen is packed with entertaining textual and visual details." —BookPage