The Prettiest (Paperback)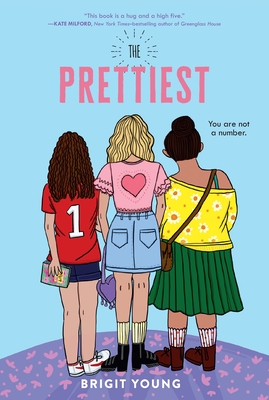 $7.99

Not Available In-Store - Usually Ships from Warehouse in 1-5 Days
Description
---
A must-read for young feminists, The Prettiest is an incisive, empowering novel by Brigit Young about fighting back against sexism and objectification.

"All middle school girls AND boys (especially boys!) should read this book."—Alan Gratz, New York Times–bestselling author of Refugee

THE PRETTIEST: It's the last thing Eve Hoffmann expected to be, the only thing Sophie Kane wants to be, and something Nessa Flores-Brady knows she'll never be . . . until a list appears online, ranking the top fifty prettiest girls in the eighth grade.

Eve is disgusted by the way her body is suddenly being objectified by everyone around her.
Sophie is sick of the bullying she's endured after being relegated to number two.
And Nessa is tired of everyone else trying to tell her who she is.

It's time for a takedown. As the three girls band together, they begin to stand up not just for themselves, but for one another, too.
About the Author
---
Brigit Young, born and raised in Ann Arbor, Michigan, has published poetry and short fiction in numerous literary journals. She is a proud graduate of the City College of New York, and has taught creative writing to kids of all ages in settings ranging from workshops at Writopia Lab to bedsides at a pediatric hospital. Brigit is the author of the middle grade novels Worth a Thousand Words and The Prettiest. She lives in Brooklyn with her husband and daughters.
Praise For…
---
"A compelling and topical narrative that leaves its characters—and readers—stronger and wiser." —Booklist, starred review

"A novel that addresses issues of bullying, sexism, objectification, and harassment while equally centering empowerment, the bonds of friendship, and self-acceptance. Highly recommended to inspire discussion among thoughtful young readers." —School Library Journal, starred review

"A sensitive story about sexual harassment and bullying, with a feel-good ending." —Kirkus Reviews

"Written using language that middle schoolers will find relatable, Young conveys a timely message about bullying and sexism, digging beneath the surface to show her protagonists' intelligence, distinct talents, and misguided preconceptions." —Publisher's Weekly

"While the revenge plot and the mystery of who's responsible keep pages turning, the novel considers . . . the role and the value of physical appearance from a number of angles, helped by the diverse characters' varying attitudes and levels of naivete. A conversation starter." —Horn Book

"What happens when an anonymous, viral list ranks the 8th grade girls at Ford Middle School by their looks? Tears, anger, and, for three girls in particular, a journey to empowerment and self-acceptance. A terrific MG story about sexism and objectification. All middle school girls AND boys (especially boys!) should read this book."—Alan Gratz, New York Times bestselling author of Refugee

"As a survivor of middle school and parent of future middle schoolers, I am so glad The Prettiest will be in the world for both my daughter and my son. I loved these girls—their rivalries and their friendships, their lies and their painful honesty, their survival strategies and humor, and their refusals to be what anyone else expects them to be. This book is a hug and a high-five." —Kate Milford, New York Times–bestselling author of Greenglass House

"I loved this true and tender story about young girls finding their voices and finding friendship with each other, no matter what barriers school and society tries to put up to block their way. Brigit Young has created a book with so much heart and with well-crafted characters that feel so real and relevant. This is an important book that isn't afraid of tackling tough problems. I absolutely loved it!" —Jennifer Mathieu, author of Moxie

"A remarkable, important gem of a novel. Both a call to arms and a fantastically fun tale, this triumphant, timely and true-to-life story should be required reading for middle schoolers of any gender." —Dan Gemeinhart, author of The Remarkable Journey of Coyote Sunrise

"I loved following this trio of strong, supportive girls as they navigated the halls of middle school and fought against unwanted attention, objectification, and bullying. Readers will recognize themselves in these characters and cheer for them as they stand up to define for themselves who they are and where they belong. The Prettiest is heartbreaking, inspiring, and funny at the same time—like middle school itself. Add this one to your reading list!" —Lynne Kelly, author of Chained and Song For a Whale

"I cheered for these three 8th grade girls as they learned that nobody is just one thing. Standing up for yourself and others can be hard, but with friends at your side, it can be done. An empowering read!" —Debbie Michiko Florence, author of Keep It Together, Keiko Carter

"In the characters of Sophie, Eve and Nessa, Young has indeed created girls who 'contain multitudes.' Courageous and clever, flawed yet fierce, these girls are far more than examples of young feminists—they are examples of what it means to be human. This story is certainly timely and relevant, but equally important, it is an honest, engaging and heartfelt look at how the communities we choose to build can—and do—shape us." —Lindsay Lackey, author of All the Impossible Things