The Book Eaters (Hardcover)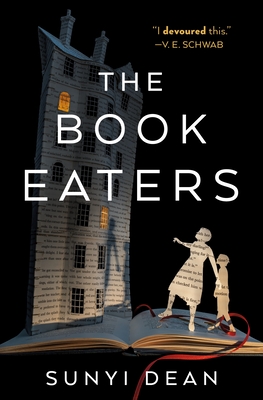 $26.99

Coming Soon - Available for Pre-Order Now
Description
---
Sunyi Dean's The Book Eaters is a contemporary fantasy debut. It's a story of motherhood, sacrifice, and hope; of queer identity and learning to accept who you are; of gilded lies and the danger of believing the narratives others create for you.

Out on the Yorkshire Moors lives a secret line of people for whom books are food, and who retain all of a book's content after eating it. To them, spy novels are a peppery snack; romance novels are sweet and delicious. Eating a map can help them remember destinations, and children, when they misbehave, are forced to eat dry, musty pages from dictionaries.

Devon is part of The Family, an old and reclusive clan of book eaters. Her brothers grow up feasting on stories of valor and adventure, and Devon—like all other book eater women—is raised on a carefully curated diet of fairytales and cautionary stories.

But real life doesn't always come with happy endings, as Devon learns when her son is born with a rare and darker kind of hunger—not for books, but for human minds.
About the Author
---
Sunyi Dean is an autistic SFF writer, and mother of two. Originally born in the States and raised in Hong Kong, she now lives in Yorkshire. When not reading, running, falling over in yoga, or rolling d20s, she sometimes escapes the city to wildswim in lonely dales.
Praise For…
---
"Innovative, unique, poignant, and told with a voice as original as the story itself. I finished this novel in that one sitting, yet I'll be pondering it for a long time to come. This is the debut of a new master of the modern fantasy. Don't miss it."—James Rollins, #1 New York Times bestseller of The Starless Crown

"This beautiful, delicate, cruel, utterly unique look at tradition, motherhood, trauma, and what it means to be a monster would be a masterpiece from an established author. As a debut, it is nothing short of stunning. It kept surprising me all the way to the end."—Seanan McGuire, New York Times bestselling author of Every Heart A Doorway

"Sunyi Dean's The Book Eaters is a darkly sweet pastry of a book about family, betrayal, and the lengths we go to for the ones we love. Great reading for a rainy morning, with tea or coffee on, a cat in your lap, and nowhere to be but lost in a delicious modern fairy tale."—Christopher Buehlman, author of The Blacktongue Thief

"Dark and incredibly compelling—I could not put this book down. All about motherhood and monsters, and twists the knife on every page."—Everina Maxwell, author of Winter's Orbit

"Sunyi Dean's debut is an entrancing tale that explores the ways that love can both strengthen and destroy us. A contemporary fantasy full of twists and turns, it had me on the edge of my seat right up until the end. The Book Eaters is one you'll want to sink your teeth into."—Genevieve Gornichec, author of The Witch's Heart

"A exquisitely-crafted tale of darkness and love, motherhood and monstrosity, and those who break free of the stories written for them and forge their own in ink and blood. I couldn't put it down."—H.G. Parry, author of The Unlikely Escape of Uriah Heep

"Two delicious timelines weave a thriller-paced tale about what we'll do for love and how love can be a monstrous thing. It peels back the pampering veneer of fairytales and tradition to trauma beneath, with a rich, nuanced look at grey morality and motherhood. Full of heart and hurt, you'll want to consume The Book Eaters in one sitting."—Essa Hansen, author of Nophek Gloss