Elmer Kelton's The Unlikely Lawman: A Hewey Calloway Adventure (Mass Market)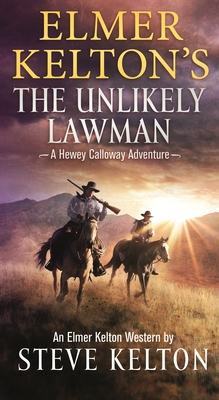 Description
---
Elmer Kelton's Hewey Calloway, one of the best-loved cowboys in all of Western fiction, returns in this novel of his middling years, as he looks for work—but not too much work—in 1904 West Texas.

Hewey Calloway is heading north to Colorado, on a horse drive for an old friend, Alvin Lawdermilk, when he gets word that one of his hired hands is planning to rob him. After the plot is foiled, the fugitive horsehand is on the run and leaving bodies in his wake.

Deputized to help bring the criminal to justice, Hewey is bestowed with a weight of responsibility that he's long avoided. Never known for his skill—or lack thereof—with a pistol, he can only pray that he and retired Texas Ranger Hanley Baker will be enough to put an end to this trail of dastardly deeds.

Steve Kelton's The Unlikely Lawman will transport you to an Old West full of duplicity, gunfights, and the often-unforgiving hardships of frontier life.
About the Author
---
STEVE KELTON is retired from the San Angelo-based Livestock Weekly, where he spent 42 years, the last 25 as editor. A West Texas native, he is a son of the late Western novelist and livestock journalist Elmer Kelton. During his youth, Steve spent as much time as possible on the McElroy Ranch in West Texas's Crane and Upton counties. Managed by his grandfather, Buck Kelton, the McElroy was where Elmer and his brothers grew up. Aside from journalism, Steve is the author of the nonfiction books Renderbrook, A Century Under The Spade Brand, a history of the Renderbrook Spade ranch in West Texas; and Grassroots Legacy, a commissioned history of the Texas Farm Bureau's first 50 years. He lives in San Angelo with his wife.

Elmer Kelton (1926-2009) was the award-winning author of more than forty novels, including The Time It Never Rained, Other Men's Horses, Texas Standoff and Hard Trail to Follow. He grew up on a ranch near Crane, Texas, and earned a journalism degree from the University of Texas. His first novel, Hot Iron, was published in 1956. Among his awards were seven Spurs from Western Writers of America and four Western Heritage awards from the National Cowboy Hall of Fame. His novel The Good Old Boys was made into a television film starring Tommy Lee Jones. In addition to his novels, Kelton worked as an agricultural journalist for 42 years. He served in the infantry in World War II. He died in 2009.