After the Forest (Hardcover)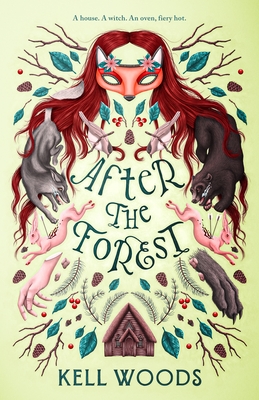 Description
---
After the Forest is a dark and enchanting fantasy debut from Kell Woods that explores the repercussions of a childhood filled with magic and a young woman contending with the truth of "happily ever after."

Ginger. Honey. Cinnamon. Flour.

Twenty years after the witch in the gingerbread house, Greta and Hans are struggling to get by. Their mother and stepmother are long dead, Hans is deeply in debt from gambling, and the countryside lies in ruin, its people starving in the aftermath of a brutal war.

Greta has a secret, though: the witch's grimoire, hidden away and whispering in Greta's ear for the past two decades, and the recipe inside that makes the best gingerbread you've ever tasted. As long as she can bake, Greta can keep her small family afloat.

But in a village full of superstition, Greta and her mysteriously addictive gingerbread, not to mention the rumors about her childhood misadventures, is a source of gossip and suspicion.

And now, dark magic is returning to the woods and Greta's magic—magic she is still trying to understand—may be the only thing that can save her. If it doesn't kill her first.
About the Author
---
Kell Woods is an Australian historical fantasy author. She lives near the sea with her husband, two sons, and the most beautiful black cat in the realm.

Kell studied English literature, creative writing, and librarianship, so she could always be surrounded by stories. She has worked in libraries for the past twelve years, all the while writing about made-up (and not so made-up) places, people and things you might remember from the fairy tales you read as a child. After the Forest is her first novel.
Praise For…
---
"This wonderful, well-woven story is so rich and affecting you can't help but savour every single sentence. With characters that leap off the page, worldbuilding that immerses you completely, and a perfectly paced plot, Woods's clever retelling of the popular Hansel and Gretel fairy tale succeeds in giving us something novel and authentic."—T.L. Huchu, USA Today bestselling author of The Library of the Dead

"The love for and understanding of fairytales runs deep in Kell Woods' book, and it's sure to interest anyone who has an appreciation for dark forests, enchanted princes, and clever witches."—NPR

"Kell Woods' debut takes familiar stories and tropes from the vast corpus of the Brothers Grimm and smartly weaves them into an excellent historical fantasy novel. After the Forest is poetic, evocative, and most of all, addictive. . . . After the Forest is high up on my list of best books of 2023. An author to watch and a powerhouse debut."—Grimdark Magazine

"A dark and wondrous tale. Utterly enchanting."—Kate Forsyth, bestselling author of The Crimson Thread

"After the Forest is as deliciously irresistible as the gingerbread Greta bakes in the book. A touch of magic, a dash of mystery, a sprinkle of love and lashings of elegant writing make for a gorgeous debut novel that you'll want to consume in one gulp. Kell Woods shows that she's a born storyteller with a wonderful imagination and I, for one, am now a huge fan."—Natasha Lester, New York Times bestselling author of The Three Lives of Alix St. Pierre

"Clever. . . . Her mingling of this historical setting with the magical – shape-shifters, forest magic, unnaturally long lives – works beautifully. This is a worthy addition to the world of fairy tale continuations."—Locus Magazine

"[An] elegant debut. . . . Offer this lyrical, character-rich fantasy to fans of Mary McMyne's The Book of Gothel (2022) and Genevieve Gornichec's The Weaver and the Witch Queen (2023)"—Booklist, STARRED review

"Evocative, vivid, and enchanting: Historical fantasy at its best."—Belinda Alexandra, bestselling author of The French Agent

"Woods builds her bewitching historical fantasy debut out of folklore and fairy tale but grounds it in childhood trauma and awakening love. . . . All of Woods's characters are drawn with exceptional sensitivity, and Greta's well-crafted struggle to thrive despite early suffering and ongoing societal prejudice resonates. Woods is a powerful new voice in speculative fiction."—Publishers Weekly, STARRED review

"This is utterly captivating novel blends folklore and European history with themes of family discord, trauma and self-discovery. . . Dark as molasses and dripping with witchcraft, love and magic gingerbread, After the Forest is the fairytale retelling of the year."—Lauren Chater, bestselling author of The Winter Dress

"With one foot in history, the other in folklore, After the Forest is a love song to fairy tales. Replete with secrets, magic, witches and wolves, bears and whispering books, Greta's world is one where enchantment can become a curse on the turn of a tongue. At once sweet as gingerbread and bitterly dark as heart's blood, After the Forest is reminiscent of Juliet Marillier at her finest."—Angela Slatter, award-winning author of The Path of Thorns

"Readers will root for Greta to finally achieve her happily ever after while also relishing Woods' dark, folklore-infused story. After the Forest is full of enchanting references to various folk tales and truly feels like a children's storybook come to life, albeit one with delightfully wicked and haunting twists. With its cookbooks that speak (and bite!) and enchanted gingerbread, After the Forest is a tantalizing treat."—BookPage, STARRED review

"Kell Woods has a historian's eye for detail, a born storyteller's understanding of tropes, and a poet's gift for description. Woods' debut offers readers a fresh take on fairytale reimaginings, exploring women's agency through a convergence of myth, magic and history. A sophisticated and intricately plotted debut with a compelling heroine."—Jo Riccioni, award-winning author of The Branded and The Rising

"An enchanting (sometimes tear-jerking) concoction spiced with shapeshifting wolves, a cursed bear, green witches, and gorgeous fairy tale symbolism, and I devoured every word. If you're looking for a wondrous and terrifying fairy tale, Kell Woods has the secret ingredient."—The Fairy Tale Magazine