The Grammar Daily: 365 Quick Tips for Successful Writing from Grammar Girl (Quick & Dirty Tips) (Paperback)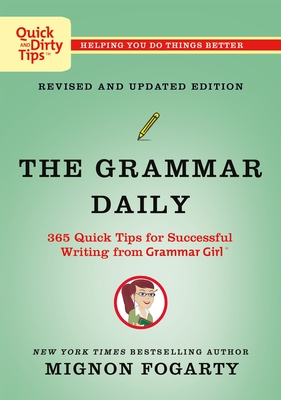 Description
---
An updated edition of the classic tip-a-day grammar guide from New York Times bestselling author and creator of the Grammar Girl podcast, Mignon Fogarty.

One hundred million podcast downloads say it all: Mignon Fogarty's kicky, practical, and easy-to-remember advice about style and usage has won her fans around the globe. Her first book, Grammar Girl's Quick and Dirty Tips for Better Writing, hit the New York Times bestseller list, and her weekly grammar podcast has been hailed by USA Today as "authoritative but warm."

Here in tip-a-day form, Grammar Girl offers 365 lessons on language that are sure to inspire. Chock-full of bite-sized writing tips, fun quizzes, and efficient memory tricks, The Grammar Daily gives you the tools you need to improve your grammar and become an even better communicator, one day at a time.

This revised edition of the book, previously published as The Grammar Devotional, has been updated throughout with new lessons and revised content to reflect shifting concerns in style and usage since initial publication.
About the Author
---
MIGNON FOGARTY is the creator of Grammar Girl and the founder of the Quick and Dirty Tips podcast network. She is a five-time winner of Best Education Podcast in the Podcast Awards, an inductee of the Podcast Hall of Fame, a New York Times bestselling author, and the former chair of media entrepreneurship in the Reynolds School of Journalism at the University of Nevada. She has appeared as a guest expert on The Oprah Winfrey Show and the Today show, and she currently lives in California with her husband, Patrick. Visit her website at Quick And Dirty Tips to sign up for her free email newsletter and podcast.
Praise For…
---
Praise for Mignon Fogarty and The Grammar Daily:

"Mignon has come up with clever ideas to help even the most grammatically challenged person remember the rules." —The Oprah Winfrey Show

"Fogarty walks her listeners through the sometimes-tricky subjects with a voice that is authoritative but warm. Kind of like the sixth-grade teacher you wish you had." —USA Today

"Delightfully droll . . . Grammar Girl gives clear explanations with helpful examples." —The Los Angeles Times

"Fogarty . . . sparked what you might call a worldwide, syntax-driven fiesta." —Newsday

"At the root of all her success, of course, is a true love of language and grammar." —The Arizona Republic

"Fogarty . . . has become the country's go-to gal on grammar . . . Helpful. Smart. Funny. Fans find Grammar Girl to be all those things." —The Seattle Times

"This book deserves to be in your collection. For a quick question or a quick review, The Grammar [Daily] is great." —The Writing Resource

"Every writer should have a copy of The Grammar [Daily] by none-other than Grammar Girl Mignon Fogarty." —Freelance Writing Jobs