The Eye of the World: the Graphic Novel, Volume Two (Wheel of Time: The Graphic Novel #2) (Paperback)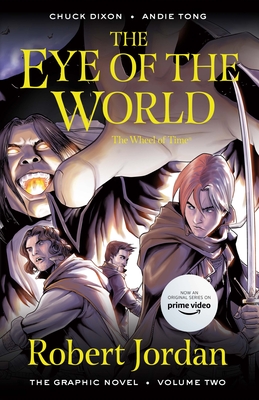 Description
---
The second volume of the magnificent New York Times bestselling graphic novel adaptation of Robert Jordan's The Eye of the World, in trade paperback

With the full cooperation of the Jordan estate, The Eye of the World has been turned into a stunning comic book series. Volume One of The Eye of the World: The Graphic Novel was published by Tor in the Fall of 2011 and was a New York Times bestseller.

Rand al'Thor, Egwene al'Vere, and their friends flee their home village in the company of Moiraine and her Warder, Lan Mandragoran. Pursued by their enemies, the group seeks sanctuary in Baerlon. Rand's nightmares grow darker. Moiraine takes Egwene under her wing. Lan warns them to trust no one, but should that distrust extend to Lan and Moiraine as well?

The Eye of the World: The Graphic Novel, Volume Two collects six issues of Robert Jordan's The Wheel of Time: The Eye of the World comic book, published by Dynamite Entertainment.
About the Author
---
ROBERT JORDAN (1948-2007) is best known for his internationally bestselling epic fantasy series The Wheel of Time®, which has sold over 100 million copies worldwide and is currently being adapted for the screen. A native of Charleston, Jordan graduated from The Citadel, the Military College of South Carolina, with a degree in physics. He served two tours in Vietnam with the U.S. Army and received multiple decorations for his service.
Chuck Dixon is a comic book writer best known for his long runs on several Batman titles in the 1990's for DC Comics. Throughout his prolific career, Dixon has written for Evangeline (Comico Comics), The Savage Sword of Conan, The Punisher War Journal (Marvel Comics), Robin, Nightwing, Detective Comics (DC Comics), and Simpsons Comics (Bongo Comics). Dixon worked closely with Robert Jordan on the graphic adaptation of New Spring and with Jordan's estate on The Eye of the World graphic novel.
 
ANDIE TONG has worked on
Spectacular Spider-Man
,
Batman Strikes
,
Teenage Mutant Ninja Turtles
, and
Noble Causes
. He has illustrated many comics and graphic novels, including
The Eye of the World: The Graphic Novel, Volume Two
.
Praise For…
---
"All of the dialogue is straight out of the book. All the characters look like how I might imagine them. Fans of the books will be reminded of the things they enjoyed about the series in the first place. " —Geeks of Doom on The Eye of the World: the Graphic Novel, Volume One

"The Eye of the World continues to be a series of genuine passion, technical virtuosity, and grand, epic adventure." —Broken Frontier on The Eye of the World: the Graphic Novel, Volume One

"The series should provide fans of the novels with an enjoyable take on an old favorite and possibly introduce new readers to this fantasy classic." —The Jersey Journal on The Eye of the World: the Graphic Novel, Volume One

"The story feels like it was intended for the comic-book medium. That is probably in no small way due to Chuck Dixon's hand in this. I hope there are more such top-flight comic-book adaptations of popular fantasy series in the offing." —ComicCritique on New Spring: the Graphic Novel