Energy Trading & Investing: Trading, Risk Management, and Structuring Deals in the Energy Markets, Second Edition (Hardcover)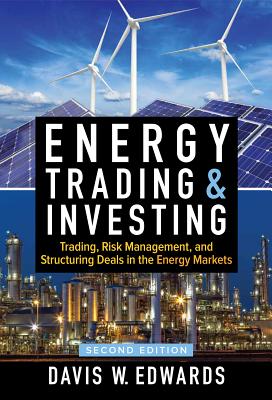 Description
---
Power-up your investment portfolio
Volatile energy prices and a rapidly changing energy industry provide investment opportunities for savvy investors and dangers for uninformed ones. Natural gas fracking has the raised the concern that the world may be awash in cheap oil and natural gas. A decade of record high temperatures has replaced concerns about shrinking fossil fuel supplies. Alternative energy technologies like batteries, solar, and wind are shaking up utilities. Constant innovation and changing markets remains the hallmark of the energy sector.
Written by a leading expert in the energy sector, Energy Trading and Investing, Second Edition covers this exciting market discussing topics that range from traditional and emerging markets to need-to-know financial principles and proven investing strategies. A longstanding veteran of Wall Street trading and the energy sector, Davis Edwards provides detailed information on every topic important to energy investors, including:
- Natural gas, electricity, petroleum, coal, weather, and emissions markets
- Details on financial products, like futures, forwards, swaps, and options
- Deal structuring examples explaining spread options, spatial load forecasting, and tolling agreements
- Coverage of specialty electricity markets - capacity, financial transmission rights (FTRs), power purchase agreements (PPAs), and ancillary services
- Explanations of natural gas transportation, storage, and swing option contracts
- A practical introduction to market risk, credit risk, and model risk management.
This hands-on guidebook covers topics for professional traders, individual investors, MBA students, and energy market participants. Jargon from both the financial industry and energy market is fully explained and the math is made accessible to the average reader. Regardless of your background, Energy Trading and Investing will provide you with a comprehensive understanding of energy trading.
If you're a serious trader, you need to understand the energy markets, and Energy Trading and Investing is the only book you need to trade successfully in this vibrant sector.

About the Author
---
DAVIS W. EDWARDS is a senior manager of Deloitte and Touche's National Securities Pricing Center. He is a well-known author and speaker on the topic of risk management, modeling, and trading. Prior to joining Deloitte, he worked as a director of credit risk at Macquarie Bank and senior managing director on the proprietary trading desk at Bear Stearns. Davis Edwards directs the Global Association of Risk Professional (GARP)'s chapter in Houston, Texas. He is also an expert-level programmer with extensive artificial intelligence experience and a certified Project Management Professional (PMP). Davis has degrees in Electrical Engineering and History from Stevens Institute of Technology and a Masters of Finance from Tulane University.