Inclusive Education in a Strengths-Based Era: Mapping the Future of the Field (Inclusive Education for Students with Disabilities) (Paperback)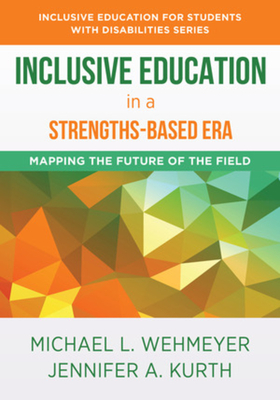 $31.95

Special Order - Subject to Availability
Description
---
It's time to focus on what students can do, rather than what they can't.
In this inaugural book in their Inclusive Education for Students with Disabilities series, Michael L. Wehmeyer and Jennifer A. Kurth explore central, defining questions for the field of special and inclusive education: who, what, and where do we teach; what works in inclusive education; and where does inclusive education go now?
Arguing that the concept of disability for the past fifty years has emphasized students as incapable and incompetent, the authors propose instead to build on a growing understanding that students with disabilities can be successful and meet high expectations, and that educators have the knowledge and skills to achieve this. From this strength-based perspective, the presumption is that disability is part of, and not apart from, typical human functioning.
Using this lens, Wehmeyer and Kurth describe effective practices to guide instruction in inclusive settings—practices that begin with a consideration of each student's strengths and capacities, rather than with a diagnosis.
About the Author
---
Michael L. Wehmeyer is the Ross and Marianna Beach Distinguished Professor of Special Education; Chairperson, Department of Special Education and Director and Senior Scientist at the Beach Center on Disability, all at the University of Kansas. He is a past-president and Fellow of the American Association on Intellectual and Developmental Disabilities, and the Council for Exceptional Children's Division on Autism and Developmental Disabilities, a Fellow of the American Psychological Association, Division 33 Intellectual and Developmental Disabilities/Autism Spectrum Disorders, and a Fellow of the International Association on the Scientific Study of Intellectual and Developmental Disabilities.

Jennifer A. Kurth is Associate Professor of Special Education at the University of Kansas. Her academic interests include methods implementing inclusive education, including methods of embedding critical instruction within the context and routines of general education as well as methods of providing appropriate supports and services for individual learners.
Praise For…
---
This compelling book is an invitation to leap forward in our practices, policies, and perspectives related to students with disabilities. It calls us to adopt educational services and supports that are ambitious, effective, individualized, and always inclusive. 
— Erik W. Carter, Cornelius Vanderbilt Professor of Special Education, Vanderbilt University

No, inclusion is not dead; rather, it has evolved. Wehmeyer and Kurth reframe inclusion away from classroom placement to a multi-tiered, school-wide approach emphasizing personalized, strengths-based, and effective instruction—so that, truly, all can achieve. For the first time in special education history, we now have the models and the technology to make inclusion become reality—and this book paves the way by setting new directions. A must-read for any educator who is committed to moving inclusive education forward. 
— Linda M. Bambara, Ed.D., Emeritus Professor of Special Education, Lehigh University

Provides a contemporary and very readable guide to what special education should look like and accomplish for persons with disabilities as we progress through the 21st century. Highlights of this work include the articulation of our changing understanding of special education's legal and legislative foundations; a description of the shift from a remedial to a support perspective; an emphasis on a strength-based approach to education; and a forthright acknowledgment that it is wrongful to exclude students from general education content and settings. I highly recommend this work. 
— Lewis Jackson, Ed.D., Emeritus Professor of Special Education, University of Northern Colorado