American Republics: A Continental History of the United States, 1783-1850 (Paperback)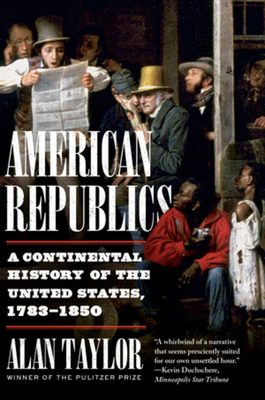 Description
---
Winner of the 2022 New-York Historical Society Book Prize in American History

A Washington Post and BookPage Best Nonfiction Book of the Year



From a Pulitzer Prize–winning historian, the powerful story of a fragile nation as it expands across a contested continent.
In this beautifully written history of America's formative period, a preeminent historian upends the traditional story of a young nation confidently marching to its continent-spanning destiny. The newly constituted United States actually emerged as a fragile, internally divided union of states contending still with European empires and other independent republics on the North American continent. Native peoples sought to defend their homelands from the flood of American settlers through strategic alliances with the other continental powers. The system of American slavery grew increasingly powerful and expansive, its vigorous internal trade in Black Americans separating parents and children, husbands and wives. Bitter party divisions pitted elites favoring strong government against those, like Andrew Jackson, espousing a democratic populism for white men. Violence was both routine and organized: the United States invaded Canada, Florida, Texas, and much of Mexico, and forcibly removed most of the Native peoples living east of the Mississippi. At the end of the period the United States, its conquered territory reaching the Pacific, remained internally divided, with sectional animosities over slavery growing more intense.
Taylor's elegant history of this tumultuous period offers indelible miniatures of key characters from Frederick Douglass and Sojourner Truth to Elizabeth Cady Stanton and Margaret Fuller. It captures the high-stakes political drama as Jackson and Adams, Clay, Calhoun, and Webster contend over slavery, the economy, Indian removal, and national expansion. A ground-level account of American industrialization conveys the everyday lives of factory workers and immigrant families. And the immersive narrative puts us on the streets of Port-au-Prince, Mexico City, Quebec, and the Cherokee capital, New Echota.
Absorbing and chilling, American Republics illuminates the continuities between our own social and political divisions and the events of this formative period.
About the Author
---
Alan Taylor, twice awarded the Pulitzer Prize in History, is the author of American Revolutions and American Republics, prior volumes in his acclaimed continental history of the United States. He is Thomas Jefferson Foundation Professor of History at University of Virginia, and lives in Charlottesville.
Praise For…
---
Stimulating….Many histories of this important interregnum period have been written, but none emphasizes the fragility of the American experiment as strongly as Taylor's book does. American Republics succeeds admirably.

— David S. Reynolds - New York Times Book Review

Diligently researched, engagingly written and refreshingly framed, American Republics is an unflinching historical work that shows how far we've come toward achieving the ideals in the Declaration—and the deep roots of the opposition to those ideals.

— Colin Woodard - Washington Post

A beautifully crafted narrative…penetrating and provocative….American Republics provides readers (including professional historians) new ways of looking at seemingly familiar events.

— Glenn C. Altschuler - Pittsburgh Post-Gazette

A whirlwind of a narrative that seems presciently suited for our own unsettled hour.
— Kevin Duchschere - Minneapolis Star Tribune

American Republics is a worthy and apt continuation of Taylor's excellent continental history of the United States. As one has come to expect from Taylor, his prose is excellent and his ability to weave together storytelling and scholarship is truly commendable.

— Daniel N. Gullotta - New Criterion

Sweeping, beautifully written, prodigiously researched, and myth-busting….Anyone interested in American history will appreciate this richly rewarding book.
— Roger Bishop - BookPage

American Republics sweeps away rosy accounts of the rise of the United States. It is a searing history that exposes how white supremacy disfigured U.S. politics, underwrote westward expansion, and remade the lives of North America's diverse peoples. Incisive and powerful, it leaves a lasting impression.

— Claudio Saunt, author of Unworthy Republic

A tour de force rich in fascinating and diverse characters, strong Native nations, contested borders, historical ironies, and paths almost taken.
— Kathleen DuVal, author of Independence Lost

From one of America's greatest historians, American Republics is an engrossing introduction to the fragile, exclusionary epoch when the United States went transcontinental.

— Brian DeLay, author of War of a Thousand Deserts

Alan Taylor's unparalleled storytelling abilities are on full display in this brilliant narrative history revealing the essential fragility of the early American republic.
— Amy S. Greenberg, author of Lady First

Alan Taylor has—once again—given us a new understanding of a critical era in the history of the United States.
— Edward L. Ayers, author of The Thin Light of Freedom

Enthralling…Taylor brings to the table a lifetime of history learning and a rare ability to focus our attention on the things from the past that really matter.
— Andrés Reséndez, author of The Other Slavery

American Republics is a masterpiece. Taylor's stories, revealing collisions between principles on the one hand and greed, violence, racism, and transnational entanglement on the other, resonate eerily across time. This book's coherence, wisdom, and eloquence leave me inspired. But its unflinching narrative leaves me rattled to the core.

— Elizabeth Fenn, author of Encounters at the Heart of the World

This elegantly written and thoughtfully argued study shows how rickety and explosive the American project was from the start.
— Publishers Weekly (starred review)

A history that speaks directly to the racial concerns of twenty-first-century Americans.
— Booklist (starred review)

His subjects—events, wars, laws, treaties—will be familiar to those who paid attention in their American history courses, but Taylor presents them in fresh, thought-provoking ways.…A fine new look at a critical period of American history.
— Kirkus Reviews

This insightful and engaging survey is essential reading for scholars as well as casual readers of history.
— Library Journal