The Cause: The American Revolution and its Discontents, 1773-1783 (Paperback)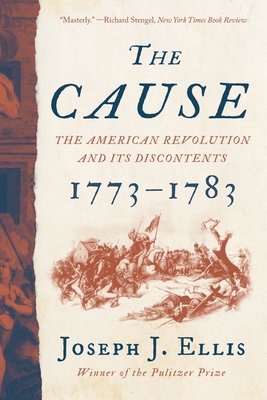 Description
---
New York Times Book Review — Editors' Choice • Chicago Tribune — "60 Best Reads for Right Now" • St. Louis Post-Dispatch — "50 Fall Books You Should Consider Reading"
Challenging conventional wisdom, The Cause offers a "necessary" (John S. Gardner, Guardian) account of the origins and clashing ideologies of America's revolutionary era.
For Pulitzer Prize–winning historian Joseph J. Ellis, The Cause marks the culmination of a lifetime of engagement with the founding era, completing a trilogy of books that began with Founding Brothers. Here Ellis, countering popular histories that romanticize the "Spirit of '76," demonstrates through "evocative profiles of British loyalists, slaves, Native Americans and soldiers uncertain of what was being founded" (Christopher Borrelli, Chicago Tribune) that the rebels fought not for a nation but under the mantle of "The Cause," a mutable, conveniently ambiguous principle all but destined to give rise to the warring factions of later American history. Combining action-packed tales of North American military campaigns with characteristically trenchant insight, The Cause "deftly foreshadows all the issues that would complicate America's trajectory" (Richard Stengel, New York Times Book Review), forcing us to finally reconsider the story we have long told ourselves about our origins—as a people, and as a nation.
"At the intersection of his expertise and our need for coherence about our national founding arrives historian Joseph J. Ellis. . . . Ellis is no apologist, but he is a chronicler of the entire revolution, its best aspirations, its worst contradictions, and its ongoing dilemmas." —Hugh Hewitt, Washington Post
About the Author
---
Joseph J. Ellis is the best-selling author of twelve previous books, including American Sphinx, which won the National Book Award, and Founding Brothers, which won the Pulitzer Prize. He lives in Amherst, Massachusetts, and Plymouth, Vermont.
Praise For…
---
Masterly.... Underscore[s] that the signers failed to deal with some awfully big problems.... Deftly foreshadows all the issues that would complicate America's trajectory and ends with a historical cliffhanger: Would the Republic survive? It did, but only when the Constitution became the embodiment of The Cause.... As Ellis points out, the word 'democracy' back then was more suggestive of mob rule than reasoned deliberation.
— Richard Stengel - New York Times Book Review

[A] carefully wrought, highly engaging reality check on the elusive character of the American Revolution... Ellis, a winner of the Pulitzer Prize and a National Book Award for previous works, is sensitive to contested vocabularies... [He] knows that words always matter and that the Revolution wasn't all glorious or miraculous. He regularly reminds us of what it wasn't.... With its combined examination of tactics and atmospherics, The Cause is a serious (and seriously entertaining) book and a lively addition to the literature. It is told in the breezy manner that fans of the author have come to expect. All in all, it provides a clear and fair-minded assessment of men and women and issues that mattered at a time when everything mattered.

— Andrew Burstein - Washington Post

The Cause comes across as a special gift, the book the author most wanted to write to the reader from the great scholar.

— Robert S. Davis - New York Review of Books

Pulitzer Prize-winning and bestselling historian Joseph J. Ellis superbly captures the issues, personalities and events of the American Revolution... Using rigorous scholarship, Ellis offers vivid portraits of and penetrating insights about this period in history, while challenging our conventional understandings of it... This riveting, highly recommended book by one of America's major historians will change how you see the American Revolution.
— Roger Bishop, BookPage, starred review

[A] speedy retelling of the nation's stumbling, fractured founding, through evocative profiles of British loyalists, slaves, Native Americans and soldiers uncertain of what was being founded.
— Christopher Borrelli - Chicago Tribune

The colonists didn't describe their war for independence as the American Revolution, Pulitzer winner Ellis (American Dialogue) points out in the preface to this richly detailed, multivoiced history. The term they used was "The Cause"—"a conveniently ambiguous label that provided a verbal canopy under which a diverse variety of political and regional persuasions could coexist." Ellis skillfully charts those divergent interests.... Profiles of lesser-known figures including Continental Army soldier Joseph Plumb Martin and Mohawk chief Joseph Brant add depth and nuance to a familiar story. This expert account highlights the "improvisational" nature of America's founding.

— Publishers Weekly

With his characteristically graceful prose, Ellis offers a short, straightforward history of a critical decade in the nation's youth.... [from] a master storyteller known for perceptive detailing. As is always the case with Ellis, he is brilliant at short takes—events, decisions, individuals.... True to his own skills at bringing people alive, Ellis also includes sympathetic mini-profiles of normal, unsung participants in the period's fraught events: loyalists, women, Native Americans, Joseph Plum Martin ("the Zelig of the American Revolution"), and, perhaps the most captivating, Washington's personal slave, Billy Lee.... It's hard to imagine a better-told brief history of the key years of the American Revolution.
— Kirkus Reviews

Ellis's witty style and astute analysis make this essential reading for historians and enthusiasts at all levels who want to disentangle the complex historiography of the American Revolution.
— Margaret Kappanadze, Library Journal, starred review

Ruing Washington's postwar hesitance to set an example by freeing his slaves, Ellis underscores the moral failings and deferrals that were then deemed necessary to ensure political unity. In all, a fresh and astute analysis of the American Revolution.
— Gilbert Taylor - Booklist