The Diaspora Sonnets (Hardcover)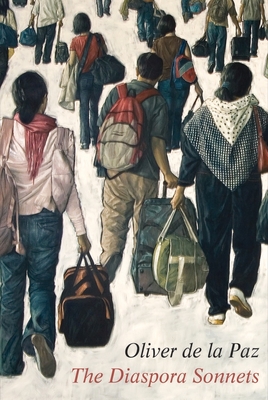 Staff Reviews
---
For any aspiring poets out there: if you want to experience a great example of a pantoum, pick up a copy of The Diaspora Sonnets, where you will be treated to three beautifully distinct pantoums amidst an otherwise picaresque collection of snapshots in De la Paz's immigrant history, with descriptive visuals that begin with a kind of familiar sensory element that eventually transform each sentence into something that has never before existed until now.
— From
Trevor's Picks
Description
---
LONGLISTED FOR THE 2023 NATIONAL BOOK AWARD FOR POETRY

Winner of the New England Book Award for Poetry



For fans of Diane Seuss and Victoria Chang, a coruscating collection that eloquently invokes the perseverance and myth of the Filipino diaspora in America.
In 1972, after Ferdinand Marcos declared martial law, Oliver de la Paz's father, in a last fit of desperation to leave the Philippines, threw his papers at an immigration clerk, hoping to get them stamped. He was prepared to leave, having already quit his job and having exchanged pesos for dollars; but he couldn't anticipate the challenges of the migratory lifestyle he and his family would soon adopt in America. Their search for a sense of "home" and boundless feelings of deracination are evocatively explored by award-winning poet de la Paz in this formally inventive collection of sonnets.
Broken into three parts—"The Implacable West," "Landscape with Work, Rest, and Silence," and "Dwelling Music"—The Diaspora Sonnets eloquently invokes the perseverance and bold possibilities of de la Paz's displaced family as they strove for stability and belonging. In order to establish her medical practice, de la Paz's mother had to relocate often for residencies. As they moved from state to state his father worked to support the family. Sonnets thus flit from coast to coast, across prairies and deserts, along the way musing on shadowy dreams of a faraway country.
The sonnet proves formally malleable as de la Paz breaks and rejoins its tradition throughout this collection, embarking on a broader conversation about what fits and how one adapts—from the restrained use of rhyme in "Diaspora Sonnet in the Summer with the River Water Low" and carefully metered "Diaspora Sonnet Imagining My Father's Uncertainty and Nothing Else" to the hybridized "Diaspora Sonnet at the Feeders Before the Freeze." A series of "Chain Migration" poems viscerally punctuate the sonnets, giving witness to the labor and sacrifice of the immigrant experience, as do a series of hauntingly beautiful pantoums.
Written with the deft touch of a virtuoso and the compassion of a loving son, The Diaspora Sonnets powerfully captures the peculiar pangs of a diaspora "that has left and is forever leaving."
About the Author
---
Oliver de la Paz is the author and editor of seven poetry collections, including The Boy in the Labyrinth, a finalist for the Massachusetts Book Award. He teaches at the College of the Holy Cross and is the Poet Laureate of Worcester.
Praise For…
---
One of Oliver de la Paz's gifts is his sense of the book as a whole. In his latest, he turns the sonnet into a lens for slow-motion snapshots of migration . . . Amidst poems rich in details of the resulting changing natural landscapes emerge vivid portraits: we see the father in his twenties holding a hatbox, later, a gun . . . Every "Diaspora Sonnet" holds this label as part of its title, the pointed repetition pounding impactfully, each section bookended by a "Chain Migration" ballad and a punctuating final pantoum, a reminder of these poems' origins.
— Rebecca Morgan Frank - Literary Hub

de la Paz employs language both soft-spoken and surprising to elevate the sonnet in his sixth collection of poems . . . An accomplished mid-career poet, de la Paz joins the likes of Diane Seuss and Laurie Ann Guerrero in pushing the sonnet's form into brilliant new shapes for today's readers.
— Diego Báez - Booklist

The thoughtful latest from de la Paz . . . explores his family's experience of the Filipino diaspora . . . The struggle to create a home in exile is vividly rendered in poems that trace the family's journeys over the decades: 'We wanted to construct a livable world/ but the pieces didn't fit.' This haunting collection sheds new light on the migrant's experience of loss and longing.
— Publishers Weekly

There is no container more fitting to the conveyance of the nuanced sorrow of the permanent displacement from home, a word 'ensnared with thorns,' than the sonnet, certainly as it is practiced by Oliver de la Paz, in metrical couplets, with shimmering music, 'the syllables of story, // saying then, then, then,' and a splendorous catalog of details, acutely remembered, and gilded into metaphor. …The tenderness in these poems comes through in their 'gradations of memory where one // belonged,' and in their penetrating artfulness, itself a kind of love.
— Diane Seuss, author of frank: sonnets

Here the sonnet takes on de la Paz's narrative and lyric search for home, for what home means, and how we sing about it when it has been taken away. This is a song everyone needs to hear.
— Matthew Dickman, author of Husbandry

Poems rise off the page and into the reader's lungs, blood stream, and heart while reading Oliver de la Paz's The Diaspora Sonnets. . . . De la Paz moves within the tradition of elegant rhymes, pacing, and the fourteen-line convention. But he also veers off, as when the theme of love for family members joins displacement, memory accompanies privation. There is ache. And, above all, a brilliant tenderness.

— Kimiko Hahn, author of Foreign Bodies

While the sonnet's traditional boundaries lend some compression to the unruliness of memory and imagination, Oliver de la Paz's lyric images slip, dart, and soar far beyond the form's constraints. The Diaspora Sonnets achieves a poetry of stunning dialectical energy—solemn, broken, playful, prayerful, and deeply personal.

— Patrick Rosal, author of The Last Thing