The Darkening Age: The Christian Destruction of the Classical World (Paperback)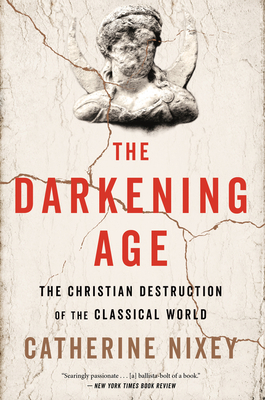 $17.99

Not Available In-Store - Usually Ships from Warehouse in 1-5 Days
Description
---
A New York Times Notable Book, winner of the Jerwood Award from the Royal Society of Literature, a New York Times Book Review Editors' Choice, and named a Book of the Year by the Telegraph, Spectator, Observer, and BBC History Magazine, this bold new history of the rise of Christianity shows how its radical followers helped to annihilate Greek and Roman civilizations.

The Darkening Age is the largely unknown story of how a militant religion deliberately attacked and suppressed the teachings of the Classical world, ushering in centuries of unquestioning adherence to "one true faith."

Despite the long-held notion that the early Christians were meek and mild, going to their martyrs' deaths singing hymns of love and praise, the truth, as Catherine Nixey reveals, is very different. Far from being meek and mild, they were violent, ruthless, and fundamentally intolerant. Unlike the polytheistic world, in which the addition of one new religion made no fundamental difference to the old ones, this new ideology stated not only that it was the way, the truth, and the light but that, by extension, every single other way was wrong and had to be destroyed. From the first century to the sixth, those who didn't fall into step with its beliefs were pursued in every possible way: social, legal, financial, and physical. Their altars were upturned and their temples demolished, their statues hacked to pieces, and their priests killed. It was an annihilation.

Authoritative, vividly written, and utterly compelling, this is a remarkable debut from a brilliant young historian.
About the Author
---
Catherine Nixey studied classics at Cambridge and taught the subject for several years before becoming a journalist at the Times (UK), where she still works. Her mother was a nun, her father was a monk, and she was brought up Catholic. Author of The Darkening Age, she lives in London with her husband and their two children.
Praise For…
---
A New York Times Notable Book, 2018 A New York Times Book Review Editors' Choice Named a Book of the Year by the Telegraph, the Spectator, the Observer, and BBC History Magazine Winner of the Royal Society of Literature Jerwood Award for Nonfiction "A searingly passionate book… Nixey writes up a storm. Each sentence is rich, textured, evocative, felt…. Nixey delivers this ballista-bolt of a book with her eyes wide open and in an attempt to bring light as well as heat to the sad story of intellectual monoculture and religious intolerance."  —New York Times Book Review "Nixey paints with a wide brush...a fine history that is surely controversial in its view of how victims become victimizers and how professions of love turn to terror." —Kirkus Reviews "Nixey clearly but untendentiously summarizes phenomena that led up to the elimination of classical polytheism." —Booklist "Captivating and compelling, The Darkening Age challenges our whole understanding of Christianity's earliest years and the medieval society that followed. A remarkable fusion of riveting narrative and acute scholarly judgment, this book marks the debut of a formidable classicist and historian." —Dan Jones, best-selling author of The Plantagenets and The Templars "Catherine Nixey has written a bold, dazzling and provocative book that challenges ideas about early Christianity and both how – and why – it spread so far and fast in its early days. Nixey is a witty and iconoclastic guide to a world that will be unfamiliar, surprising and troubling to many." —Peter Frankopan, best-selling author of The Silk Roads "Engaging and erudite, Catherine Nixey's book offers both a compelling argument and a wonderful eye for vivid detail. It shines a searching spotlight onto some of the murkiest aspects of the early medieval mindset. A triumph." —Edith Hall, author of Introducing the Ancient Greeks "A devastating book, written in vivid yet playful prose. Catherine Nixey reveals a level of intolerance and anti-intellectualism which echoes today's headlines but is centuries old." —Anita Anand, author of Sophia and coauthor (with William Dalrymple) of Koh-i-Noor   "Nixey's elegant and ferocious text paints a dark but riveting picture of life at the time of the 'triumph' of Christianity, reminding us not just of the realities of our own past, but also of the sad echoes of that past in our present." —Michael Scott, author of Ancient Worlds "[An] impassioned account… Nixey acutely and thunderously reminds us that many used the Christian project as an excuse to destroy rather than to love." —BBC History Magazine, "Books of the Year" "A book for the 21st century...Nixey has a great story to tell, and she tells it exceptionally well. As one would expect from a distinguished journalist, every page is full of well-turned phrases that leap from the page. She has an expert eye for arresting details, and brings characters and scenarios to life without disguising anything of the strangeness of the world she describes. Most of all, she navigates through these tricky waters with courage and skill...A finely crafted, invigorating polemic against the resili —