First Family: George Washington's Heirs and the Making of America (Hardcover)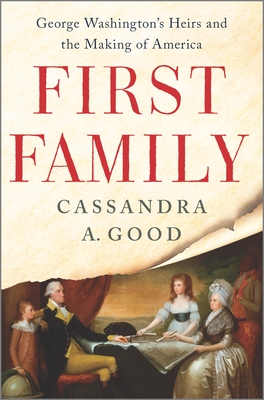 Description
---
For readers of Never Caught and You Never Forget Your First, a revealing true story of celebrity, race and the children George Washington raised.
While it's widely known that George and Martha Washington never had children of their own, few are aware that they raised children together. In
First Family
, we see Washington as a father figure and are introduced to the children he helped raise, tracing their complicated roles in American history.
The children of Martha Washington's son by her first marriage--Eliza, Patty, Nelly and Wash Custis--were born into life in the public eye, well-known as George Washington's family and keepers of his legacy. By turns petty and powerful, glamorous and cruel, the Custises used Washington as a means to enhance their own power and status. As enslavers committed to the American empire, the Custis family embodied the failures of the American experiment that finally exploded into civil war--all the while being celebrities in a soap opera of their own making.
First Family
brings new focus and attention to this surprisingly neglected aspect of George Washington's life and legacy, shedding a light on:
What it meant to be a "family"
The complexities of kinship and race in the Custis family
Political power, fame, and the obsession with the celebrity
The Custises' probable Black half-sibling
As the country grapples with concerns about political dynasties and the public role of presidential families, the saga of Washington's family offers a human story of historical precedent. Award-winning historian Cassandra A. Good shows how the outspoken step-grandchildren of George Washington played an overlooked but important role in the development of American society and politics from the Revolution to the Civil War.