A Witch Alone (The Apprentice Witch #2) (Hardcover)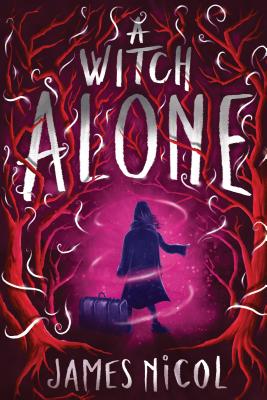 $17.99
Not Available In-Store - Usually Ships from Warehouse in 1-5 Days
Other Books in Series
This is book number 2 in the The Apprentice Witch series.
Description
---
With all of the charm and appeal of The Apprentice Witch, A Witch Alone follows a very special heroine into a deeper darkness as magical creatures start to creep into Hylund...Arianwyn is a fully qualified witch, but somehow magic doesn't feel any easier than it did in her apprentice days. The Hex has driven all manner of supernatural creatures out of the Great Wood and into her little town -- some benign, others dark, and others downright mischievous. The Spellorium has never been so busy! What's more, the High Elder has set her a dangerous secret mission. With Gimma acting weirder than usual and her friendships crumbling under pressure, Arianwyn faces the toughest spell of her witching career -- can she really see it through alone?
About the Author
---
James Nicol has loved books and stories his whole life. As a child he spent hours absorbed in novels, watching epic 1980s cartoons or adventuring in the wood at the bottom of the garden. He lives on the edge of the Cambridgeshire Fens with his partner and a black and white cockapoo called Bonnie. The Apprentice Witch is his children's debut. You can visit him at @jamesenicol.
Praise For…
---
For The Apprentice Witch:One of Amazon's Best Books of 2017!"[The Apprentice Witch] takes readers on a pleasant trip back to a simpler age… Arianwyn is a likeable hero, with well-drawn struggle -- both professional and personal." -- The New York Times Book Review"There is something in the air of its world that causes a reader to breathe deeply and be immersed. Its characters feel known to us, its forests trodden by our feet…One of the delightful aspects of The Apprentice Witch is the effortless and natural feel to the worldbuilding." -- Kenny Brechner for Publishers Weekly "ShelfTalker""An insecure young witch comes into her own in this pleasantly old-fashioned fantasy debut…This one is as cozy as a teapot and as comfy as old slippers." -- Kirkus Reviews"These believable and engaging characters appreciate each other's talents and collaborate to annihilate their demon foes. Readers who enjoy fantasy and challenging predicaments will appreciate Arianwyn's transformation from a failure to a competent and valued sorcerer." -- School Library Connection"With brisk pacing and sophisticated writing, this book is one of those rare, unputdownable gems. This tale is somewhat reminiscent of J.K. Rowling's Fantastic Beasts and Where to Find Them, and fans of magical fantasy will be enthralled with the details of this fascinating world." -- School Library Journal"Will at once open a new and imaginative world and feel like a book you have loved forever." -- Jennifer Nielsen, New York Times bestselling author of The False Prince"The Apprentice Witch is entirely more charming, adventurous, and full of heart than a book has any right to be. Make no mistake: there's magic afoot." -- Trenton Lee Stewart, New York Times bestselling author of The Secret Keepers and the Mysterious Benedict Society series"A charming tale of magic, bravery, and friendship, reminiscent of Diana Wynne Jones." -- The Guardian

For The Apprentice Witch:One of Amazon's Best Books of 2017!"[The Apprentice Witch] takes readers on a pleasant trip back to a simpler age… Arianwyn is a likeable hero, with well-drawn struggle -- both professional and personal." -- The New York Times Book Review"There is something in the air of its world that causes a reader to breathe deeply and be immersed. Its characters feel known to us, its forests trodden by our feet…One of the delightful aspects of The Apprentice Witch is the effortless and natural feel to the worldbuilding." -- Kenny Brechner for Publishers Weekly "ShelfTalker""An insecure young witch comes into her own in this pleasantly old-fashioned fantasy debut…This one is as cozy as a teapot and as comfy as old slippers." -- Kirkus Reviews"These believable and engaging characters appreciate each other's talents and collaborate to annihilate their demon foes. Readers who enjoy fantasy and challenging predicaments will appreciate Arianwyn's transformation from a failure to a competent and valued sorcerer." -- School Library Connection"With brisk pacing and sophisticated writing, this book is one of those rare, unputdownable gems. This tale is somewhat reminiscent of J.K. Rowling's Fantastic Beasts and Where to Find Them, and fans of magical fantasy will be enthralled with the details of this fascinating world." -- School Library Journal"Will at once open a new and imaginative world and feel like a book you have loved forever." -- Jennifer Nielsen, New York Times bestselling author of The False Prince"The Apprentice Witch is entirely more charming, adventurous, and full of heart than a book has any right to be. Make no mistake: there's magic afoot." -- Trenton Lee Stewart, New York Times bestselling author of The Secret Keepers and the Mysterious Benedict Society series"A charming tale of magic, bravery, and friendship, reminiscent of Diana Wynne Jones." -- The Guardian