All Because You Matter (An All Because You Matter Book) (Hardcover)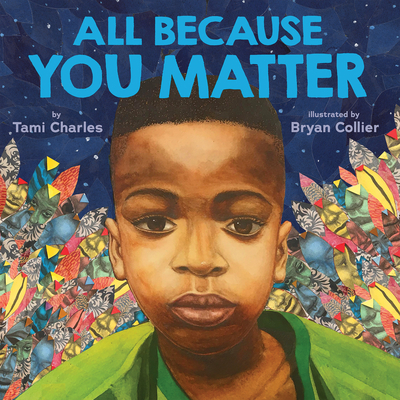 $17.99

Not Available In-Store - Usually Ships from Warehouse in 1-5 Days
Description
---
Instant New York Times bestseller!
A lyrical, heart-lifting love letter to Black and brown children everywhere: reminding them how much they matter, that they have always mattered, and they always will, from powerhouse rising star author Tami Charles and esteemed, award-winning illustrator Bryan Collier.
The #1 Amazon Best Children's Book of 2020
A Chicago Public Library and New York Public Library's Best Books of 2020
A TODAY's Favorite Children's Books of 2020
A Shelf Awareness's Best Children's and Teen Books of 2020
A Best Books of 2020, School Library Journal
A Best Picture Books of 2020, Chicago Public Library
A NPR's Best Books of 2020
A Best Picture Books of 2020, Barnes and Noble
A Kirkus Reviews' Best Books of 2020
* "A gem for every household." -- Kirkus Reviews, starred review
* "Stunning. Powerful. Timely. Illustrated inspiration at its best." -- Horn Book, starred review
Discover this poignant, timely, and emotionally stirring picture book, an ode to Black and brown children everywhere that is full of hope, assurance, and love.
Tami Charles pens a poetic, lyrical text that is part love letter, part anthem, assuring readers that they always have, and always will, matter. This powerful, rhythmic lullaby reassures readers that their matter and their worth is never diminished, no matter the circumstance: through the joy and wonder of their first steps and first laughs, through the hardship of adolescent struggles, and the pain and heartbreak of current events, they always have, and always will, matter. Accompanied by illustrations by renowned artist Bryan Collier, a four-time Caldecott Honor recipient and a nine-time Coretta Scott King Award winner or honoree, All Because You Matter empowers readers with pride, joy, and comfort, reminding them of their roots and strengthening them for the days to come.
Lyrical, personal, and full of love, All Because You Matter is for the picture book audience what The Hate U Give was for YA and Ghost Boys was for middle grade: a conversation starter, a community touchstone, and a deep affirmation of worth for the young readers who need it most.
About the Author
---
Tami Charles is the New York Times bestselling author of numerous books for young readers, including the picture book All Because You Matter (illustrated by Bryan Collier) and the novels Muted, Like Vanessa, and Becoming Beatriz. In her teens and early twenties, Tami enjoyed a taste of fame as a member of an all-girl R&B trio. They performed for Boyz II Men, BET, and Showtime at the Apollo, and had a one-hit wonder on the radio. After college, Tami worked as an educator for thirteen years before pursuing her childhood dream of becoming an author. For more information on Tami, visit tamiwrites.com

Bryan Collier loves to paint. He has successfully channeled his creative energy and love of art into an illustrious career as a children's book illustrator and writer. He began painting at the age of 15 and eventually landed a scholarship to attend Pratt Institute in New York. He has won four Caldecott Honors for Rosa by Nikki Giovanni, Martin's Big Words by Doreen Rappaport, Trombone Shorty by Troy Andrews, and Dave the Potter by Laban Carack Hill. His first book, Uptown, won the Coretta Scott King Award and the Ezra Jack Keats Award. He has won five more Coretta Scott King Awards and three Coretta Scott King Honors.
Praise For…
---
Praise for All Because You Matter:
* "Two accomplished creators invite Black children to take up their spaces in the world... the journey from beginning to end of the book sends a message that is nurturing, nourishing, loving, and reassuring, expanding and deepening the words of the movement it echoes. Collier's trademark paint-and-collage illustrations use petal shapes with patterns and faces, blue and brown hues, and family scenes and close-ups to embody the child's growth within affectionate circles of family, community, and universe. A gem for every household." -- Kirkus Reviews, starred review
* "A richly illustrated affirmation for Black children-especially boys... Stunning. Powerful. Timely. Illustrated inspiration at its best." -- Horn Book, starred review
* "Caldecott Honoree Collier's (Trombone Shorty) tender, close-up watercolor portraits of a growing Black boy give visual power to this celebration of young Black lives. In an author's note, Charles (Freedom Soup) writes about "The Big Talk"-words that every Black parent must speak to their child about discrimination and violence. Lyrical verse that aims to offer "a starting point for conversations about the racial climate in our country" underlines an important message: "you, dear child, matter."... As a schoolchild in a green T-shirt, he faces hurdles: academic efforts go unrewarded, classmates jeer, "another name is called:/ Trayvon,/ Tamir,/ Philando." Alongside these realities, Charles delivers a ringing affirmation of his life's meaning-"Did you know that... strength, power, and/ beauty lie within you?"-as Collier shows the boy straight on, surrounded by collaged images of his ancestry. Universal declarations are often illustrated with images of many children; this book's focus on a single child brings his experience and life-and the ways they matter-right up close." -- Publishers Weekly, starred review
"All Because You Matter is a powerful, poetic manifesto that is required reading for every family in America." -- BookPage
"A powerful tale in a broken world, this will give children hope and parents comfort... a very timely story and a wonderful addition to school and public libraries."-- School Library Journal
"A title sure to be frequented by not only Black children but any child looking for a kind word and confidence boost." -- Booklist
Praise for Like Vanessa, by Tami Charles:
* "Readers of all ages and backgrounds will cheer Vanessa on and see themselves in her story. This debut is a treasure: a gift to every middle school girl who ever felt unpretty, unloved, and trapped by her circumstances." -- Kirkus Reviews, starred review
* "Superb." -- Booklist, starred review
* "Like Vanessa is an emotionally potent, engaging young adult story with a heroine whom it is impossible not to root for. The life lessons that Nessy learns are relevant and worthwhile for everyone." -- Foreword Reviews, starred review
"Charles's debut novel dexterously interlaces pathos and humor and introduces a refreshing new voice." -- Publishers Weekly
Praise for Trombone Shorty, illustrated by Bryan Collier:
2016 Caldecott Honor Book
Coretta Scott King (Illustrator) Award Winner
* "This well-told and exquisitely illustrated story of a musician with a steep career trajectory will inspire young readers to pursue their passions, despite the challenges." -- Kirkus Reviews starred review
Praise for Knock Knock, illustrated by Bryan Collier:
Coretta Scott King Illustrator Award Winner
Huffington Post Best Picture Book of the Year
ALSC Notable Children's Book
Boston Globe-Horn Book Awards Picture Book Honor
Children's Book Committee at Bank Street College Best Books of the Year
"Bryan Collier's richly textured illustrations and the lyricism of Beaty's text--with its echoes of spoken-word poetry--make this story of bereavement also a story of possibility and beauty." -- The New York Times Sunday Book Review
Praise for Martin's Big Words, illustrated by Bryan Collier:
Caldecott Honor Book
Coretta Scott King Honor Book
ALA Notable Children's Book
New York Times Notable Book of the Year
"A stunning, reverent tribute." -- School Library Journal
Praise for All Because You Matter:
* "Two accomplished creators invite Black children to take up their spaces in the world... the journey from beginning to end of the book sends a message that is nurturing, nourishing, loving, and reassuring, expanding and deepening the words of the movement it echoes. Collier's trademark paint-and-collage illustrations use petal shapes with patterns and faces, blue and brown hues, and family scenes and close-ups to embody the child's growth within affectionate circles of family, community, and universe. A gem for every household." -- Kirkus Reviews, starred review
* "A richly illustrated affirmation for Black children-especially boys... Stunning. Powerful. Timely. Illustrated inspiration at its best." -- Horn Book, starred review
* "Caldecott Honoree Collier's (Trombone Shorty) tender, close-up watercolor portraits of a growing Black boy give visual power to this celebration of young Black lives. In an author's note, Charles (Freedom Soup) writes about "The Big Talk"-words that every Black parent must speak to their child about discrimination and violence. Lyrical verse that aims to offer "a starting point for conversations about the racial climate in our country" underlines an important message: "you, dear child, matter."... As a schoolchild in a green T-shirt, he faces hurdles: academic efforts go unrewarded, classmates jeer, "another name is called:/ Trayvon,/ Tamir,/ Philando." Alongside these realities, Charles delivers a ringing affirmation of his life's meaning-"Did you know that... strength, power, and/ beauty lie within you?"-as Collier shows the boy straight on, surrounded by collaged images of his ancestry. Universal declarations are often illustrated with images of many children; this book's focus on a single child brings his experience and life-and the ways they matter-right up close." -- Publishers Weekly, starred review
"All Because You Matter is a powerful, poetic manifesto that is required reading for every family in America." -- BookPage
"A powerful tale in a broken world, this will give children hope and parents comfort... a very timely story and a wonderful addition to school and public libraries."-- School Library Journal
"A title sure to be frequented by not only Black children but any child looking for a kind word and confidence boost." -- Booklist
Praise for Like Vanessa, by Tami Charles:
* "Readers of all ages and backgrounds will cheer Vanessa on and see themselves in her story. This debut is a treasure: a gift to every middle school girl who ever felt unpretty, unloved, and trapped by her circumstances." -- Kirkus Reviews, starred review
* "Superb." -- Booklist, starred review
* "Like Vanessa is an emotionally potent, engaging young adult story with a heroine whom it is impossible not to root for. The life lessons that Nessy learns are relevant and worthwhile for everyone." -- Foreword Reviews, starred review
"Charles's debut novel dexterously interlaces pathos and humor and introduces a refreshing new voice." -- Publishers Weekly
Praise for Trombone Shorty, illustrated by Bryan Collier:
2016 Caldecott Honor Book
Coretta Scott King (Illustrator) Award Winner
* "This well-told and exquisitely illustrated story of a musician with a steep career trajectory will inspire young readers to pursue their passions, despite the challenges." -- Kirkus Reviews starred review
Praise for Knock Knock, illustrated by Bryan Collier:
Coretta Scott King Illustrator Award Winner
Huffington Post Best Picture Book of the Year
ALSC Notable Children's Book
Boston Globe-Horn Book Awards Picture Book Honor
Children's Book Committee at Bank Street College Best Books of the Year
"Bryan Collier's richly textured illustrations and the lyricism of Beaty's text--with its echoes of spoken-word poetry--make this story of bereavement also a story of possibility and beauty." -- The New York Times Sunday Book Review
Praise for Martin's Big Words, illustrated by Bryan Collier:
Caldecott Honor Book
Coretta Scott King Honor Book
ALA Notable Children's Book
New York Times Notable Book of the Year
"A stunning, reverent tribute." -- School Library Journal