Harry Potter and the Sorcerer's Stone: MinaLima Edition (Harry Potter, Book 1) (Illustrated edition) (Hardcover)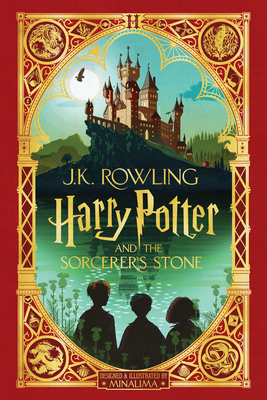 Other Books in Series
This is book number 1 in the Harry Potter series.
Staff Reviews
---
I first fell in love with the Harry Potter series when I was nine years old and have been in love ever since. Now, many years later, this new and beautiful illustrated edition has elicited the same kind of love I first felt when my dad read the original version to me. Jim Kay's illustrations highlight J.K. Rowling's text and bring it to life in a way that is sure to excite any Harry Potter fan, whether they're reading The Sorcerer's Stone for the first or the five-hundredth time.
—
Heather H.
The first time I read this book, it was in the original US format, with only the illustrations by Mary GrandPré. Of course Rowling's beautiful storytelling enabled me to build a visual in my mind so vivid, I didn't think anyone would ever be able to capture it. Artist Jim Kay didn't just illustrate Harry Potter, he brought him to life. Study each of the over 100 illustrations closely and you will find they are as full of hidden imagery as Rowling's prose. Kay modeled each central character after actual models – some family, some friends, some folks he met on the Underground in London. This is truly one of the most beautiful books I have ever had the pleasure of holding in my hands.
—
Scott
Description
---
A dazzling new edition of J.K. Rowling's Harry Potter and the Sorcerer's Stone, fully illustrated in brilliant color and featuring exclusive interactive paper craft elements, including a foldout Hogwarts letter and more!In this stunning new edition of Harry Potter and the Sorcerer's Stone, experience the story as never before. J.K. Rowling's complete and unabridged text is accompanied by full-color illustrations on nearly every page and eight exclusive, interactive paper craft elements: Readers will open Harry's Hogwarts letter, reveal the magical entryway to Diagon Alley, make a sumptuous feast appear in the Great Hall, and more.Designed and illustrated by award-winning design studio MinaLima -- best known for establishing the visual graphic style of the Harry Potter and Fantastic Beasts films -- this edition is sure to be a keepsake for Harry Potter fans, a beautiful addition to any collector's bookshelf, and an enchanting way to introduce the first book in this beloved series to a new generation of readers.
About the Author
---
J.K. Rowling is the author of the seven Harry Potter books, first published between 1997 and 2007. The adventures of Harry, Ron, and Hermione at Hogwarts School of Witchcraft and Wizardry have sold over 500 million copies, been translated into over 80 languages, and made into eight blockbuster films. Alongside the book series, she has written three short companion volumes for charity, including Fantastic Beasts and Where to Find Them, which later became the inspiration for a new series of films, also written by J.K. Rowling. She then continued Harry's story as a grown-up in a stage play, Harry Potter and the Cursed Child, which she wrote with playwright Jack Thorne and director John Tiffany, and which has been playing to great acclaim in theatres in Europe, North America, and Australia.

J.K. Rowling has received many awards and honors for her writing. She also supports a number of causes through her charitable trust, Volant, and is the founder of the children's charity Lumos, which fights for a world without orphanages and institutions, and reunites families.

For as long as she can remember, J.K. Rowling has wanted to be a writer, and is at her happiest in a room, making things up. She lives in Scotland with her family.

MINALIMA DESIGN is an award-winning graphic design studio founded by Miraphora Mina and Eduardo Lima, best known for their ten-year involvement in the Harry Potter film franchise, where they established the visual graphic style of the film series. From their London studio they have continued telling stories through visuals from designing books and packaging to creating graphic props for films such as Sweeney Todd (2007), The Imitation Game (2014), and the Fantastic Beasts films. They also designed the bestselling books The Case of Beasts: Explore the Film Wizardry of Fantastic Beasts and Where to Find Them, The Archive of Magic: Explore the Film Wizardry of Fantastic Beasts: The Crimes of Grindelwald, J.K. Rowling's screenplays for the Fantastic Beasts films, Peter Pan, The Jungle Book, Beauty and the Beast, The Little Mermaid and Other Fairy Tales, The Secret Garden, Alice's Adventures in Wonderland, and The Adventures of Pinocchio.