Lala's Words: A Story of Planting Kindness (Hardcover)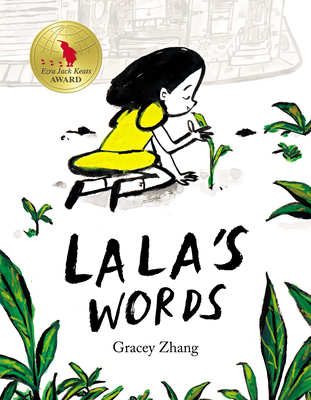 $18.99
Coming Soon - Available for Pre-Order Now
Description
---
From debut author-illustrator Gracey Zhang comes a timeless and timely picture book that celebrates the unassuming power of kind words.
Oh, there goes Lala! She carries a pot of water around the corner, down the block, and over the fence, to a patch of dirt and concrete where tiny weeds sprout. "Hello, hello, friends!" she whispers. Lala waters the plants every day, but it is her kind words that make them sway and nod.
Lala's wild nature and quiet compassion enchant in this evergreen story about the power of kind words and the magic of being loved for who you are.
About the Author
---
Gracey Zhang is an illustrator and animator with a love of storytelling and verse. She was born and raised in Vancouver, Canada, and received her degree in Illustration from RISD. She is now based in Brooklyn, New York, where she can be found window watching from the train when she's not scribbling away at her desk. Lala's Words is her first picture book. You can visit her at graceyzhang.com.
Praise For…
---
A Junior Library Guild selection
Praise for Lala's Words:
"This is the enchanting story about the power of words." -- Booklist
"Lala's enthusiasm blossoms on the page." -- Kirkus Reviews
"A verdant tale of leaves, language, and most importantly, love."
— Molly Idle (author-illustrator of Pearl; Flora and the Flamingo)
"Much like an encouraging word, Gracey's vibrant pictures will lift you up."
— Christian Robinson (author of Another; illustrator of Last Stop on Market Street)
"A touching fantasy rooted in reality. Gracey's art recalls children's books masters . . . Ludwig Bemelmans, Roger Duvoisin, David Small. Yet it is fresh and lovely and hasn't been seen before."
— LeUyen Pham (illustrator of Bear Came Along; Grace for President)
"Lala's Words is really about magic; a special kind of magic called kindness. Like the sunlight and falling rain, kindness nourishes the world around us. This book, with its lovely art and whimsical story, will also nourish the reader."
— The Fan Brothers (author-illustrators of Ocean Meets Sky; The Night Gardener)
Praise for Lala's Words:
"Much like an encouraging word, the vibrant pictures in this book will lift you up." -- Christian Robinson (Last Stop on Market Street, Another)
"Lala's Words is really about magic; a special kind of magic called kindness. Like the sunlight and the falling rain, kindness nourishes the world around us. This book, with its lovely art and whimsical story, will also nourish the reader." -- The Fan Brothers (The Night Gardener, Ocean Meets Sky)
Praise for Lala's Words:
"Much like an encouraging word, the vibrant pictures in this book will lift you up." -- Christian Robinson (Last Stop on Market Street, Another)
"Lala's Words is really about magic; a special kind of magic called kindness. Like the sunlight and the falling rain, kindness nourishes the world around us. This book, with its lovely art and whimsical story, will also nourish the reader." -- The Fan Brothers (The Night Gardener, Ocean Meets Sky)