Days of Infamy: How a Century of Bigotry Led to Japanese American Internment (Scholastic Focus) (Hardcover)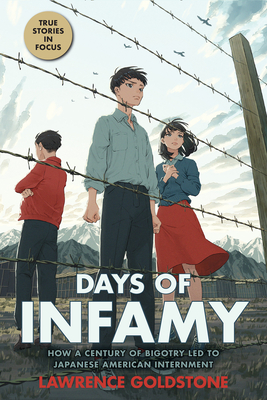 Description
---
In another unrelenting look at the iniquities of the American justice system, Lawrence Goldstone, acclaimed author of
Unpunished Murder
,
Stolen Justice
, and
Separate No More
, examines the history of racism against Japanese Americans, exploring the territory of citizenship and touching on fears of non-white immigration to the US -- with hauntingly contemporary echoes.
On December 7, 1941 -- "a date which will live in infamy" -- the Japanese navy launched an attack on the American military bases at Pearl Harbor, Hawaii. The next day, President Franklin Roosevelt declared war on Japan, and the US Army officially entered the Second World War.
Three years later, on December 18, 1944, President Roosevelt signed Executive Order 9066, which enabled the Secretary of War to enforce a mass deportation of more than 100,000 Americans to what government officials themselves called "concentration camps." None of these citizens had been accused of a real crime. All of them were torn from their homes, jobs, schools, and communities, and deposited in tawdry, makeshift housing behind barbed wire, solely for the crime of being of Japanese descent. President Roosevelt declared this community "alien," -- whether they were citizens or not, native-born or not -- accusing them of being potential spies and saboteurs for Japan who deserved to have their Constitutional rights stripped away. In doing so, the president set in motion another date which would live in infamy, the day when the US joined the ranks of those Fascist nations that had forcibly deported innocents solely on the basis of the circumstance of their birth.
In 1944 the US Supreme Court ruled, in Korematsu v. United States, that the forcible deportation and detention of Japanese Americans on the basis of race was a "military necessity." Today it is widely considered one of the worst Supreme Court decisions of all time. But Korematsu was not an isolated event. In fact, the Court's racist ruling was the result of a deep-seated anti-Japanese, anti-Asian sentiment running all the way back to the California Gold Rush of the mid-1800s. Starting from this pivotal moment, Constitutional law scholar Lawrence Goldstone will take young readers through the key events of the 19th and 20th centuries leading up to the fundamental injustice of Japanese American internment. Tracing the history of Japanese immigration to America and the growing fear whites had of losing power, Goldstone will raise deeply resonant questions of what makes an American an American, and what it means for the Supreme Court to stand as the "people's" branch of government.
About the Author
---
Lawrence Goldstone is the author of Separate No More: The Long Road to Brown vs. Board of Education, a Junior Library Guild selection, which Kirkus called "engaging and accessible" in a starred review; Stolen Justice: The Struggle for African American Voting Rights, which School Library Journal declared in a starred review: "A must-buy for all high school collections"; and Unpunished Murder: Massacre at Colfax and the Quest for Justice, which Booklist's starred review called "gripping . . . and a well-informed perspective on American history." He is also the author of more than a dozen books for adults, including four on Constitutional law. He lives in Sagaponack, New York, with his wife, medieval and Renaissance historian Nancy Goldstone.
Praise For…
---
Praise for Unpunished Murder:
A Booklist Youth Editors' Choice selection
* "A gripping story and a well-informed perspective on American history. Spotlighting an event seldom discussed in books for young people, Goldstone provides a complex, useful historical context for understanding issues surrounding race and justice." -- Booklist, starred review
* "The book is, in large part, the story of how racism evolves, persisting in laws and politics despite major social advances." -- The Horn Book, starred review
"This book shines a light on a shameful sea change moment in U.S. history... Difficult and necessary." -- Kirkus Reviews
"This is a unique look at not only the massacre in question, but also at the history and workings of the Supreme Court of the United States... This work shows a more complete history of the Reconstruction era and the way the highest levels of government were affected by a country trying to heal and make amends." -- School Library Connection
Praise for Higher, Steeper, Faster:
* "For those who love history, aviation, or stories of great daring, this is pure pleasure." -- Kirkus Reviews, starred review
* "Readers will breathlessly follow the race to conquer the sky." -- School Library Connection, starred review
* "Goldstone deftly combines captivating descriptions of the personalities -- male and female -- with discussion of the many improvements and ever-present hazards of early flying." -- Publishers Weekly, starred review
"This look at the early days of the industry highlights the thrill and awe of a watching public as well as the fact that the sky was no longer any sort of boundary." -- Booklist
"Armchair thrillseekers will settle in and read this one straight through." -- Bulletin of the Center for Children's Books