Magical Rescue Vets: Suki the Sea Dragon (Paperback)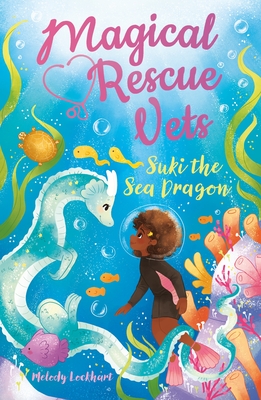 Description
---
Most people think that dragons and unicorns don't exist outside of story books ... but the Magical Rescue Vets know better
Kat and Rosie have been helping out at Calico Comfrey's Veterinary Surgery ever since they stumbled across its secret door one summer holiday. Join them as they rescue and care for the incredible, enchanted creatures of Starfall Forest. Along the way, they might learn some valuable lessons about bravery, friendship, and loyalty
In this adventure...
Kat and Rosie are helping Starfall Forest's magical vets to investigate a mystery at Looking Glass Lake. Some sort of creature has been scaring the local wildlife - but why would anyone want to frighten loveable singing starfish and peanut-butter-and-jellyfish? Meanwhile, Kat has found out she might have dyslexia, and she's worried about falling behind at school. Can Suki, a magical sea dragon, help Kat and Rosie to discover the truth behind the supposed "monster?" And how will this adventure help Kat to bring her confidence back?
This book features beautiful illustrations by Morgan Huff. Perfect for readers aged 7+.
About the Author
---
Melody Lockhart is an English children's author with a love of all things magical. She delights in summer rain, kittens, and surprise parties. Writing the Magical Rescue Vets series has been her dream come true! Morgan Huff has been creating art ever since she could hold a pencil. Since receiving a Bachelors of Fine Arts with a focus in illustration, she has gone on to work with such clients as Dreamworks and Harper Collins. She finds inspiration in nature, animals, and the joy of simple yet beautiful moments.