The Boys of Winter: The Untold Story of a Coach, a Dream, and the 1980 U.S. Olympic Hockey Team (Paperback)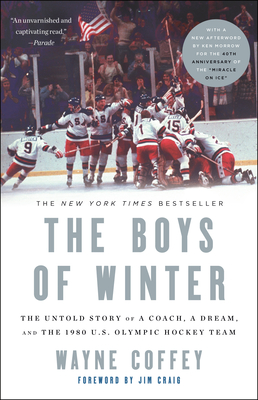 $17.00

Special Order - Subject to Availability
Description
---
The true story of the 1980 U.S. Olympic hockey team and the Miracle on Ice, which Sports Illustrated called the greatest moment in sports history—with a new afterword by Ken Morrow for the fortieth anniversary of the Miracle on Ice
 
"An unvarnished and captivating read."—Parade
 
Once upon a time, they taught us to believe. They were the 1980 U.S. Olympic hockey team, a blue-collar bunch led by an unconventional coach. Their "Miracle on Ice" has become a national fairy tale, but the real Cinderella story is even more remarkable.
 
Wayne Coffey casts a fresh eye on this seminal sports event, giving readers an ice-level view of the amateurs who took on a Russian hockey juggernaut at the height of the Cold War. He details the unusual chemistry of the Americans—formulated by their fiercely determined coach, Herb Brooks—and seamlessly weaves portraits of the boys with the fluid action of the game itself. Coffey also traces the paths of the players and coaches since their stunning victory, examining how the Olympic events affected their lives.
 
Told with warmth and an uncanny eye for detail, The Boys of Winter is an intimate, perceptive portrayal of one Friday night in Lake Placid and the enduring power of the extraordinary.
About the Author
---
Wayne Coffey is an award-winning sportswriter for the New York Daily News and the author of Winning Sounds Like This, among other books. He lives in the Hudson Valley region of New York.
Praise For…
---
"A wonderfully detailed enrichment of the greatest sports moment of the twentieth century. Wayne Coffey's fresh perspective artfully takes a twenty-five-year-old story and advances it to the present with an enhanced appreciation of that stunning, breathtaking, still too-amazing-to-believe accomplishment." —Al Michaels

"The 1980 U.S. hockey team has been mythologized in print and on screen for almost twenty-five years. Wayne Coffey's The Boys of Winter goes much deeper than that and, for the first time, gives us a clear picture of who these remarkable boys—and men—were . . . and are. It is a very fine book." —John Feinstein

"I celebrated my fifteenth birthday on the very day that the 'Boys of Winter' beat the Russians in Lake Placid. Wayne Coffey brilliantly weaves the behind-the-scenes story that amplifies how improbable this 'miracle' really was." —Pat LaFontaine, NHL Hall of Famer

"The great stories can always be retold, but when they are retold with the emotion, the muscular prose, the freshness that Coffey brings to the Miracle on Ice, they seem new." —Robert Lipsyte, New York Times, and author of The Contender

"No matter how many times I hear the story of the U.S. Olympic hockey team's heroics in Lake Placid in 1980, I want to hear it again. It is allegory, fable, wonderful drama. Now Wayne Coffey comes to the campfire to tell the tale again, raising the requisite lumps in the requisite throats, adding new details to the familiar pictures. Very nice work. Very nice, indeed." —Leigh Montville, author of Ted Williams

"First came the Hollywood version of the Miracle on Ice. Now comes the real story, rich in context and texture, as only a journalist and author like Wayne Coffey can report it and tell it." —Harvey Araton, New York Times

"Meticulously researched, entertaining, and enlightening as an example of sportswriting and social history, Wayne Coffey has re-created the event that would eventually put the Cold War on ice. The Boys of Winter is the definitive book on a defining moment in American culture." —Jay Atkinson, author of Ice Time

"Wayne Coffey re-creates the excitement of the unlikely run the U.S. men's hockey team made through the 1980 Olympics . . . an adventure that seems even more unlikely now than it felt twenty-five years ago." —Bill Littlefield, host of NPR's Only a Game and author of Fall Classics