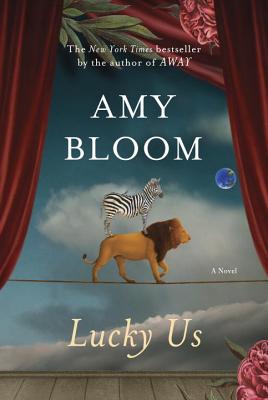 $26.00
Special Order - Subject to Availability
Staff Reviews
---
A crazy romp with a misconstrued family and various hangers on — a Mexican make-up artist, a daughter who learns to read tarot cards, another narcissistic daughter who will stop at nothing to get what she wants, a nightclub singer, and a father who steals from his children, pretends to be a butler and ultimately dies not knowing what he might have done to hold his family together. Bloom's story is told through letters, diary entries and several narrative perspectives, and it is up to readers to form their own opinion of the characters' lives. Fun, heartwarming and poignant.
—
GAYLE'S STAFF PICKS
This engrossing story is about two half sisters, Eva and Iris. It begins when Eva is 12 and Iris is a teenager and they are living in Chicago. They run away from their father so Iris can become a star in Hollywood, and Eva is there to support her. When their luck runs out in Hollywood, they move to Long Island where, over a period of years, they make new friends and eventually reconnect with their father. But, just like in real life, things do not always go as smoothly as one would hope. They do their best to cope with all the good and the bad, and the successes and the failures that are a part of being in a family and are a part of life. I highly recommend it.
—
CINDY'S STAFF PICKS
August 2014 Indie Next List
---
"Vivid and satisfying, Lucky Us is the story of two motherless half-sisters thrown together by fate and determined to make their way in a world where the cards are stacked against them. It is a study about the way that - 'family' is not just something we're born into, but also something we make for ourselves. Bloom gives us lively, unforgettable characters who are so warm, human, and irrepressible that they transcend even the darkest events of their lives. I loved this novel!"
— Carol Schneck Varner, Schuler Books & Music, Okemos, MI
Description
---
NEW YORK TIMES BESTSELLER - NAMED ONE OF THE BEST BOOKS OF THE YEAR BY THE WASHINGTON POST AND O: THE OPRAH MAGAZINE "My father's wife died. My mother said we should drive down to his place and see what might be in it for us." So begins this remarkable novel by Amy Bloom, whose critically acclaimed Away was called "a literary triumph" (The New York Times). Lucky Us is a brilliantly written, deeply moving, fantastically funny novel of love, heartbreak, and luck. Disappointed by their families, Iris, the hopeful star and Eva the sidekick, journey through 1940s America in search of fame and fortune. Iris's ambitions take the pair across the America of Reinvention in a stolen station wagon, from small-town Ohio to an unexpected and sensuous Hollywood, and to the jazz clubs and golden mansions of Long Island. With their friends in high and low places, Iris and Eva stumble and shine though a landscape of big dreams, scandals, betrayals, and war. Filled with gorgeous writing, memorable characters, and surprising events, Lucky Us is a thrilling and resonant novel about success and failure, good luck and bad, the creation of a family, and the pleasures and inevitable perils of family life, conventional and otherwise. From Brooklyn's beauty parlors to London's West End, a group of unforgettable people love, lie, cheat and survive in this story of our fragile, absurd, heroic species. Praise for Lucky Us "Lucky Us is a remarkable accomplishment. One waits a long time for a novel of this scope and dimension, replete with surgically drawn characters, a mix of comedy and tragedy that borders on the miraculous, and sentences that should be in a sentence museum. Amy Bloom is a treasure."--Michael Cunningham "Exquisite . . . a short, vibrant book about all kinds of people creating all kinds of serial, improvisatory lives."--The New York Times "Bighearted, rambunctious . . . a bustling tale of American reinvention . . . If America has a Victor Hugo, it is Amy Bloom, whose picaresque novels roam the world, plumb the human heart and send characters into wild roulettes of kismet and calamity."--The Washington Post "Bloom's crisp, delicious prose gives Lucky Us] the feel of sprawling, brawling life itself. . . . Lucky Us is a sister act, which means a double dose of sauce and naughtiness from the brilliant Amy Bloom."--The Oregonian

"A tasty summer read that will leave you smiling . . . Broken hearts are] held together by lipstick, wisecracks and the enduring love of sisters."--USA Today "Exquisitely imagined . . . a] grand adventure."--O: The Oprah Magazine

"Marvelous picaresque entertainment . . . a festival of joy and terror and lust and amazement that resolves itself here, warts and all, in a kind of crystalline Mozartean clarity of vision."--Elle
About the Author
---
Amy Bloom is the author of Come to Me, a National Book Award finalist; A Blind Man Can See How Much I Love You, nominated for the National Book Critics Circle Award; Love Invents Us; Normal; Away, a New York Times bestseller; and Where the God of Love Hangs Out. Her stories have appeared in The Best American Short Stories, O. Henry Prize Short Stories, The Scribner Anthology of Contemporary Short Fiction, and many other anthologies here and abroad. She has written for The New Yorker, The New York Times Magazine, The Atlantic Monthly, Vogue, Slate, and Salon, among other publications, and has won a National Magazine Award. She teaches creative writing at Wesleyan University.
Praise For…
---
Advance praise for Lucky Us

"Lucky Us indeed—another Amy Bloom book. And, if it's possible, even more powerful and affecting than her last novel, Away. This is a poignant book that manages to be funny, an unflinching portrait that manages to be tender, a tough story that manages to also have jazz and grace. Bloom is a great writer who keeps stepping into new territory, entirely unafraid. She is one of America's unique and most gifted literary voices."—Colum McCann
 
"Lucky Us is a remarkable accomplishment. One waits a long time for a novel of this scope and dimension, replete with surgically drawn characters, a mix of comedy and tragedy that borders on the miraculous, and sentences that should be in a sentence museum. Amy Bloom is a national treasure."—Michael Cunningham
 
Praise for Amy Bloom

Away
 
"Absolutely hypnotic."—The Washington Post Book World
 
"A master stylist."—Richmond Times-Dispatch
 
"Irresistible fiction."—The Boston Globe
 
"A literary triumph . . . Alive with incident and unforgettable characters, [Away] sparkles and illuminates as brilliantly as it entertains."—The New York Times
 
Where the God of Love Hangs Out
 
"Bloom joins the ranks of the unforgettable: F. Scott Fitzgerald's eyeless time; Virginia Woolf's impassivity in the progress of her characters' lives."—Los Angeles Times
Coverage from NPR