House of Prayer No. 2: A Writer's Journey Home (Paperback)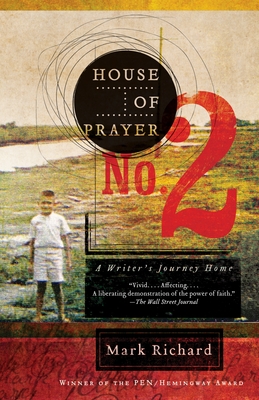 $16.00
Special Order - Subject to Availability
Staff Reviews
---
A memoir in second person! I didn't think it could be done, but leave it to Mark Richard to tell his story from a new viewpoint. Richard grew up in the South and was called a "special child"—an euphemism for mentally and physically challenged. Richard learned about racial tensions and social norms from a state hospital bed. His mother sought comfort in scripture, while his father was a perfectionist and struggled with his imperfect son. Richard grew up to defy his doctors' predictions that he would spend his adult life in a wheelchair and become a disc jockey, fishing boat deckhand, house painter, naval correspondent, and more. Throughout his life, Richard questions his faith, and he weaves this through out his memoir in extraordinarily beautiful prose where not one word is wasted. - Cindy
— From
Memoirs (page 1)
March 2011 Indie Next List
---
"Mark Richard is the greatest writer you've probably never read, but with this book that will thankfully change! Richard writes with an otherworldly grasp of voice and description and uses his prose to deconstruct everything familiar. The result for the reader is a hyper-colored world rendered with the senses turned up. Reading House of Prayer No. 2 is like having a bucket of icy water poured over you: it forces your eyes open, sets you gasping for air, and leaves you utterly refreshed!"
— Rachel Meier, The Booksmith, San Francisco, CA
Description
---
Crippled by deformed hips as a child, Mark Richard was told he would spend his adult life in a wheelchair. The son of an unpredictable, violent father and a mother who sought inner peace through scripture, Richard spent his bedridden childhood in the company of books. As a young man, he set out to experience as much of the world as possible before his hips failed him. He spent years doing odd jobs and getting into trouble, grappling throughout with his faith and his calling, before winning a national fiction contest and launching an extraordinary writing career.
 
In this irresistible blend of history, travelogue, and personal reflection, Richard draws a remarkable portrait of a writer's struggle with his faith, the evolution of his art, and the recognition of one's singularity in the face of painful disability.
About the Author
---
Mark Richard is the author of two award-winning short story collections, The Ice at the Bottom of the World and Charity, and the novel Fishboy. His short stories and journalism have appeared in the New York Times, The New Yorker, Harper's, Esquire, Vogue, and GQ. He is the recipient of the PEN/Hemingway Award, a National Endowment for the Arts fellowship, and a Whiting Foundation Writer's Award. He lives in Los Angeles with his wife and their three sons.
Praise For…
---
"Vivid. . . . Affecting. . . . A liberating demonstration of the power of faith."
—The Wall Street Journal

"An absorbing account of growing up in the 1960s South, living with a disability, becoming a writer and finding faith. Richard's book attests to the power of words (and the Word) in shaping a life. . . . Richard is a fiercely gifted writer. . . . [His] special childhood results in considerable powers of observation, empathy and imagination."
—The New York Times Book Review

"So varied, dramatic, and, at times, incredible that it is bound to leave almost every reader with the feeling that they haven't lived at all."
—The New Yorker
 
"Entrancing. . . . A surprising page turner. . . . Richard's prose is gorgeous—and hits with a force that sometimes stuns. . . . Where other memoirists—evangelical and/or literary—just bluff and brag, he makes art."
—The Christian Science Monitor

"Amazing. . . . You'll know just after two pages of Richard's effortlessly killer prose that he's special all right. . . . Grade: A."
—Entertainment Weekly
 
"Mark Richard's memoir, House of Prayer No.2, is the finest book he's ever written. No one writes like him. His prose style is both hammerblow and shrapnel. He has written the book of his life."
—Pat Conroy
 
"A lyrical distillation of observations from Richard's boyhood in and out of southern charity hospitals to his becoming a writer and father in search of faith."
—Vanity Fair
 
"Hauntingly beautiful. . . . A quintessentially American story."
—Minneapolis Star Tribune
 
"A surreal and poetic memoir about faith, self-discovery and forming an artistic inner life."
—The Free Lance-Star (Fredericksburg, VA)
 
"A humorous and heartfelt memoir, never tedious and often lyrical."
—Richmond Times-Dispatch
 
"This book is the extraordinary story of a special child who grew up to be a writer, and who may yet—I'm guessing—become a preacher or a priest. There are similar life stories in the South and elsewhere. But few will be written with Richard's powerful talent, his genius."
—Clyde Edgerton, Garden & Gun
 
"Gritty and engrossing. . . . His is an account, at times exquisite, of a youth laced with pain, surgeries, body casts, beatings, fear, drinking, isolation, rebellion. With flashes of brilliance. With mysticism and the supernatural and strokes of what many would call luck. . . . An interesting, well-crafted narrative girded with compassion and feeling, this is a good read."
—The Virginian-Pilot
 
"Lovely. . . . Richard captures what is often misunderstood about the Southerner's intimate parlay with God. Appearances to the contrary, it is not about certainty. . . . A fascinating journey."
—The Oregonian
 
"Hot damn! And Glory be! Both. This is a wonderful book."
—Roy Blount, Jr.
 
"Supremely animated. . . . [Richard's] spiritual journey, conducted in fits and starts and finally claimed in gorgeous hosannas of prose, forms the book's narrative DNA."
—Elle
 
"Richard's story is inspirational not because of conventional redemption or simple answers to his struggle, but because he is so honest about both his doubt and his openness to a wide variety of God's manifestations."
—Darcey Steinke, Los Angeles Review of Books
 
"Affecting. . . . Fans who have been waiting to hear from him ever since [Charity] won't be disappointed with his new memoir, which sees the welcome return of Richard's charismatic prose style."
—The Atlanta Journal-Constitution
 
"The precision of the descriptions is marvelous in this memoir of growing up with infirmity. The depth of Richard's heart is profound, exhilarating, frightening, instructive. House of Prayer
No. 2 is a work of high art."
—Rick Bass
 
"Mark Richard says important things about finding one's way, about love in action, about being a father, and he does so with the precision and grace of an artisan from another time. This is some of the finest writing you will ever read."
—Amy Hempel
 
"If Mark Richard could not write, you could not read this. Since he can, you can't not read it. It is unreal, and Mr. Richard has the wit to make it real."
—Padgett Powell