An Anatomy of Addiction: Sigmund Freud, William Halsted, and the Miracle Drug, Cocaine (Paperback)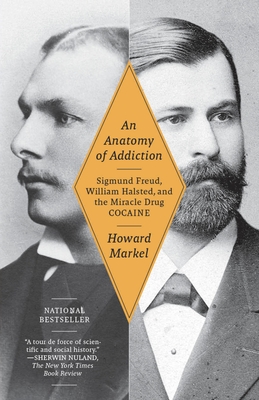 Staff Reviews
---
Even if you've never read Freud and have never even heard of William Halstead, you'll still find this book fascinating. Markel takes an in depth look at two of the most influential men in modern medicine and their complex relationships with cocaine. Mostly functional but often not functional addicts, An Anatomy of Addiction is an account of how easily genius can succumb to dependency. Though packed with info, Markel writes in a way that will not overwhelm the casual science reader.
—
Kyle
Description
---
Acclaimed medical historian Howard Markel traces the careers of two brilliant young doctors—Sigmund Freud, neurologist, and William Halsted, surgeon—showing how their powerful addictions to cocaine shaped their enormous contributions to psychology and medicine.
 
When Freud and Halsted began their experiments with cocaine in the 1880s, neither they, nor their colleagues, had any idea of the drug's potential to dominate and endanger their lives. An Anatomy of Addiction tells the tragic and heroic story of each man, accidentally struck down in his prime by an insidious malady: tragic because of the time, relationships, and health cocaine forced each to squander; heroic in the intense battle each man waged to overcome his affliction. Markel writes of the physical and emotional damage caused by the then-heralded wonder drug, and how each man ultimately changed the world in spite of it—or because of it. One became the father of psychoanalysis; the other, of modern surgery. Here is the full story, long overlooked, told in its rich historical context.  
About the Author
---
Howard Markel, M.D., Ph.D., is the George E. Wantz Distinguished Professor of the History of Medicine and director of the Center for the History of Medicine at the University of Michigan. His books include Quarantine!, When Germs Travel, and An Anatomy of Addiction. His articles have appeared in The New York Times, The Journal of the American Medical Association, and The New England Journal of Medicine, and he is a frequent contributor to National Public Radio. Markel is a member of the Institute of Medicine of the National Academy of Sciences and lives in Ann Arbor, Michigan.
Praise For…
---
"A tour de force of scientific and social history, one that helps illuminate a unique period in the long story of medical discovery. . . . Absorbing and thoroughly documented . . . a vivid narrative of two of the most remarkable of the many contributors to our understanding of human biology and function."
—The New York Times Book Review 
 
"Incisive. . . . An irresistible cautionary tale."
—The Wall Street Journal 

"Terrific. . . . This rich, engrossing book reminds us of the strangeness of even heroic destinies."
—Los Angeles Times
 
"Markel creates rich portraits of men who shared, as he writes of Freud, a 'particular constellation of bold risk taking, emotional scar tissue, and psychic turmoil.'"
—The New Yorker

"A rich, revelatory new book. . . . [Markel is] a careful writer and a tireless researcher, and as a trained physician himself, Markel is able to pronounce on medical matters with firmness and authority."
—TIME
 
"A splendid history . . . [Markel is a] fluent, incisive and often subtly funny writer."
—The Baltimore Sun 
 
"Provocative . . . persuasive and engrossing."
—Salon.com 

"Compelling and compassionate . . . a book that profoundly demonstrates the complexity and breadth of their genius . . . a richly woven analysis complete with anecdotes, historical research, photos and present-day knowledge about the character of the addictive personality."
—Booklist

"From the dramatic opening scene on the first page to the epilogue, An Anatomy of Addiction is a hugely satisfying read. Howard Markel is physician, historian and wonderful storyteller, and since his tale involves two of the most compelling characters in medicine, I could not put it down—addictive is the word for this terrific book."
—Abraham Verghese, author of Cutting for Stone

"It's a fascinating book about fascinating men, but even more interesting for those of us who want a glimpse of modern medicine when it was just starting to develop."
—The New Republic
 
"Dr. Markel braids these men's stories intricately, intelligently and often elegantly."
—The New York Times
 
"Markel brilliantly describes the paradox of [Halsted's and Freud's] lives."
—Nature
 
"Inspired, entertaining and informative . . . [Markel] tells this fascinating tale in an insightful contemporary book that is both intellectually engaging and exceptionally well written."
—Journal of the American Medical Association
 
"[A] witty, wide-ranging book."
—Boston Globe
 
"A richly engaging book . . . highly recommended."
—Wired
 
"Well-researched. . . . A thoughtful picture of late 19th century medicine."
—The San Francisco Chronicle Book Review
 
"Colorful study . . . brisk . . . an engaging well-researched historical homily about fame and foible."
—Bloomberg
 
"A fascinating revelation of conditions prevailing in hospitals and medical circles in the late 19th and 20th centuries."
—New York Journal of Books
 
"The best medical histories are the ones that cause the imagination to run riot. A fast-rising master of satisfying this human quest for mind-altering willies is the Michigan medical historian Howard Markel."
—The Winnipeg Free Press
 
"With both wit and style, Markel has produced a scrupulously researched, meticulously detailed account of the history of cocaine, as well as the drug dependences of Halsted and Freud."
—Hopkins Medicine Magazine