An Age of New Possibilities: How Humane Values and an Entrepreneurial Spirit Will Lead Us into the Future (Paperback)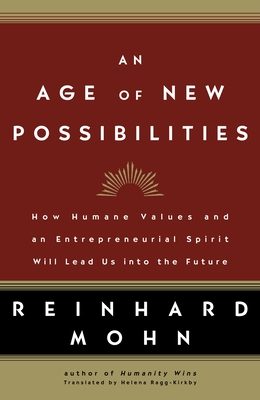 $14.00

Special Order - Subject to Availability
Description
---
"The good old days in which almost everything followed a well-established pattern have long gone. Today, differences of opinion regarding aims and methods lead to serious arguments and bitter disputes on a global rather than a merely regional scale. . . . Those in positions of responsibility must therefore come to realize that the premises and rules enabling people to live together in a truly humane way and to enjoy a stable social order have fundamentally changed!" —From An Age of New Possibilities

We live in an exciting and rapidly changing time—every day it seems new inventions and innovations that change our way of life arrive on the scene. But even while our day-to-day lives become easier, the larger picture gets more and more complicated. Businesses are also faced with this quandary. The new global economy is presenting even more challenges to companies that must operate in an often unfamiliar worldwide arena. As a result, the business world must undergo a complete overhaul if companies are to adapt to an environment that is far different from the one in which they initially achieved success.

Enter Reinhard Mohn, the innovative entrepreneur who built Bertelsmann into a global powerhouse and one of the largest media companies in the world. Drawing on his more than fifty years of experience in the private sector, Mohn explains how entrepreneurial leaders can take businesses into the future by adapting to new socioeconomic realities and completely changing their way of doing business. Now in paperback, An Age of New Possibilities is an essential read for anyone operating in the business world in the twenty-first century.
About the Author
---
Reinhard Mohn has served as chairman of both the executive board and the supervisory board of Bertelsmann and is the founder of the Bertelsmann Foundation, one of the biggest and most renowned think tanks in Europe. Currently, he is Chairman Emeritus of the Bertelsmann Supervisory Board.