The Lies of Locke Lamora (Gentlemen Bastards) (Compact Disc)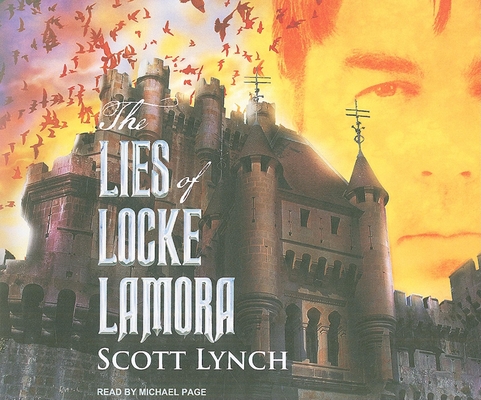 Staff Reviews
---
This book was an amazing find for me. This book came into my hands when a customer came looking for it at my store, and well, the rest is history. The story is like a tale of Robin Hood and his merry men, but with more focus on stealing and not so much giving back to anyone. They are a cheery bunch of crazy men making their way in a place of gangs, thieves, and pirates. You follow the story of Locke Lamora, the most charismatic and sneaky of the bunch. He leads his men into the biggest heist of all, the treasure of a lord. They have planned and perfected how they would trick this man into giving away his fortune, but just when it seems they are about to be set for life, a stranger named the Gray King appears and he's out killing thieves and gangs of the city, and now Locke is in for more trouble than he planned.
—
Jess
Description
---
An orphan's life is harsh and often short in the island city of Camorr, built on the ruins of a mysterious alien race. But born with a quick wit and a gift for thieving, Locke Lamora has dodged both death and slavery, only to fall into the hands of an eyeless priest known as Chains a man who is neither blind nor a priest. A con artist of extraordinary talent, Chains passes his skills on to his carefully selected "family" of orphans a group known as the Gentlemen Bastards. Under his tutelage, Locke grows to lead the Bastards, delightedly pulling off one outrageous confidence game after another. Soon he is infamous as the Thorn of Camorr, and no wealthy noble is safe from his sting. Passing themselves off as petty thieves, the brilliant Locke and his tightly knit band of light-fingered brothers have fooled even the criminal underworld's most feared ruler, Capa Barsavi. But there is someone in the shadows more powerful and more ambitious than Locke has yet imagined. Known as the Gray King, he is slowly killing Capa Barsavi's most trusted men and using Locke as a pawn in his plot to take control of Camorr's underworld. With a bloody coup under way threatening to destroy everyone and everything that holds meaning in his mercenary life, Locke vows to beat the Gray King at his own brutal game or die trying.
About the Author
---
Scott Lynch, a native of St. Paul, Minnesota, is a writer of fantasy novels.

Michael Page has been recording audiobooks since 1984 and has over two hundred titles to his credit. He has won several "AudioFile" Earphones Awards, including for "The War That Killed Achilles" by Caroline Alexander and "The Lies of Locke Lamora" by Scott Lynch.
Praise For…
---
"With a world so vividly realized that it's positively tactile, and characters so richly drawn that they threaten to walk right off the page, this is one of those novels that reaches out and grabs readers." ---Booklist Starred Review