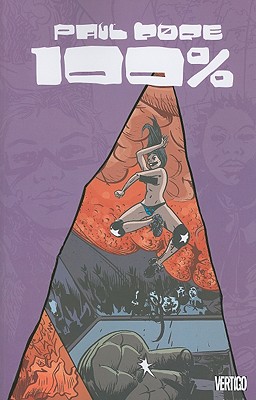 $29.99
Email or call for price.
Staff Reviews
---
Now in a single paperback volume, there is no excuse not to have read this graphic fiction masterpiece. Set in a not-so-distant future, Pope weaves together three powerful stories all connected through a Manhattan nightclub. Best known for his work on Batman and Heavy Liquid, this storyline shows a much more human side of Pope. We get down to the real nitty-gritty of his characters' notions of love, fear, art, and forgiveness. This is one you'll read over and over. - Kyle
— From
Graphic Novels (page 1)
Description
---
All five issues of the edgy, groundbreaking miniseries from writer/artist Paul Pope are collected in one stunning hardcover package. This "graphic movie" tells three separate but interconnected stories in Pope's trademark dynamic style, shifting viewpoints and characters across the urban maze of 2038 Manhattan. Filled with wit, charm, sex and menace, 100% brings a surprisingly true-feeling future to gritty life. The collection also includes a host of character sketches, designs, and other material from creator Pope.