Joe the Barbarian (Paperback)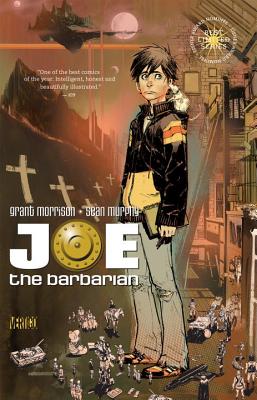 $19.99
Email or call for price.
Staff Reviews
---
Take the psychedelic brilliance of Grant Morrison and throw in a splash of "The Neverending Story" and you have this small masterpiece. 13 year old Joe's trip to find the soda that will keep him out of a diabetic coma quickly turns into a hallucinated epic adventure that he's not sure isn't actually real. As Joe's body begins to shut down, everything that haunts him begins to come to life. You'll find yourself reeling as this work constantly shifts between fairytale and sledgehammer to the heart. - Kyle
— From
Graphic Novels (page 1)
Description
---
Joe is an imaginative young kid of 11 who happens to suffer from type 1 diabetes. Without supervision and insulin, he can easily slip into a delirious, disassociative state that presages coma and death. One fateful day, his condition causes him to believe he has entered a vivid fantasy world in which he is the lost savior -- a fantastic land based on the layout and contents of his home. His desperate attempts to make it out of his bedroom and down the mountainous stairs, to find food, switch the lights on and answer the phone to his mother, transform into an incredible, epic quest adventure through a bizarre landscape of submarine pirate dwarves, evil Hell Hounds, Lightning Lords and besieged castles; a landscape which allows him to work out his own and his
family's problems.
About the Author
---
Writer Grant Morrison is known for his innovative work on comics from the graphic novel ARKHAM ASYLUM to acclaimed runs on ANIMAL MAN and DOOM PATROL, as well as his subversive creator owned titles such as THE INVISIBLES, SEAGUY, JOE THE BARBARIAN and WE3. He has also written best-selling runs on JLA, SEVEN SOLDIERS OF VICTORY and New X-Men and recently helped to reinvent the DC Universe in ALL-STAR SUPERMAN, 52, BATMAN and JOE THE BARBARIAN. He is currently writing both SUPERMAN: ACTION COMICS and BATMAN, INCORPORATED as a part of DC COMICS—THE NEW 52.