The Invisibles Book One (Paperback)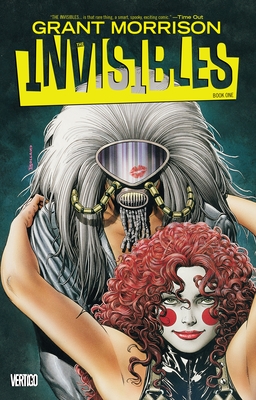 Staff Reviews
---
Let me start off by saying that this is my favorite comic book series, by my favorite comic book writer of all time, the highly imaginative and ultra-weird Scottish phenomenon, Grant Morrison. The complete series deals with all range of bizarre and completely off-the-walls subject matter; such as UFOs, occultism, anarchy, fascism, counter-culture, psychedelia, quantum physics, 1960's espionage pastiche, time-travel, pop-culture, Gnosticism, race relations, gender politics, human sexuality, Voodoo, punk rock, the metaphysically conjured godhead of John Lennon, and much, much more. Even in its weaker points, the series is highly impressive in that Morrison boldly threw all of his ideas at the wall and managed to make them into a cohesive narrative with deep and developed philosophical undercurrents. This new Deluxe Edition of Book One is excellently put-together and a great place to start, containing the first two story arcs, "Down and Out in Heaven and Hell" and "Arcadia", as well a number of excellent one-shots from the series, which are in themselves as good as the longer arcs. One of them sympathetically tells the life story of one of the random henchmen who the protagonist shoots in the first arc, brilliantly examining the ethics of ending a hired thug's life with a witty one-liner, even in a fictional context. — From Salvatore's Picks
Description
---
One of Grant Morrison's most controversial, trippiest and abstract comic book titles! Follow the adventures of the Invisibles, a secret organization out to battle against physical and psychic oppression brought upon humanity by the interdimensional alien gods of the Archons of Outer Church!

Introducing the latest recruit into the covert action team known as the Invisibles: a teenage lout from the streets of London. Can Dane survive a mind-altering training course administered by King Mob? A collection of the great work of author Grant Morrison is collected here in The Invisibles Book One!
 
Written by Grant Morrison with art from Steve Yeowell, Jill Thompson, John Ridgway, Steve Parkhouse and Brian Bolland. Collects The Invisibles #1-12 and Absolute Vertigo #1.
About the Author
---
Writer Grant Morrison is known for his innovative work on comics from the graphic novel Arkham Asylum to acclaimed runs on Animal Man and Doom Patrol, as well as his subversive creator owned titles such as The Invisibles, Seaguy and WE3. He has also written best-selling runs on JLA, Seven Soldiers of Victory and New X-Men and recently helped to reinvent the DC Universe in The Multiversity, All-Star Superman, 52, Batman, Batman & Robin and Batman, Inc.
Praise For…
---
"Excellent ... engrossing ... Morrison is a skilled word magician, seeking creativity in a cosmological dimension." --Publishers Weekly

"I suddenly realized that everything that I'm trying to say in my nonfiction work, and in some of my fiction work, had been so beautifully and so imaginatively expressed in the work of Grant Morrison."--Deepak Chopra