Superman Smashes the Klan Hardcover Edition (Hardcover)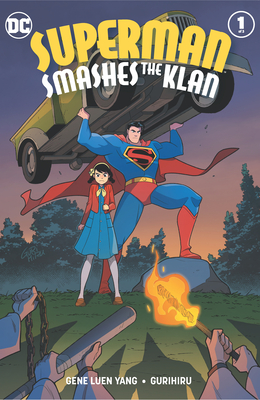 Description
---
The year is 1946, and the Lee family has moved from Chinatown to Downtown Metropolis. While Dr. Lee is eager to begin his new position at the Metropolis Health Department, his two kids, Roberta and Tommy, are more excited about being closer to the famous superhero Superman!

Tommy adjusts quickly to the fast pace of their new neighborhood, befriending Jimmy Olsen and joining the club baseball team, while his younger sister Roberta feels out of place when she fails to fit in with the neighborhood kids. She's awkward, quiet, and self-conscious of how she looks different from the kids around her, so she sticks to watching people instead of talking to them.

While the Lees try to adjust to their new lives, an evil is stirring in Metropolis: the Ku Klux Klan. The Klan targets the Lee family, beginning a string of terrorist attacks. They kidnap Tommy, attack the Daily Planet, and even threaten the local YMCA. But with the help of Roberta's keen skills of observation, Superman is able to fight the Klan's terror, while exposing those in power who support them--and Roberta and Superman learn to embrace their own unique features that set them apart.

From multi-award-winning and New York Times bestselling author Gene Luen Yang comes an exciting middle grade tale featuring Superman in a beautiful hardcover format.
About the Author
---
Gene Luen Yang began making comics and graphic novels more than 15 years ago. In 2006 his book American Born Chinese was published by First Second Books. It became the first graphic novel to be nominated for a National Book Award and the first to win the American Library Association's Printz Award. It also won an Eisner Award for Best Graphic Album - New. In 2013, First Second Books released Boxers & Saints, his two-volume graphic novel about the Boxer Rebellion. It was nominated for a National Book Award and won the L.A. Times Book Prize. He made his mainstream comics debut on Superman, with artists John Romita Jr. and Klaus Janson.

His other works include the comics continuation of the popular Nickelodeon cartoon Avatar: The Last Airbender. Currently he writes New Super-Man for DC Comics.